POE 3.21 Crucible: How to Strengthen My League Starters and Early Levelling?
Are you looking to start your POE 3.21 league the right way? We're going to have a lot of questions early on in the league, so how to Strengthen My League Starters and Early Levelling? In this guide, we'll cover the best league starter builds for the upcoming patch, as well as tips and tricks for early levelling.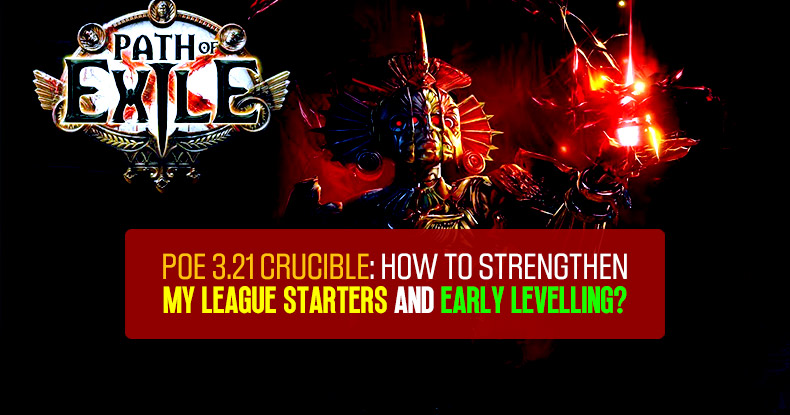 Build Adjustments
First off, we have some exciting news for all you Fire Trap Elementalist out there – the build is likely to be even stronger in the next league, despite all the nerfs that have been announced! We've made some adjustments to the build to take advantage of the new changes. For example, we've swapped out one of the jewels to make room for a Mana Reservation Cluster Jewel.
This jewel alone allows us to drop the level 4 Enlighten gem and still use all of the same auras, which makes the build significantly cheaper and opens up another gem socket. We've also adjusted our amulet to make use of Influence Suffixes, which provide a significant boost to our Mana Reservation efficiency.
Finally, we've taken advantage of the new Mana Mastery, which gives us a 12% Global Reservation efficiency. This is more effective than the local 25% bonuses that you get with other gems. Unfortunately, the Bane build that we used to use is no longer viable due to the nerfs to Poison and Chaos Damage over Time. We're sad to see it go, but we don't think it's worth recommending anymore.
Early Leveling
Now that we've covered the build adjustments let's move on to our Early Leveling Guide. We've put together a Path of Building (https://pobb.in/2rPkjM3iNWBp) that has different levelling trees for each of the acts.
This PoB is just a rough guide, and we'll be adding more notes and tips to it as we go along. We've also included some helpful pictures that will show you how to find the Rowan Nest and Mud Flats, as well as how to fight Hailrake.
Gem Links
We've added some advice on the gem links that you should use. We recommend Magma Orb, Fireball, and Lightning Salvo instead of Spark since it got nerfed too hard. This guide will take you up to Act 3, and then you can make the necessary swaps as you progress.
Full Build
We're still working on the full build guide, which will include progression tips, and we'll be finished in the next day or two. We're confident that this is going to be one of the best Crucible league starters ever, and we hope you're as excited to play it as we are.
Conclusion:
My League Starter Buffed in POE 3.21 Crucible & Early Leveling Guide is your one-stop-shop for starting your next league off on the right foot. We've covered the best league starter builds, tips and tricks for early levelling, gem links, and more. We can't wait to see you in-game!
Most Popular Posts
Popular Category Lists