Cheap Methods to Get Path of Exile 6 Links Gear
Path of Exile is a complex game, and getting a six-link can be a daunting task, especially at the league start. Fortunately, there are a few ways of getting a six-link without having to resort to spamming an orb of fusings. In this guide, we'll go over all the methods of acquiring a six-link on the cheap, starting with the most basic and moving on to more advanced options.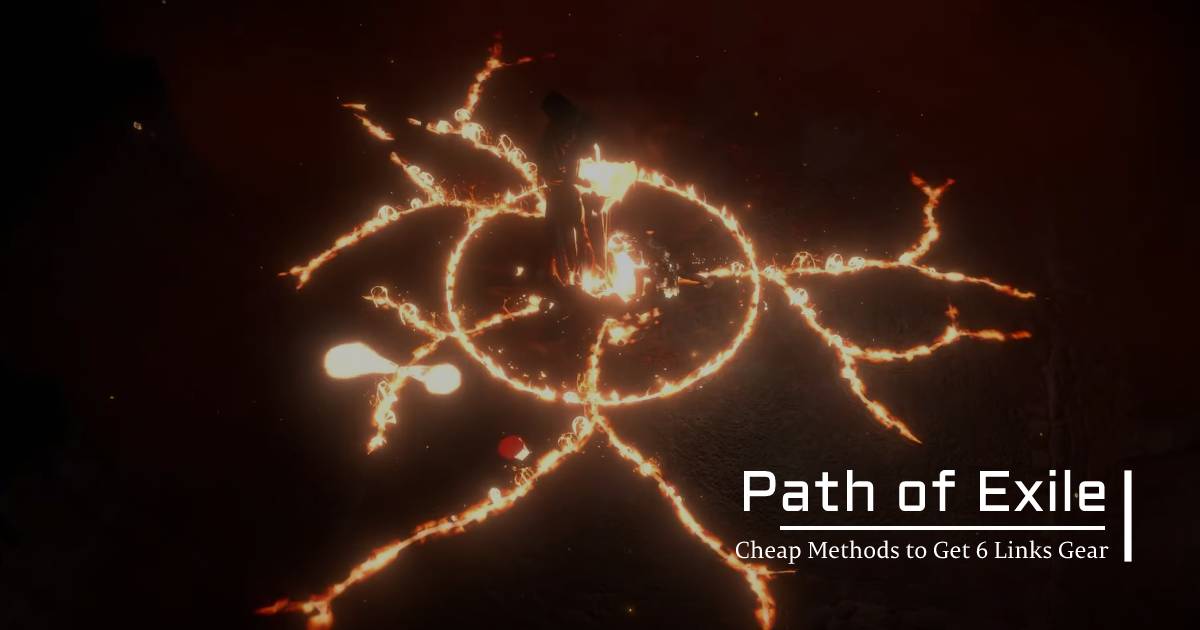 Tabula Rasa is an extremely popular item, especially at the league start. This item provides flexible sockets and stats like life and resistance. It is ideal for spellcasters and damage over time builds due to the +2 to gem levels. You can easily obtain this item by farming the The Humility divination card or purchasing it from other players. It's important to note that this item does not have any stats, so it may not be ideal for some Poe builds.
Corrupted Six Links
Corrupted six links offer the benefit of having stats as well as flexibility. The extra life and resistance can be incredibly helpful in getting your gear up to the necessary levels to survive end-game content. The downside is that the colors are often not perfect, so you may need to use chromatic and vaal orbs to recolor it. Another downside is that the prices of corrupted six links tend to drop quickly in the first week.
Tainted/Eternal Orbs
Tainted and eternal orbs are powerful crafting items that are confusing, especially for newer players. In 3.16, these orbs were incredibly easy to acquire due to them dropping everywhere. Now, however, it is still cheaper than six-linking with Orb of Fusings, but not by much. The best use case for these Poe Orbs is probably corrupted chests with +2 to socketed gems, as this can be a massive boost for spellcasters and damage over time builds.
Beast Crafting
Beast crafting is an excellent way to get a six-link on the cheap. All it takes is four tainted orbs to six-link a body armor. It is also possible to craft +2 to socketed gems on chest pieces. However, it is important to note that it is very hard to resell these crafts, as people need the exact same colors and mods.
Divination Cards
Divination cards are an excellent source of six-linked items in Path of Exile, especially for players who don't have access to trading or the ability to buy a corrupted six-link. Here are some of the best and cheap divination cards to get you on your way:
The Chains that Bind: This is the number one card for cheap six-linking. It's important to note that this card can only go up to level 80, so it's not ideal if you're an energy shield base or you need a higher item level.
Dapper Prodigy: This card is better for spell suppression, as it provides item level 100.
The Porcupine: This card is great for higher dot builds and Explosive Arrow Ballista builds. It's nice that it doesn't require a high item level, as you can use essence to force it.
Emperor of Purity, Draped in Dreams, Immortal Resolve, Imperial Legacy, Celestial Justicar, Dark Mage, and Val Regalia: These are other excellent divination cards that can help you acquire a six-link.
Bad Basis: This card is a great way to get a six-link for off-meta builds. It rewards players for playing off-meta builds, and it's especially useful for melee builds that don't require a six-link in the body armor.
Conclusion
Getting a six-link at a league start can be a daunting task, but with the right knowledge, it can be done relatively cheaply. Tabula Rasa offers flexible sockets and stats, corrupted six links offer stats and flexibility, tainted and eternal orbs are great for crafting corrupted chests with +2 to socketed gems, and beast crafting is a great option for six-linking a body armor. With this guide, you can now acquire a six-link at league start with ease.
Most Popular Posts
Popular Category Lists