How to Improve the Path of Exile Bow Damage?
Bows are a strong choice for characters who prefer a faster, more mobile playstyle, as they can dish out high amounts of damage per second, making them a popular option for many players. These are the general steps to follow when crafting a bow in Path of Exile, specifically for Lightning Arrow or Tornado Shot builds. These are the general steps to follow when crafting a bow in Path of Exile, specifically for Lightning Arrow or Tornado Shot builds.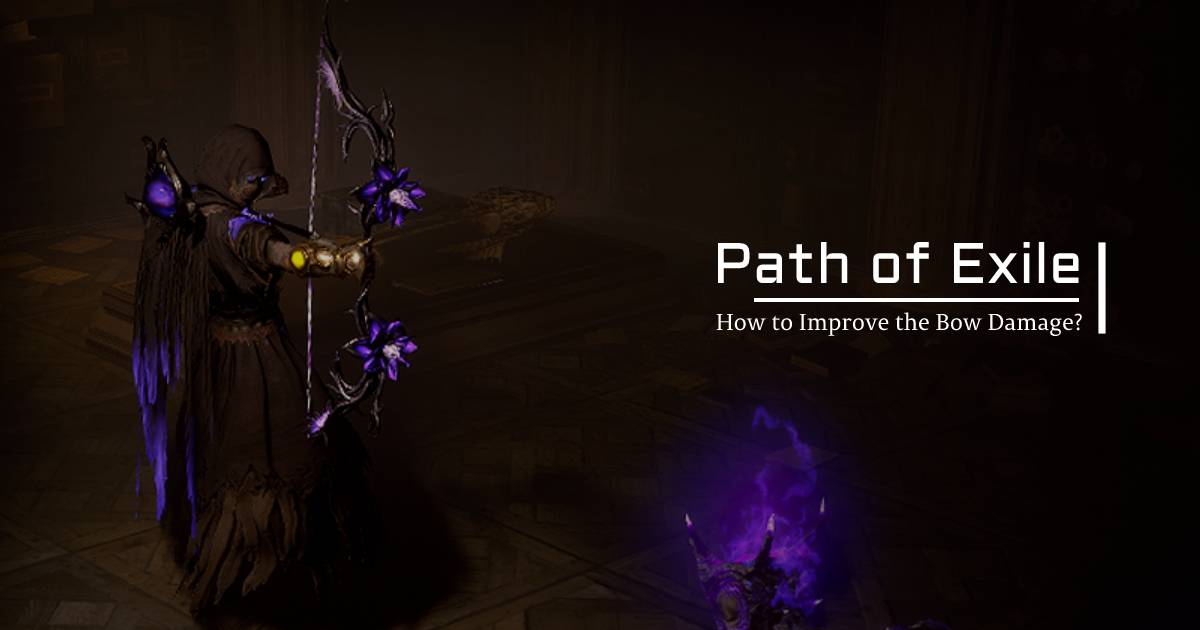 ↖ Step 1: Obtain a 6-link bow
For Lightning Arrow, the ideal base types are Imperial or Thicket Bows. For Tornado Shot, the ideal base type is a Spine Bow. You can obtain a 6-link bow by either buying one from other players or crafting it yourself.
One way to obtain a 6-link Imperial or Thicket Bow is by using the Imperial Legacy Card. Another way is to get a bow, craft it how you want it, get it to 6 sockets 4 links, bring it to the Menagerie, beast craft it corrupted with 30% quality, and then use tainted fusings to finish it up.
↖ Step 3: What to look for on the bow
For Lightning Arrow, aim for 3 elemental damage types as close to tier 1 as possible. For example, Tier 1/1/1 Fire/Light/Cold would be perfect, but any combination of 3/3/3, 2/3/3, 1/2/3, or 1/3/3 will work. If you hit 1-2 elemental types that are good tiers with an open prefix, use a 4 Chaos Orbs craft on the last elemental damage type.
For Tornado Shot, aim for high physical damage and any elemental damage mods. An additional arrow mod is not necessary, but it's nice to have.
↖ Step 2: Slam Essences
Essences are a great way to add powerful mods to your bow. In this case, you want to use Fire or Cold to Attack damage essences when crafting a Lightning Arrow bow. For Tornado Shot, any damaged essence will work. Aim for Deafening essences if possible.
You can obtain essences by running maps, delving, or using the atlas device. Look for essences with high-tier mods and use them on your bow until you get the desired mods.
↖ Step 4: Suffixes and prefixes
If you get 3 good prefixes on your bow, you can craft Attack Speed or Critical Strike Chance as needed. You can also multimode your suffixes and craft on both.
↖ Step 5: Essences suck
If you are having trouble getting the desired mods with essences, look for the proper base type and aim to find a fractured tier 1/2 elemental damage mod. Since you can use the beast crafting method to 6-link the bow, you don't need to buy a 6-link base.
↖ Step 6: Go blast
Crafting can be intimidating, but don't be afraid to try. In testing, a 1000 DPS bow on a 4-link was able to create multiple copies of 800 elemental DPS bows with just a couple of essences. If you need help, the community discord can provide guidance or even craft the bow for you if you have the materials.
In summary, crafting a bow in PoE requires some effort and patience, but it can result in a powerful weapon that can take your build to the next level. Aim for the right base, essences, and elemental damage types, and don't be afraid to seek help from the community if you need it.
Most Popular Posts
Popular Category Lists