How to Crafting Powerful PoE Totem explode poison Maraketh Bow?
In this Path of Exile crafting article, we will go over how to craft the bow for the new and very powerful totem explode poison build. This craft is estimated to cost around 7 to 8 POE divines, but the best part about it is that there is no RNG involved, apart from the increased chaos damage role in the alteration spam stage. However, this craft assumes that you already have your base bow, which must be an eye level, 78 plus Maraketh bow, and it should already be six-linked.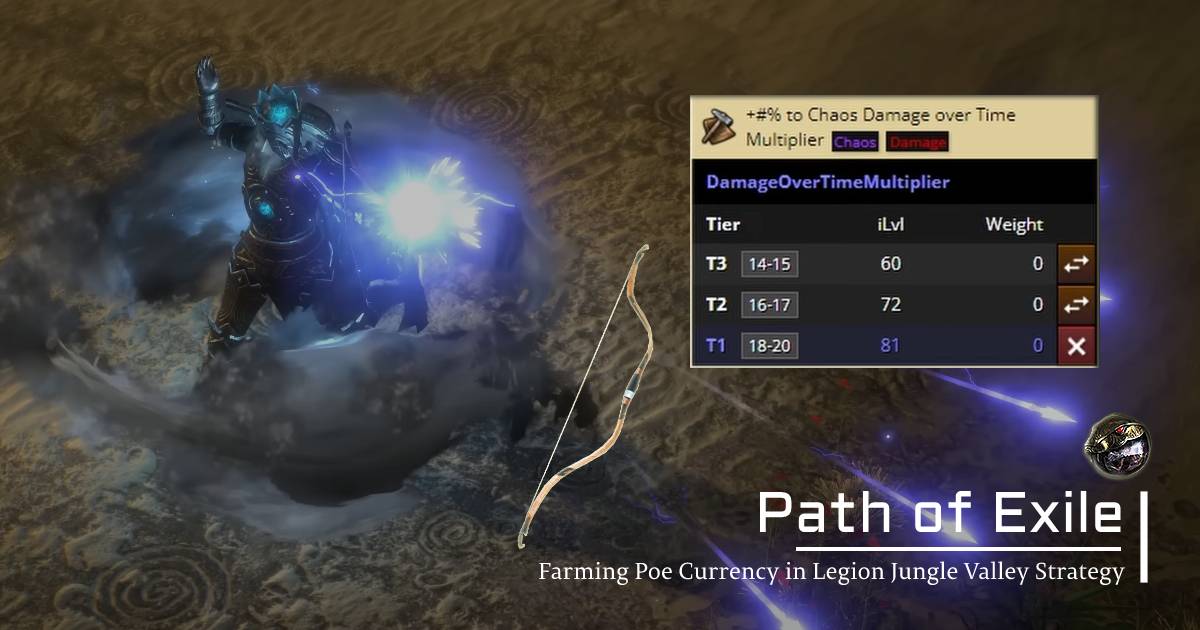 ↖ Hunter influence
The first step is to add Hunter influence to your bow, which is done with a Hunter's Exalted Orb on a rare bow.
↖ Alting T1
we move onto the Alting phase where we are going to alt until we have either T1 poison deal damage faster or T1 damage overtime multiplier. It's entirely up to you whether you want poisonous to deal damage faster or damage over time multiplier. Poison deals damage faster will result in a better feeling of clearness, while damage over time multiplier will increase the DoT damage. we believe that T1 poison deal damage faster is the optimal choice for our bow.
↖ Mods
After altering your bow and hitting either the T1 poison deal damage faster or damage over time multiplier, and they are isolated by themselves with no other mods, regal the bow. This should result in two mods on the bow, and now you can annul the other mod off and keep your main mod. If you miss the annual, scour the bow and alt until you have the same mod, and repeat steps two and three until you isolate the mod.
Once you have annulled off the unwanted mod and isolated the T1 poison to deal damage faster or damage over time multiplier, you're pretty much done with all the RNG required for this craft. The rest of this craft is pretty much guaranteed now. The next step is to multi-mod and adds cannot roll attacks, which costs two divines for the multi-mod and one divine for the cannot roll attacks. This will allow us to exalt the bow twice, and we're guaranteed to hit two mods plus one socketed gem and increase chaos damage over time. Now, remove the multi-mod and they cannot roll attack modifiers and multi-mod again.
↖ Crafting
What you craft here is entirely up to you. If you're purely trying to resell, craft plus 2 supports in chaos. However, if you're using it, we personally don't think the chaos DoT is needed, and instead, you can craft trap-throwing speed for quality of life. Regardless of what you do, the bow is done, and you can now either resell it or use it in your build.
↖ Cost of the bow
The total cost of the bow, not accounting for the base bow cost, is 1.5 divine for the Hunter's Exalted Orb, 800 Alts on average, two regals, two annulment orbs, two divines for the first multi-mod, one divine for the cannot roll attack mods, two exalted orbs, one scour to remove the crafts, two divines for the second multi-mod, two exalted orbs from the plus two supported skills, and four chaos for the chaos damage over time multiplier. This brings our total cost up to 1463 chaos or 7.3 divines.
Most Popular Posts
Popular Category Lists