Poe 3.21 Tankly Devouring Totem Traps Pathfinder Build
The Pathfinder Devouring Totem build is a fairly Tank build that allows for decent damage output while utilizing a double curse setup, auras, and two cluster setups. The build relies heavily on the well totem explode mod on weapons, which has been explored by many players in Path of Exile. The build also incorporates various defenses to increase survivability, including the Immutable Force and Blood Notch setup, which provides instant recovery based on your energy shield, as well as immunity to stun. Additionally, the build utilizes Devouring Totems, Progenesis, and Petrified Blood to gain regeneration and damage avoidance.
PoB Link: https://pobb.in/pyc4jwggJU3Z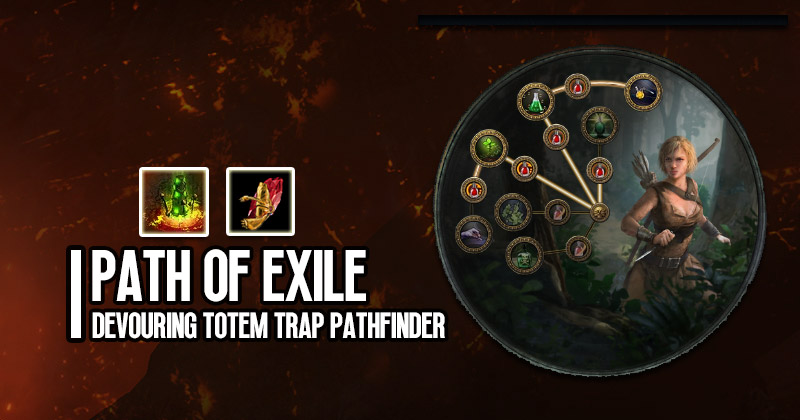 To further increase survivability, the build aims to achieve 90% elemental resistance and 100% physical damage taken as elemental damage. This is done through a combination of gear, including a helmet with four resistances, the Purity of Ice aura, a body armor with +1 all resistances, a Maw of Conquest helmet with +1 elemental resistances, and the Melding of the Flesh notable passive skill.
The build utilizes Roar of the Tides with Empower Support, Multi-Traps Support, Charged Traps Support, and Cluster Traps Support to summon as many traps and totems as possible. The build also utilizes Chance to Summon Additional Totems to maximize the number of totems summoned.
To further increase damage output, the build uses Hatred, Elemental Equilibrium, and physical to-cold conversion through gear. The build also utilizes the Tasteful Hide body armor to gain the Taste of Hate effect, which converts physical damage to cold damage.
In terms of auras, the build utilizes Clarity, Purity of Ice, Vitality, Herald of Ash, and Elemental Weakness. The build also scales the Herald of Ash with an increased area of effect to increase clear speed.
Overall, the Pathfinder build is a fairly tanky build that provides decent damage output. While it may not be the most damage-heavy build out there, its survivability makes it a great choice for players who prefer a more defensive playstyle.
Most Popular Posts
Popular Category Lists