PoE 3.21 Tanky Spark Pathfinder BloodNotch Build
BloodNotch is a unique jewel in Path of Exile that gives you up to 60% recoup for damage taken from stunning hits. It may not seem like much, but this jewel can be combined with other mechanics to create an incredibly tanky build. In this article, we'll go over how to build a tanky Pathfinder using BloodNotch.
POB Link: https://pobb.in/Tsq0ABG-RAvP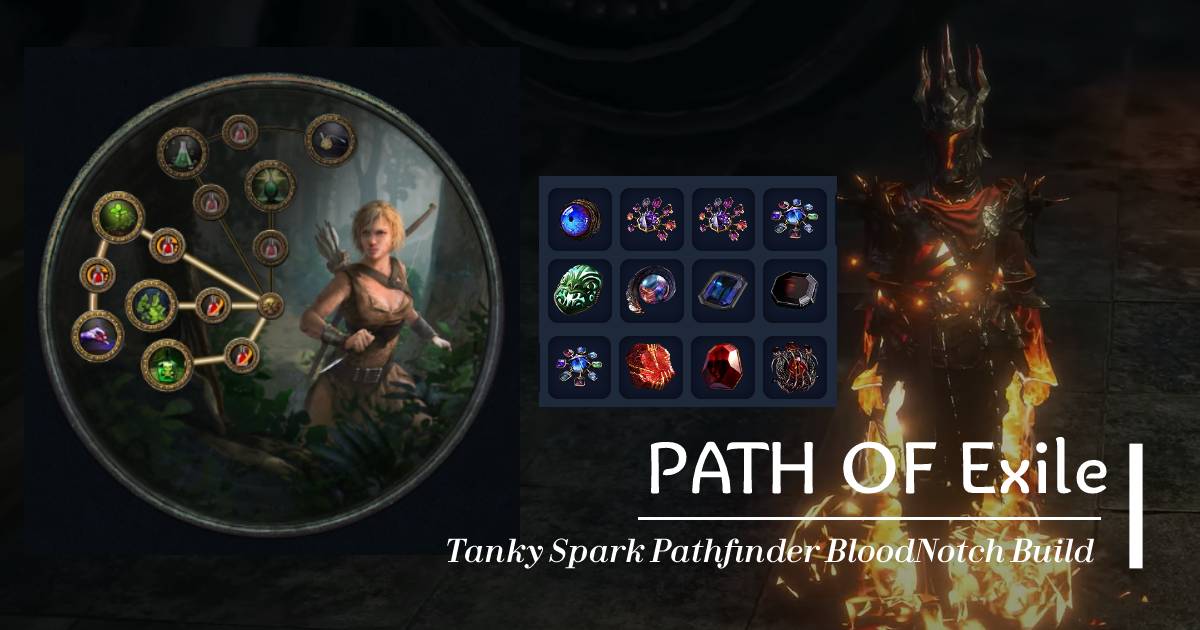 To start, you'll need to get a BloodNotch jewel. Even with a relatively low life pool of 3-4k, you'll get stunned quite often, giving you a reliable source of recovery on the toughest of bosses. Recuperating up to 60% of damage taken from a hit is an incredible layer of recovery, but you don't need to spend enough to get the perfect 60 roll. Even a 50% roll is totally fine, and if you have any ways to accelerate the healing or mitigate damage, then this is even more effective.
However, getting stunned constantly should be pretty annoying, even if it's just on bosses. You'll want to use defensive mechanics to avoid being stunned. This is where Immutable Force comes in, which can mitigate up to 900 stun and block recovery. Combine this with anything that lets you ignore interruptions from stun, such as the Unwaveringly Evil notable if you're using a chaos skill, and you won't really notice stuns ever. Even using a lightning skill, you'll barely notice stuns. Instead, you'll just notice how quickly your health comes back after taking a big hit and how tanky you are to all the little hits that you take at the same time.
Now that we've solved recovery entirely, it's time to look at the other layer of defense. If you just get one shot, you can't really heal, and these jewels don't do anything to prevent that. This is where Pathfinder comes in. There are two great ways to add damage mitigation.
The first is the Progenitor's Flask, an incredibly overpowered flask that prevents life loss from hit in exchange for taking the damage as a dot. That's completely mitigated by the recoup from your BloodNotch by default. It mitigates 25% of a hit damage, but this mitigation can be scaled with flask effect. It gets even better on Pathfinder.
There's also the Petrified Blood aura, which puts a buff on you, preventing 40% of the life loss from hits while below half and inflicting the damage as a dot, which is, of course, erased by your recoup. It should be noted that these effects combine multiplicatively. So if you take a hit at low life, 65% of the damage is not prevented. It's more like 55%. Using something like an anomalous Petrified Blood or scaling flask effect for your Progenitor's Flask could result in mitigating even more of the hit.
Another reason why Pathfinder is so great is that you can permanently run a life flask with a 100% uptime due to Master Surgeon. This adds even more recovery in the form of thousands of health per second, which is quite the potent combo.
The end result of this is a build that doesn't have a lot of life since you don't want to push up your stun threshold too high, but does feel incredibly tanky, almost more so than an 8k life juggernaut from PoE past. This 4k and change Pathfinder is absolutely about to rock your world and tank almost anything. Of course, you aren't truly immortal. If you stack enough things that mitigate or avoid your defenses, it can still get you killed.
Most Popular Posts
Popular Category Lists