Low-Budget Farm Poe Currency in Atlas Strategy Guides
Welcome to this guide on how to efficiently farm the Atlas in Path of Exile! In this article, we will cover a low-Budget strategy that can help you maximize your profits while minimizing your expenses.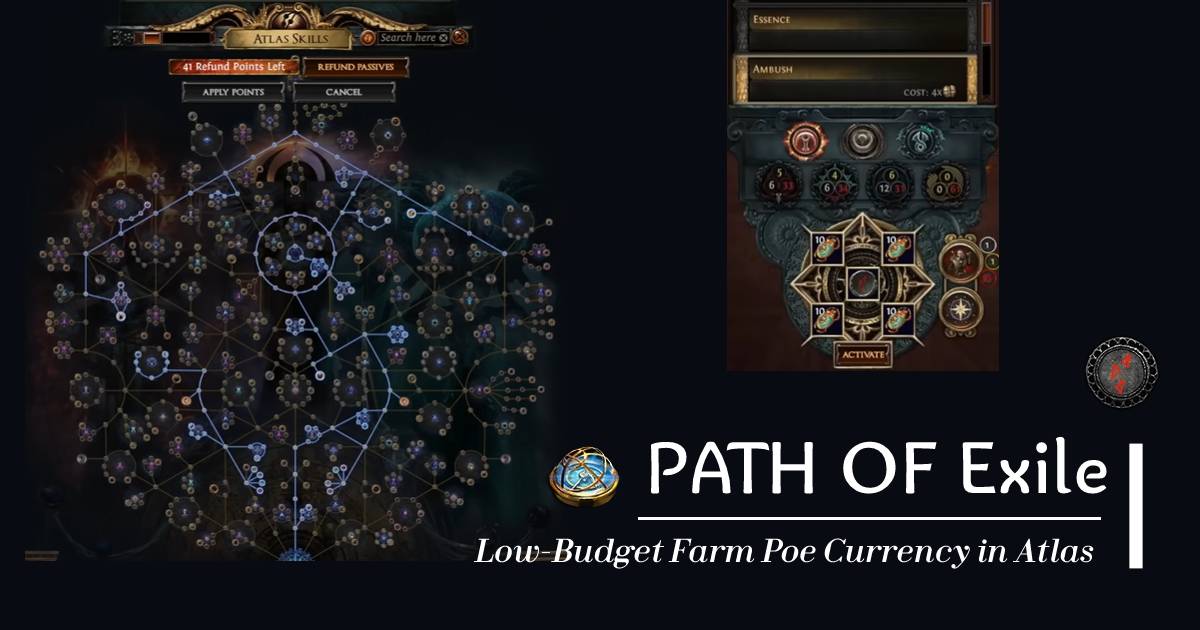 Firstly, let's take a look at the Atlas tree. While it's recommended to adjust it to your preferences, we suggest prioritizing the Growing Hordes for pack size and all the points for the Red Influence pack, size, and altars. These will significantly increase your chances of obtaining valuable loot during your mapping sessions.
Next, we need to prepare the Jungle Valley maps themselves. To do this, we recommend purchasing rusted Torment Scarabs. While other types of Scarabs can be used, Torment Scarabs were the cheapest option at the time of writing. Be sure to fill all four map device slots with Scarabs to maximize your rewards.
After preparing the maps, it's time to craft them. Chisel every map to increase its quality, and then corrupt it using the map device. We suggest using Ambush Scarabs for the best results, although this can be the most expensive part of the strategy. If you're looking to save even more currency, you can run the maps without them.
With your maps ready to go, it's time to start farming. Our testing showed that running a total of 30 maps in one hour straight is an efficient way to maximize profits. This cost us 200 Chaos or 1 x Divine Orbs, resulting in a cost of 7 Chaos per map. However, if you drop just one Awakened Sextant, you'll make back the cost of that map.
During our testing, we even had a map where we obtained 25 Awakened Sextants, paying off our entire Budget for that run! Once you finish the maps, spend another 30 minutes selling the items you've obtained. It's worth noting that some items may be underpriced to sell faster, so be sure to price your items accordingly.
Lastly, always take the Fractured items and identify them. This is an easy way to obtain valuable Poe currency, as these items can be fractured into valuable crafting materials or used to craft powerful items yourself.
In conclusion, this low-Budget Atlas farming strategy can help you earn significant profits while minimizing your expenses. By prioritizing pack size and altars, preparing your maps with Scarabs, and running them with Ambush Scarabs (if possible), you can easily make currency in Path of Exile.
Most Popular Posts
Popular Category Lists