PoE 3.21 Self-cast Eye of Winter Poison Occultist Build
In this guide, LOLTANK POE Trade Team will discuss a self-cast Eye of Winter Poison build in Path of Exile. This build is capable of achieving over 100 million regular DPS and has successfully cleared all seven Uber bosses in Hardcore mode. The two primary reasons for its success are the Divergent quality on the Eye of Winter skill gem and the Crystal Mod, which allows all damage from Eye of Winter to poison. We will discuss in detail the gear, passive tree, and playstyle of this poe build.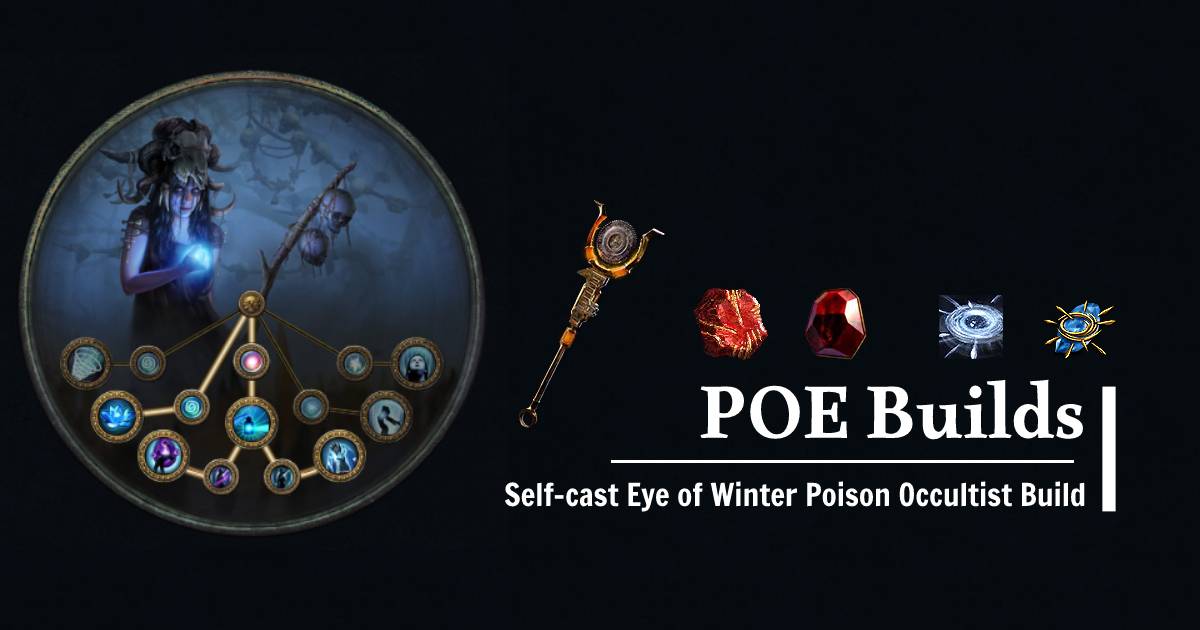 ↖Playstyle:
The mapping playstyle for this build is to use Profane Bloom and Plague Bearer to clear. For boss fights, Profane Bloom is unspecced, and Holy Authority and Whispers of Doom are taken. The primary skill is self-cast Eye of Winter, which is supported by Cold to Fire, Poison, and Controlled Destruction. The damage ramps up with elemental overload and the increased focus duration. The playstyle is cautious, with an emphasis on positioning and keeping an eye on buffs and debuffs. Flask usage includes a Quartz Flask, Silver Flask, Quick Silver Flask, and Granite Flask.
↖POBLink: https://pobb.in/V7Cb4UGGCMVV
↖Passive Tree:
The passive tree for this build is very tight, with only a few nodes that give increased damage. The focus is on scaling the Divergent Eye of Winter skill gem to maximize single-target damage. Frigid Wake and Withering Presence can both be taken as this is a cold skill dealing cold damage, but the poison damage is still applied due to the Crystal Mod. In total, there are only about 10 nodes that give increased damage, so most sources of increased damage function as more multipliers.
↖Gear:
The gear for this build is crucial to its success. An Ossecati Sceptre is used to give Elemental Overload without having to pass over it.
The shield is another repeat of the Ossecati, allowing the chance for 500-1000 more damage with poison to apply twice. The shield also gives 20 spell suppression, which is a T1 roll. The helmet has an increased focus duration, which is stacked with the glove mod for focus cast speed.
The gloves have Poison Chance, and the boots have spell suppression.
The chest armor is Malfaction, which is the first mandatory unique. This gives a ton of alt quality scaling to scale the Divergent Eye of Winter. The second mandatory unique is Ashes, again for the alt quality scaling.
Rings are standard, with cast speed, life, and resistance.
The belt has the Stitching, allowing for a free abyssal jewel for shock immunity.
↖Conclusion:
The self-cast Eye of Winter Poison build is a powerful and versatile build that excels in single-target damage. With careful gear selection and playstyle, this build can successfully clear all seven Uber bosses in Hardcore mode. The focus on scaling the Divergent Eye of Winter and utilizing the Crystal Mod to apply poison damage allows for an incredibly potent and unique playstyle.
Most Popular Posts
Popular Category Lists