POE 3.21 Tanky Progenesis Arctic Armour Inquisitor PVP Build
If you are looking for a different and unique playstyle in Path of Exile, a tanky Progenesis Arctic Armour build may be for you. This build offers a high degree of survivability and damage avoidance, making it an excellent choice for players who prefer to play defensively. While it may not be the most popular build, it's certainly a showcase of how different and game balance can exist in PoE.
POBLink: https://pobb.in/Un7ZzrePluuD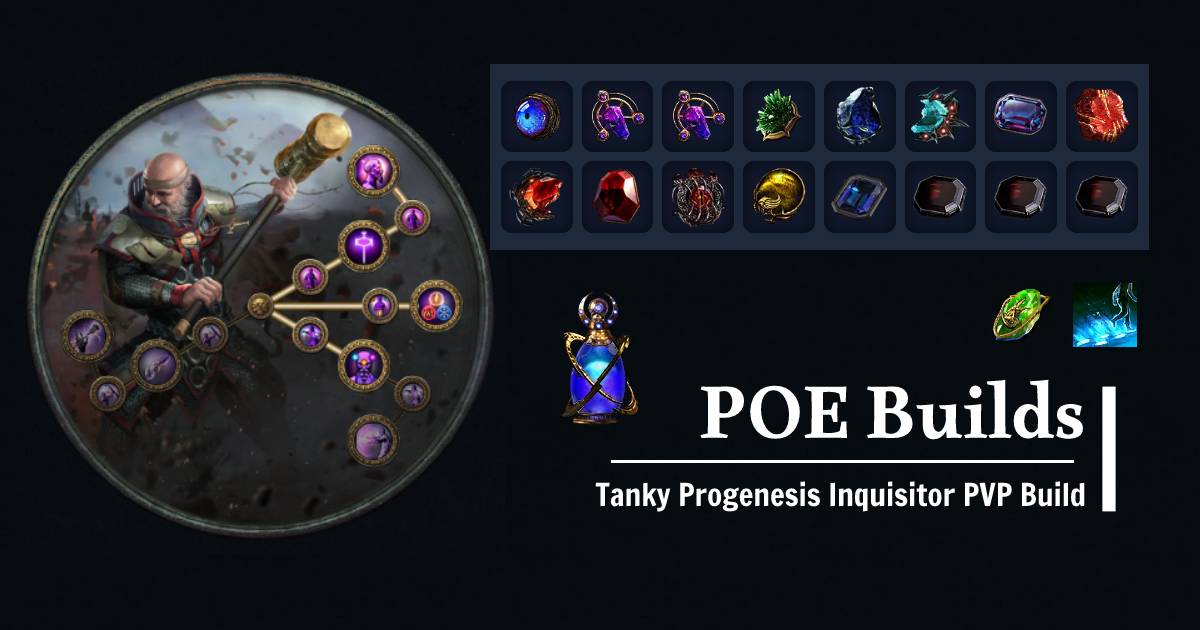 The key to this build is Progenesis, a unique item that triples the effective life of the character. With 168 increased plus effect, paired with a lot of life recovery sustain, the life loss over time from it can be mitigated. Access to life recovery alone can sustain a lot of damage, but being over 4 seconds, it's a slow mechanic that's still weak to huge burst damage.
In the previous 3.20 patch, instant recovery was possible with the six percent life recovered per flask used from Pathfinder and the exotic combination of the benched 15 life leached from damage they can mod on flask and mega-saving blood. However, in the current 3.21 patch, BloodNotch grants the most recovery paired with the ES mastery, and every hit starts because Progenesis already takes 67 percent of life loss from its uber time. The remaining third is three percent of heat damage they can instantly recover, fully covered by any royal Blood Notch, because 40 to 60 percent of heat damage is recovered instantly.
The build also has additional layers of protection against one-shots through Spell Suppression, Immortal, Arctic, Armor, and Ruby flasks. While also taking other damage types as fire, the life loss over time from Progenesis is not damage over time, so you cannot mitigate it by leaving shade and such. The servers run at a fixed 33 ticks per second, and each tick, the healing effects are calculated first, then the life loss from Progenesis is subtracted. This is very similar to when you run righteous fire or blood rage, and you always miss a tiny bit of life when you take instant amounts of damage that doesn't one-shot you. It's possible for the accumulated life force to bring your life solo each tick, but at the point you die from the combination of death and the heat damage you still take instantly.
Compared to Gigi Nox, this build is weaker against burst damage because of the lack of mitigation and instant recovery against high burst damage opponents. However, it's still somewhat better to have the essence-crafted fire avoidance mods and elusive from withering step. Any form of stat-based flask charge generation is disabled in most PvP arenas, with Sworn Arena being the only exception. This is where the build is usually played without flasks.
In PvP, the biggest challenge is trying to remove the most resist from your opponent, and as a tank, trying to prevent that. Since Aegis players have access to tons of elemental penetration, the best way to counter that is to take damage as chaos damage by the Divine Flesh Keystone or another element that you can mitigate better. DPS characters are aware of that, and they are trying to cover it by rare sources of chaos penetration or applying wither.
Most Popular Posts
Popular Category Lists