Poe 3.21 Max Quantity Ethereal Knives Pathfinder Build
In this guide, we will be discussing a Max Quantity Ethereal Knives Pathfinder Build in Path of Exile. The character we will be discussing has been pushed to the maximum in terms of quantity, and we will go over what we did to get the maximum amount of quantity possible. We will also discuss how the character functions and how you can copy it if you choose to do so.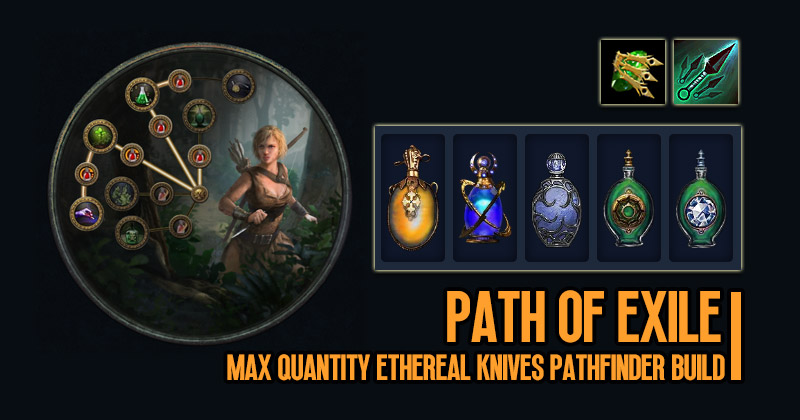 PoB Link: https://pobb.in/5GmfSkTb4uLg
The build we will be discussing relies on the Orbot for damage and survivability. We are not actually running any damaged ores and are instead running Purity of Elements to be able to be immune. We are also running Heralds because Orbots cannot run Heralds.
We chose the Pathfinder ascendancy because it is the best ascendancy in terms of getting as much quantity and rarity as possible. This is because of all the flask effect notes. The flask effect directly affects your character quantity because of the item Divination Distillate, which provides a 12% increased quantity.
Without Pathfinder, we lose 8% quantity, so it is not ideal. However, with Pathfinder, we get around 30 flask effects from the small travel nodes. We also get 30 increased effects of a magic utility flash, which is important because we are using a Gold Flash with increased effect and rarity.
There are a few areas for flask effect on the tree outside of the ascendancy. We take the small travel nodes that provide 10-flask effects, and we also take Natural Remedies, which provide another 10-flask effect. Lastly, there is a note that gets you a 5% increased effect.
We also use Alchemist's Genius, which grants us 10 flask effects if we use the flask. This helps us get more quantity and rarity, and it also makes the character tanker because it scales the Progeny. Progeny and Taste of Hate offer us a lot of survivability.
We also use Elegant Hubris, which takes away all of the travel nodes and changes the notables to something different. One of the options is a rarity, so we have 40 rarities in four different spots. It is a very low amount of points that you have to take, and these are the bay travel nodes.
Overall, we have tried to do everything possible to squeeze out the maximum amount of quantity. This character is focused on the flask effect, and we have stacked all the flask effects we could find to get the maximum quantity and rarity possible.
Most Popular Posts
Popular Category Lists