Path of Exile Crafting Profitable Rings Guides
Crafting in Poe involves the process of enhancing or creating items by modifying their properties. This can be accomplished through different techniques, such as utilizing specific orbs and other forms of currency randomly or via predefined vendor recipes, the Crafting Bench, or assistance from masters. Crafting in Path of Exile can be a profitable activity if done right. In this article, we will go through a crafting session that took about 50 minutes from buying the bases, and materials to finishing the crafting process.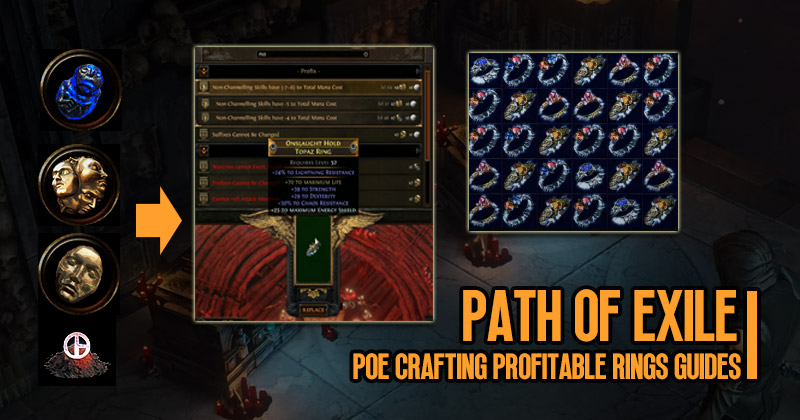 ↖ Buy Bases Ring
Firstly, We suggest buying bases with an item level of 84, non-corrupted and non-mirrored, with one implicit and fracture tier, and maximum life. We spent about 15 minutes purchasing all the required bases.
↖ Crafting materials
The next step is to buy the crafting materials. For this crafting session, We bought life force, Fertile Catalysts, Orb of Annulment, Divine Orbs and Exalted Orbs.
↖ Crafting mechanic
The crafting process involves using the Harvest crafting mechanic, specifically the Reforge Chaos option, to get two good suffixes. Once you get the two good suffixes, you can then use the crafting bench to craft any prefix or use an Exalted Orb to add a good prefix. If the ring has a bad prefix, you can use Fertile Catalysts to remove it.
↖ Crafting Strategy
We recommend crafting rings with Chaos Resistance, Strength, Intelligence, Attributes, Dexterity, Resistances, Accuracy, Damage, and Life. The rings with Chaos Resistance and Life together will sell well.
We also advise that the price of the rings may vary, and it's best to eyeball the price since price checking may not be accurate, especially early in the league. However, rings with two good suffixes and a good prefix can sell for 1-3 Divine Orbs.
↖ Conclusion
Crafting in Path of Exile can be profitable if done right. It's essential to buy the right bases, use the Harvest crafting mechanic, and craft rings with desirable stats. With some practice, anyone can master the art of crafting and make a good profit in Path of Exile.
Most Popular Posts
Popular Category Lists