Diablo 4 Server Slam Open Beta Important Things You Need Kown
Diablo 4 is set to release in just under a month, but before that, there's one more public beta-type event happening called the Server Slam. This final chance for players to try out the game before release takes place from May 12th to May 14th, and here are 10 things you need to know before diving in.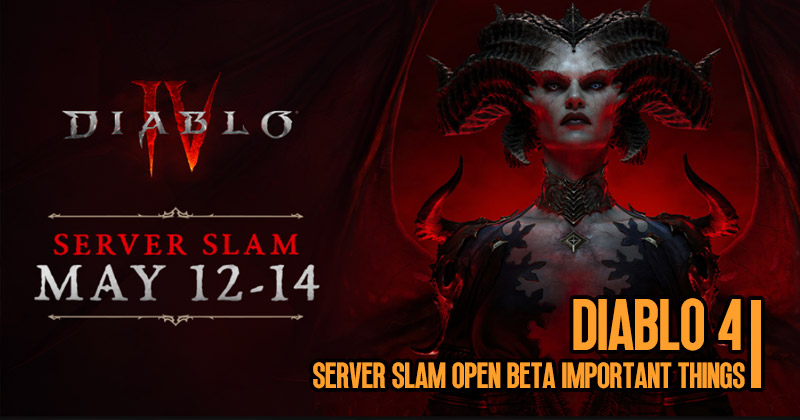 ↖ Event Dates
The Server Slam event lasts from Friday, May 12th at noon Pacific Time until Sunday, May 14th at noon Pacific Time. It's worth noting that this event is one day shorter than previous beta weekends.
↖ No Character Transfer
Characters from the previous beta weekends will not transfer over to the Server Slam. If you want to participate in this final testing period, you'll be starting over from level one once again.
↖ No Character Transfer to Full Release
Characters from the Server Slam will not transfer to the full release of the game. This is essentially just a final beta test with an emphasis on the servers.
↖ Max Level of 20
The level cap during the beta weekends was level 25, but in the Server Slam event, you'll only be able to get to level 20. This means you won't be able to try out some of the further skills unlocked in the skill trees, including the ultimate skills.
↖ Bonus Item for Killing Ashava
The world boss Ashava will return in the Server Slam event, and if you defeat it at level 20, you'll receive a mount trophy in the full game. Ashava will spawn on Saturday, May 13th at 9am Pacific Time and then for every three hours afterwards, until Sunday, May 14th at 9am Pacific Time.
↖ Dynamic Weather System
Diablo 4 features a dynamic weather system that affects the environment, enemies, and gameplay. Be prepared for changing weather conditions that can alter the battlefield.
↖ Four Playable Classes
The four playable classes in Diablo 4 are Barbarian, Druid, Sorceress, and Rogue. Each class has its own unique playstyle and skills to master.
↖ Multiplayer Features
Diablo 4 features both PvP and PvE multiplayer modes. Join forces with other players to take on the game's toughest challenges or compete against them in battle.
↖ Open World Exploration
Diablo 4 features a large open world for players to explore. Discover hidden areas, complete quests, and encounter unique enemies in your journey through the game.
↖ Immersive Storytelling
Diablo 4 features an immersive storyline that unfolds through in-game cinematics, NPC interactions, and item lore. Dive deep into the world of Sanctuary and uncover the secrets of the upcoming game.
In summary, the Diablo 4 Server Slam event is the final chance for players to try out the game before its official release. With a level cap of 20, a dynamic weather system, four playable classes, and immersive storytelling, Diablo 4 promises to be an exciting addition to the franchise. Don't miss out on this opportunity to explore the world of Sanctuary and prepare for the game's full release.
Most Popular Posts
Popular Category Lists