FFXIV Patch 6.4: Checklist for the Big Content & Gil-Making Preparations
FFXIV Patch 6.4 is fast approaching, and as always, you want to be ready for the new content and opportunities that come with it. Patch 6.4 is expected to be a big one, so it's essential to prepare well. In this article, we will provide you with a comprehensive checklist of things to do before the patch drops, as well as tips on how to make the most out of the new opportunities, especially regarding ffxiv gil making preparations.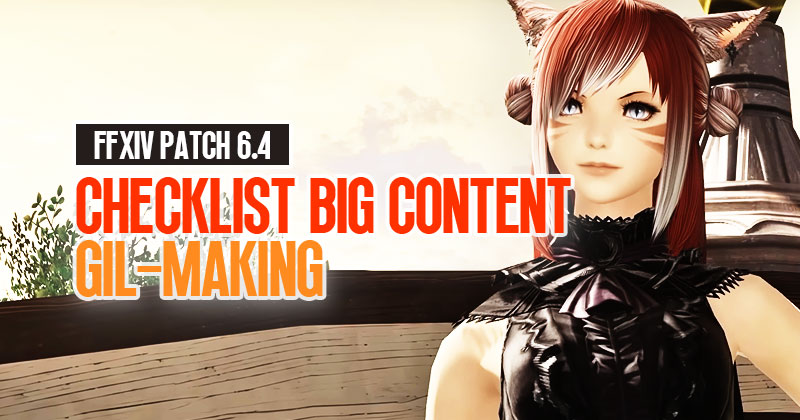 ↖ Things to do before 6.4
Before the patch drops, there are a few things you should take care of. First, be aware that the Mughal tombstone event will take place until 6, so make sure to finish grinding for whatever you need before the patch drops.
Finish the Mughal Tombstone Event: The event will end with the release of Patch 6.4, so make sure to complete any grinding necessary to acquire what you need from the event.
Check PvP Series 3 Rewards: Series 3 Rewards are also ending, so make sure to grab any rewards you want before the patch drops. Note that the new season will introduce a new set on Level 25, and you can also receive the rewards by participating in Frontline PvP matches.
Progress Through MSQ: As the patch will introduce a new dungeon and trial, make sure to progress through your Main Story Quest to have access to the new content.
Prepare for Tataro's Great Endeavor: Completing the Heavensward Alliance Raid, the Quest series is required to participate in Tataro's Great Endeavor, so make sure to start the quest Sky Pirates in the pillars to access the new content.
Complete Hildebrand Questline: If you are interested in preparing for 6.45, the questline takes about 3 hours to complete without cutscenes and about 10 hours when watching them.
Complete S for Dallas and the Business Part of Eight People Pandemonium Raid: This will be another big branch of the patch, introducing the new tier Anabasayos, and it is worth doing for the story and meeting familiar characters of the main story.
↖ Gil-Making Preparations
Now, let's talk about Gil making preparations.
Stack Up Tomestones of Causality: These will be stepping down a tier and will serve as the catalyst to upgrading and catch up gear, but first and foremost for the brand new crafting materials, which are going to be insanely expensive on the first days of the patch.
Keep Material Clusters: Direct Hit, Crit, and Determination will rise in price, but don't sell material now except if you already bought them for way cheaper than what your server's prices offer right now.
Participate in A Rank Trains: This is the most efficient way to acquire clusters and keep as many as you can for future use.
Complete Manderville and Amazing Manderville Weapons: This is highly recommended, especially for your main jobs, as it is a good way to make decent gil with crafting materials.
↖ Crafter Preparations
Now, let's move on to crafter preparations. The top priority for crafters should be upgrading their crafter gear to the indicator. This stuff is at a reasonable price still, but it might change with 6.4 in the same way that crafter materials might skyrocket. Better to be prepared with a solid Pantamel set and make sure to get the weapons for each crafter job too.
No new master recipe books in 6.4, so why should you cap on scripts? It's okay to be too invested in that. Most materials will be completely new, so gatherers can also make a decent coin when the patch drops. It is likely that ether sands will remain the same, so you could stockpile those as well as some of the base materials used for the new outcasts that always serve as the foundation for crafted battle gear.
New battle gear will be the most profitable craft for the weeks after the patch, and this might continue until the new expansion comes. So, it's important to have your crafting and gathering gear up to date. The last tip is that there will be a new, updated, extreme trial, shiny weapon, so in advance, go ham on these weapons as soon as possible and, in preparation, exchange your master crystal to the blacksmith and get some nasty guilt for these on the first day.
↖ Take Your Time and Enjoy 6.4
Apart from all the preparations, it's important to take your time with the patch and not rush through any form of content like a madman. We definitely will know how long it will take the next expansion comes, so seize the content you have and make the most of it.
Conclusion:
Patch 6.4 is going to be an exciting update for Final Fantasy 14 players. Be sure to finish up ongoing events, progress through MSQ, and prepare for Gil-making opportunities to make the most out of the new content.
Most Popular Posts
Popular Category Lists