PoE 3.21 Powerful CoC Lancing Steel Ice Spear Deadeye Build
Path of Exile is a complex game that requires players to invest a significant amount of time and effort to create powerful builds. However, one of the players' main challenges is the fear of reporting their builds. This fear can be due to a lack of confidence in their abilities or the fear of being judged by other players. In this article, we will guide you through creating a powerful Ice Spear PoE build using Lancing Steel, a trigger skill for Cast on Crit.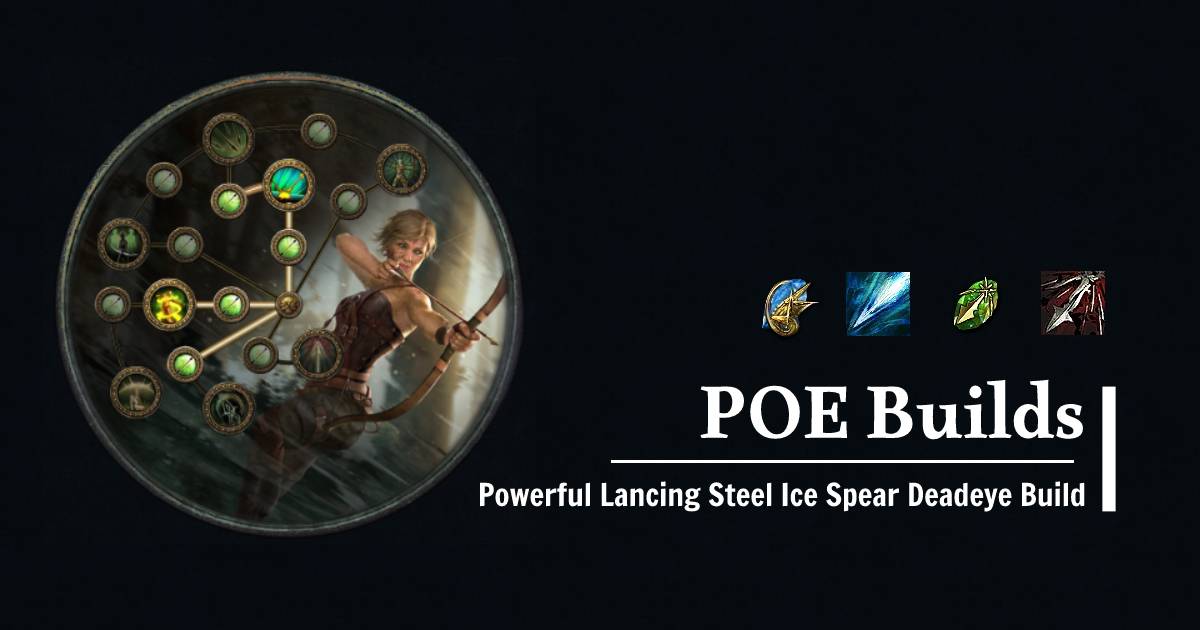 ↖PoBLINK: https://pobb.in/PYKK_AjCSE0g
↖Lancing Steel
Lancing Steel is one of the most underrated trigger skills in PoE. With this skill, we can trigger up to 20 skills in just one second, especially with Greater Multiple Projectiles and Call it Steel, which increases the number of projectiles. However, Path of Building (PoB) calculates damage wrong for this skill, so we need to use data with two additional projectiles and effective marks to create a perfect build.
↖Weapon
We found that a one-handed sword could be much better since we can also use a shield. We bought a sword with fractured 27 attack speed, slammed it with spell damage essence, and added the mod "hits can't be evaded." This mod is crucial since we can't miss this build. We also need to invest in a new tree to make this build work.
↖Body armor
We need a six-link body armor with spell and attack crit, suffixes that cannot be changed, and caster modifiers for bonus curses. We also need a shield with fractured +1 cold, spell skill craft, life, a chance to block, and avoid elemental ailments. The helmet should have the enchantment "+1 power charge" and cold penetration. We can use an omen or orbit dominance and try to get even more penetration. The boots should have the same stats as the previous build, but we need to invest in two rings and an amulet with open prefixes to craft minus non-channeling, mono cost.
↖Jewel
We also need a big cluster jewel and medium with tons of crits, a timeless Jewel with high dominance mod, and a watcher's eye. Our goal is to get 52 cooldown recovery, 31 from awakened cast on crit, 16 from the belt, and the rest from the boots. Since we hit like 30 projectiles every time we attack, we can use two skills to proc. The first is obviously the ice sphere, and the second is the freezing pulse or eye of winter.
↖Recommend
For this build, we recommend using a different tree with legion abyss and breach. We also suggest investing in a Starforge with 950 physical DPS for a unique playstyle, good map clear speed, and crazy single-target damage. The estimated cost of this build is around 70 divides.
↖Conclusion
Creating a powerful PoE build requires patience, time, and effort. However, the fear of reporting should not hold you back from trying new builds and improving your gameplay experience. We hope this guide helps you create a powerful build using Lancing Steel.
Most Popular Posts
Popular Category Lists