How to Avoid PoE Awakened Sextants Trading Problem?
Path of Exile is a popular action role-playing game with a vibrant trading community. However, there's a persistent problem in the trade league that's causing some players frustration - items listed in Awakened sections are far more visible than they should be. This issue has been around for a while, but it's worse in current leagues.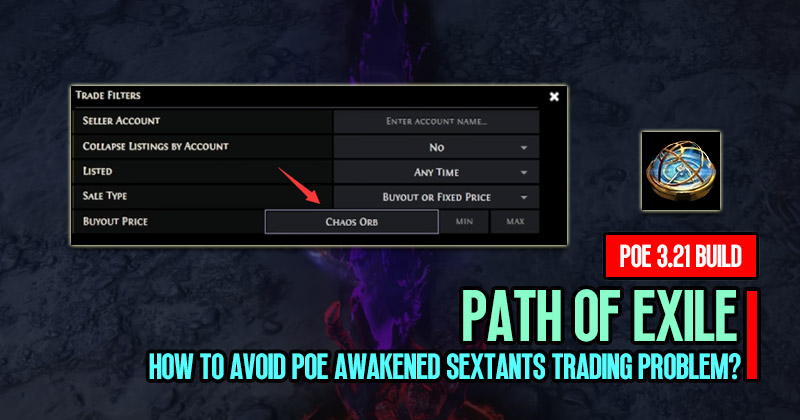 ↖ What's the problem with awakened sections?
Awakened Sextants, for instance, are currently trading at 5.9 chaos orbs, which is a fair market price. However, a search for popular in-game consumables like Droxus Citadel Maps can yield misleading results. While most elder slayer maps are worth more than shaper guardian maps or elder guardian maps, some people run a lot of them, while others don't run them at all. Consequently, you'll see listings like Warped Apex at 32 chaos orbs, Cabal Trap at eight Awakened Sextants (which is 47 chaos orbs at current prices), and a steep drop down to 35 chaos orbs when you go below the eight-section ones.
↖ Why this problem?
The reason for this is a long-standing bug where the trade site doesn't dynamically update PoE currency values against each other. Awakened Sextants have risen higher than historical precedent, causing these listings to appear much earlier than they should. This isn't the fault of the players making the listings but rather the trade site's malfunctioning.
↖ How can you avoid these listings?
It's simple: when doing a trade filter search, add in "in the buyout price: don't have chaos orb equivalent," and select Chaos Orb specifically. If you're trading for something more expensive than a Chaos Orb, then select Divine Orbs. This will eliminate all offers posted in Awakened Sextants, so you'll only see the ones in Chaos Orbs.
In conclusion, the PoE trade league has a persistent problem with items listed in Awakened sections being more visible than they should be. While there are workarounds to avoid these listings, there's also a risk of losing sales if you don't join in. GGG needs to fix the trade ratios to resolve this issue.
Most Popular Posts
Popular Category Lists