Last Epoch Beginner Guide: 8 Essential Tips for a Successful Start
Are you a new player or returning to Last Epoch after a long break? Either way, this action RPG game has a lot to offer, but it can also be overwhelming. To help you get started and make your gameplay experience more enjoyable, here are eight beginner tips and tricks to keep in mind. From taking the time to read the important information in the game's tooltips to utilizing the in-game guide, these tips cover everything from respecting abilities and setting up a loot filter to paying attention to defences and experimenting with different approaches.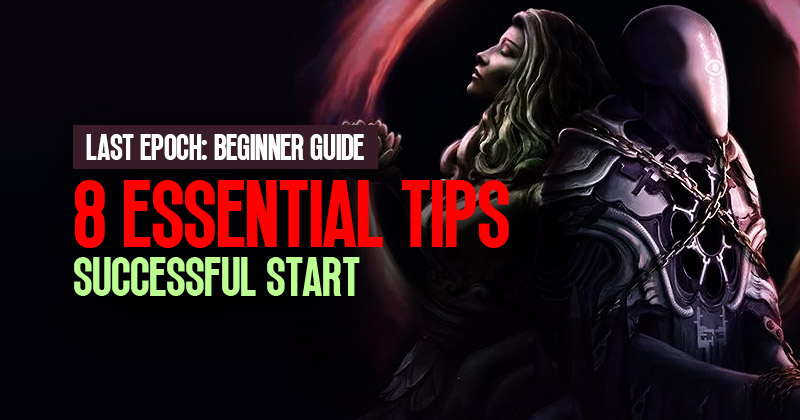 ↖ Tip 1: Reading is Important
Take the time to read the important information in the game's tooltips, especially by pressing the Alt key for additional details. Tooltips provide valuable information about skills, conversion, scaling, attributes, and more. Utilize the search bar feature to quickly find specific information about your build, such as passives or hidden bonuses.
↖ Tip 2: Change and Respect Abilities
You have the flexibility to change and respect most aspects of your character in Last Epoch. Respecting your passives and skills is easy, allowing you to experiment with different builds. However, your mastery choice is permanent, so choose your subclass carefully. Although levelling a new character is an option, it's best to avoid it if possible.
↖ Tip 3: Use a Loot Filter
Setting up a loot filter is highly recommended. Press Shift+F to access the loot filter menu and create filters that hide items not suitable for your class or of low rarity. As you progress, you can customize the filter to show specific modifiers or combinations that are relevant to your build. Take the time to set up your loot filter properly, and if you need help, there are resources available online.
↖ Tip 4: Don't Worry About Finishing the Campaign
Refrain from completing the entire campaign before diving into end-game content. Focus on acquiring idols and unlocking skills, then transition to monoliths. If you're below level 48, it's advisable to level further in the story to avoid experiencing penalties. Consider levelling up and improving your poison resistance before tackling the challenging content at the end of the campaign.
↖ Tip 5: Shatter Items to Get Random Shards
You can shatter items to obtain random shards, which serve as crafting Last Epoch currency. However, if you're looking for a specific modifier and the item has forging potential, it's better to use a Rune of Removal. This removes a specific modifier from the item, granting shards equal to its tiers. This method allows you to obtain all the shards of a valuable modifier instead of receiving random ones.
↖ Tip 6: First Monolith Choice
When you complete your first monolith, choose the level 66 option. This progression path grants blessings that enhance your character's power. You can acquire loot blessings afterwards by clearing empowerments. To unlock empowered monoliths, you only need to complete the final three timelines: Spirits of Fire, The Last Ruin, and The Age of Winter.
↖ Tip 7: Pay Attention to Defenses
Pay attention to your defences in Last Epoch. In addition to health, you have various defensive options, including armour, resistance, dodge, block, glancing blows, and endurance. Armour reduces damage from hits, while resistances are important but not as punishing as in other games. Endurance, a unique defence mechanic, provides damage reduction on low life. Take advantage of these defensive options to improve survivability.
↖ Tip 8: Utilize the In-Game Guide
If you have any questions or need information, refer to the in-game guide by pressing G. The guide contains a wealth of information about Last Epoch and can answer most of your queries. If you desire more detailed guides, you can also check out external resources such as Maxroll.
↖ Bonus Tips: Experiment and Have Fun
Don't feel compelled to follow a guide strictly. The last Epoch is forgiving, and you can quickly adjust and fix any mistakes. Feel free to experiment, try different approaches, and learn from your experiences. While optimized builds are helpful, the campaign difficulty allows for non-optimal builds. You can always come back and optimize your build later.
Conclusion:
Remember, Last Epoch is an ever-evolving game, and staying connected with the community and available resources will enhance your understanding and enjoyment of the game.
Most Popular Posts
Popular Category Lists