Last Epoch New Uniques and Weaver's Will Item in Rising Flames | Patch 0.9.1 Updates
Welcome to the world of Last Epoch! In the latest update, version 0.9.1 Rising Flames, a variety of exciting new items have been added to enhance your gameplay experience. In this guide, we will explore the 15 new items introduced in this update, including six new uniques and nine Weaver's Will items. From powerful weapons to valuable relics, let's delve into the details of these new additions.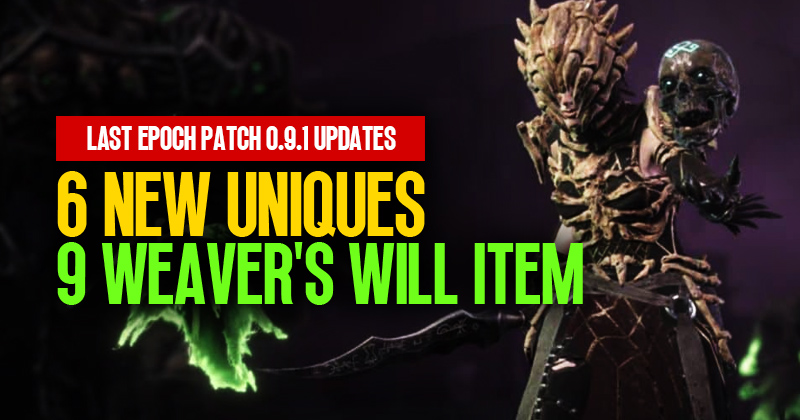 ↖ Unique Items
Unstable Core (Mage Body Armor):
Unstable Core is a highly sought-after unique mage body armour. It provides a significant boost to Elemental Nova, making it a must-have item for mages. With its impressive stats and level 77 requirement, this item promises to be a game-changer.
Apogee of Frozen Light (One-Handed Sword):
This new one-handed sword, Apogee of Frozen Light, specializes in cold damage. With a potential base melee damage of 126 and a maximum level requirement of 76, this sword is an exceptional weapon that can unleash devastating cold attacks.
Branch of Hollows (Two-Handed Druid Staff):
Branch of Hollows is a two-handed druid staff that offers unique benefits to druid characters. Upon transforming, you gain 400 wards based on Maelstrom stacks, and the staff can roll up to 90 base spell damage. Its design is visually striking, reminiscent of an ancient artifact.
Gathering Fury (Bow):
Gathering Fury is a lightning bow that grants a powerful stacking attack speed buff. Each time you hit an enemy with a bow ability, you gain a 5% increase in attack speed for three seconds, with a maximum of 10 stacks. This bow can provide a 50% attack speed boost, offering an incredible advantage in combat.
Pillagers Gold (Relic):
Pillagers Gold is a relic focused on burning daggers, a unique playstyle within Last Epoch. Although the mechanics of burning daggers might require some exploration, this relic is an excellent choice for levelling or even as an endgame option with its legendary potential and level 35 requirement.
Apostate Sanctuary (Bone Amulet):
Apostate Sanctuary is a rare drop and a valuable amulet for melee builds. While it penalizes health and ward for casting spells, it significantly enhances your melee attacks. If you prefer a melee-focused playstyle, this bone amulet should be high on your priority list.
↖ Weaver's Will Items
The Weaver's Will items introduce unique opportunities for customization and power in Last Epoch. Here are the new Weaver's Will items for each class:
Acolyte: Ambition of the Erased, Code of the Erased, Sentinel Dedication of the Erased.
Primalist: Gambit of the Erased.
Rogue: Swaddling of the Erased.
Mage: Knowledge of the Erased.
These Weaver's Will items offer additional skill bonuses, with each item having a +1 bonus to specific skills. With the potential for up to +5 skills, they can significantly amplify your character's abilities and playstyle.
↖ Other Noteworthy Items
Apart from the unique and Weaver's Will items, Last Epoch 0.9.1 also introduces the following items:
Advent of the Erased (Boots): The advent of the Erased boots offers additional benefits to your character, providing various stat boosts to enhance your combat prowess.
Font of the Erased (Ring): Font of the Erased is a ring that has already been introduced. It possesses unique properties that contribute to the overall power and effectiveness of your character.
Cradle of the Erased (Shield): Cradle of the Erased is a shield that holds great potential. With the ability to rival the renowned Bastion of Honor, it remains an item to watch out for as players explore its capabilities.
Swaddling of the Erased(Gloves): Swaddling of the Erased gloves, with their remarkable versatility, grant melee damage, spell damage, attack speed, cast speed, and attribute bonuses. These gloves are particularly effective for levelling characters.
These items further expand the possibilities for character customization and provide various stat bonuses suitable for different playstyles.
Conclusion:
Whether you're seeking powerful uniques or aiming for the augmented power of Weaver's Will items, this update offers exciting opportunities for character progression and specialization. Keep an eye out for these Last Epoch new items, and discover how they can shape your adventures in the world of Last Epoch.
Most Popular Posts
Popular Category Lists