PoE Crafting Guide: How to Craft Powerful Pair of Boots?
In this crafting guide, we'll walk you through the process of creating a powerful pair of boots for your Path of Exile build. We start with a pair of boots that have an item level of 27, which is not ideal but acceptable for our purposes. Our goal is to have strength, chaos resistance, and another resistance as suffixes on the boots.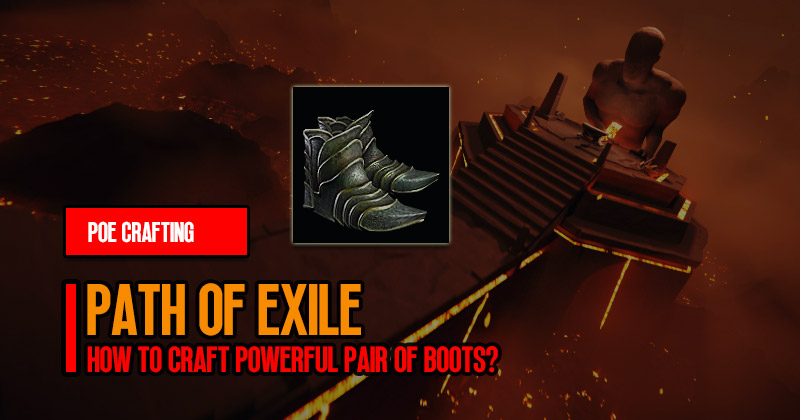 ↖ Suffixes
To begin, we use the deafening essence of Envy on the boots. These essences guarantee 26 to 30 Chaos Orbs resistance, which is a tier two roll. We opt for tier two instead of the more expensive tier one roll. The resulting suffixes turn out to be excellent.
↖ Finding the Right Base
We find a pair of Hydrascale boots with tier seven strength as a prefix and tier five strength of the Gorilla as a suffix. We don't want the tier seven strength prefix, so we'll focus on the suffixes instead. Our suffixes are now tier two strength, tier one fire resistance, and tier two chaos resistance, which is perfect.
↖ Crafting Currency Budget
To complete the crafting process, we'll use two Exalted Orbs. We select the Suffixes Cannot Be Changed option and then use a veiled chaos orb. This rerolls the prefixes and adds a veiled modifier. Before the unveiling, we want to block the mana mod to prevent unveiling unwanted mods related to mana from Jun.
↖ Crafting Boots
We unveil the boots and obtain the mod Chance to Avoid Being Chilled. Although the Onslaught mod might be more beneficial for most attack-based builds, we find this mod useful because we already have "Avoid Being Chilled" on our bow. It provides additional defense against chilling effects.
↖ Bench-craft life
To finish off the crafting process, we'll bench-craft life and aim for the implicit modifier. Initially, we have 69 life, but we want to reach 70. We adjust the life roll accordingly and then slam the item. We obtain a bit more armor and invasion, which is a nice bonus.
↖ Implicit modifier
Our main goal is to have increased action speed. We focus on upgrading the action speed roll using blessed orbs. Blessed orbs raise the tier of one mod and lower the tier of the other mod, with preference given to the lower-tier mods. We want the red mod, action speed, to increase. We manage to upgrade it to five percent but fail to reach six percent, which seems to be a breakpoint.
↖ Blue mod
As for the blue mod, there aren't any highly desirable options. The chance to avoid elemental ailments is good but not necessary for our build, considering we already have ailment immunity from Master Alchemist. We explore some other options like the chance to avoid bleeding and cooldown recovery rate of skills but ultimately settle on the chance to avoid elemental ailments, as it provides some extra defense.
↖ Gear Tips
However, a challenge arises when we try to equip the boots. We realize that we need 155 strength to meet the requirements for the Petrified Blood keystone passive. This means we need to roll more strength on the boots. Although it may seem counterintuitive to roll past the great suffixes, it's necessary to meet our build requirements. Acquiring a Prismatic Eclipse flask could alleviate some of the strength requirements, but it can be PoE Currency costly.
Most Popular Posts
Popular Category Lists