Poe 3.21 Powerful Mana Burning Arrow Deadeye Build with Indigon Hubris Circlet
Welcome to this Path of Exile guide! In this article, we'll explore a unique and powerful mana-based Burning Arrow build that utilizes Indigon Hubris Circlet to deal massive damage. This build focuses on stacking maximum mana, leveraging powerful mana-related mechanics, and converting increased spell damage into increased attack damage. It's a Poe Currency budget-friendly build that offers high front-loaded power and can be set up with minimal investment.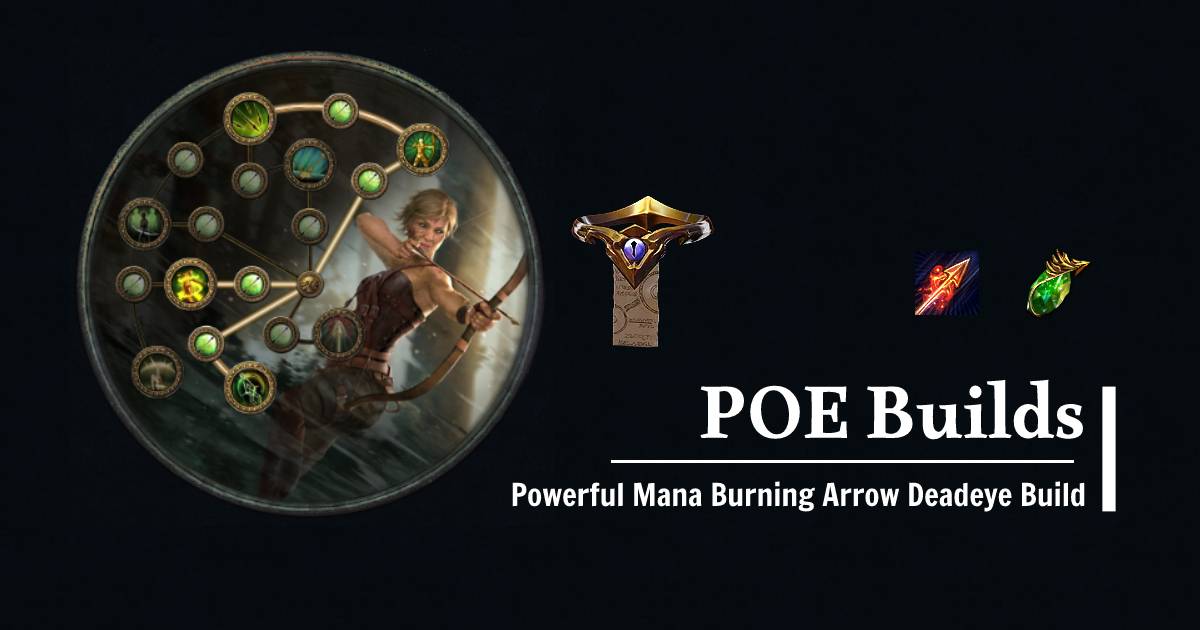 ↖ Core Mechanics
The core idea behind this build is to stack maximum mana and utilize Indigon Hubris Circlet, a unique helmet that provides increased damage based on the amount of mana spent on skills. By converting increased spell damage into increased attack damage, you can unleash devastating blows. The build heavily relies on leech for mana recovery rather than mana regeneration or flask-based recovery, ensuring a constant flow of damage-dealing capabilities.
↖ PoBLink
↖ Key Uniques
Indigon Hubris Circlet: This unique helmet is crucial to the build, granting increased damage based on the mana spent on skills. It allows you to forego increased damage modifiers on other gear, focusing on mana-related mechanics instead.
Cloak of Defiance: This unique chest armor enables Mind over Matter without requiring complicated pathing on the passive tree, providing significant defensive benefits.
↖ Additional Gear
Chevron's Revelation: This ring provides a substantial amount of flat mana, which synergizes well with the build's focus on maximum mana.
Healthy Mind: This jewel converts life into additional mana, further boosting your mana pool.
Large Cluster Jewel: Look for a large set of Hope, which is considered one of the best-in-slot jewels for bow builds.
Other gear choices should prioritize accuracy, damage multipliers, and mana sustain.
↖ Passive Tree
The passive tree for this build starts as a Ranger, focusing on bow-related nodes. Path down to Call to Arms for an instant warcry, allowing you to use Battle Mage's Cry with a 10 minimum power charge. Despite its appearance, the tree is efficient and powerful, amplifying your damage potential. Notable passives to consider are Natural Authority for damage taken modifiers and increased warcry buff effect nodes.
↖ Skill Gem Setup
- Main Setup:
Burning Arrow (Anomalous for increased critical chance)
Mirage Archer Support (for consistent damage output)
Sniper's Mark or Assassin's Mark (later swap to Assassin's Mark for power charge generation)
Additional support gems based on personal preference and playstyle
- Secondary Setup:
Lightning Arrow
Mirage Archer Support
Power Charge on Critical Support
↖ Playstyle
The playstyle of this build revolves around maximizing the effectiveness of your mana-based skills. Your main skill, Burning Arrow, will consume a significant amount of mana. Maintain a steady attack rhythm to ensure consistent damage output and mana leech. Mirage Archer helps with clear speed, and using Storm Cloud for bosses can optimize your damage. Remember that having high damage multipliers is crucial for triggering your Indigon Hubris Circlet and maximizing your damage potential.
↖ Conclusion
This mana-based build utilizing Indigon Hubris Circlet offers a unique playstyle and powerful damage output. By stacking maximum mana and converting increased spell damage into increased attack damage, you can unleash devastating blows upon your enemies. With budget-friendly gear choices and a simplified passive tree, this build is accessible to a wide range of players. So grab your bow, stack that mana, and become a force to be reckoned with in Path of Exile!
Most Popular Posts
Popular Category Lists