Fallout 76 Atomic Shop Weekly Updates: Bowling, Flames, and Eerie Delights | May 25/30
Welcome to the Atomic Shop update review for Fallout 76! In this comprehensive article, we'll delve into the latest additions available in the Atomic Shop from May 23rd to May 30th. Whether you're a fan of bowling, have a taste for the eerie, or seek unique collectibles, this update has something for everyone. So sit tight as we explore the new bundles, individual items, returning favorites, and special additions in store for you.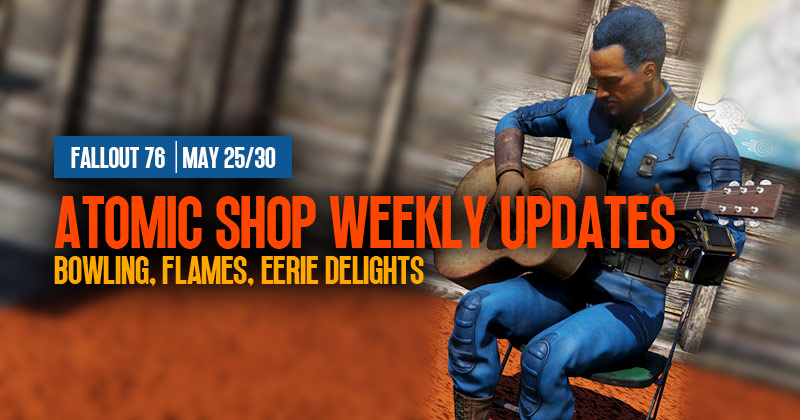 ↖ Bowling Team Bundle (1,200 Atoms)
First up, we have the Bowling Team Bundle, which includes a variety of outfits and decorative Fallout 76 items. The bundle features the Old '76 Blue Bowling Ball, Gold Horn Right Bowling Ball, Alicats Bowling Team Outfit, Bowling Ball Rack Display, and several other bowling ball designs. It's a great option for those looking to showcase their love for bowling in the wasteland.
↖ Flamer Bundle (1,200 Atoms)
This new bundle brings together some previously released items and offers them at a discounted price. Included in the Flamer Bundle are the Flame Ingo Pin, Daredevil Bodysuit, Nuclear Glare Pores, Antique Gas Pump, and Brewing Workbench. If you missed out on these items before, now's your chance to grab them all at once.
↖ Doll Bundle (600 Atoms)
For those who appreciate the creepy side of Fallout, the Doll Bundle is here to satisfy your dark desires. This bundle includes the Heirloom Blue Porcelain Doll, Porcelain Doll, and Annabelle Porcelain Doll. These eerie dolls will make for a chilling addition to your collection.
↖ Individual Items
If you prefer to pick and choose, you'll find several individual items available as well. The Bowling Ball Loot Bag (500 Atoms) and Big Fill Ceiling Light (350 Atoms) offer additional options to complement your bowling-themed setup. The Gas Pump Workbench is also available for purchase, but the price needs to be specified in the review. Additionally, the Flamingo Paint for the Air Flamer (800 Atoms), Daredevil Bodysuit (800 Atoms), and Annabelle Porcelain Doll (250 Atoms) can be purchased separately.
↖ Returning Items
The second page of the Atomic Shop review showcases items that were available in previous weeks. If you missed out on anything, take a moment to scan through and see if there's something that catches your eye.
↖ Conspiracy and Blood Eagle Bundles
The Conspiracy Bundle brings back some long-lost items, including the Blood Eagle Power Armor Paint, Laser Grid Door, Pickled Brain, Skull Lord Warsuit, and more. If you're a fan of the Blood Eagles or looking for unique items, this bundle might be worth considering. Additionally, Santa's Slayer Power Armor Paint makes an appearance, offering a red and chrome-themed look that can be used year-round.
↖ Other Additions
Among the other items available are the Conspiracy Suit Under Armor, Firewatch Towers, Champ Pose, Vintage Wallpaper, and the Three States Resistance collection, which was recently introduced.
↖ Special Items
This week's special items include the Orange Shag Carpet, a free supply package, and the Nuclear Glare, a 24-hour item available for 200 Atoms. Fallout First members can also enjoy the Armory Weapon Paint Bundle, featuring various weapon skins, and the Black Knight Paint, available separately.
Conclusion:
We hope you found this article helpful in deciding which items to add to your collection. Let us know in the comments if there's anything you're planning to purchase or if you have any thoughts on this week's offerings.
Most Popular Posts
Popular Category Lists