Fallout 76 Allies Tier List: How to choose the best buffs and services?
In Fallout 76, your allies play a crucial role in providing you with various buffs, services, and unique interactions. With 16 allies available, it can be challenging to determine which ones are worth having at your camp and which ones are less useful. In this guide, we'll provide you with a detailed tier list and overview of all available allies, helping you make informed decisions about which allies to invite into your camp.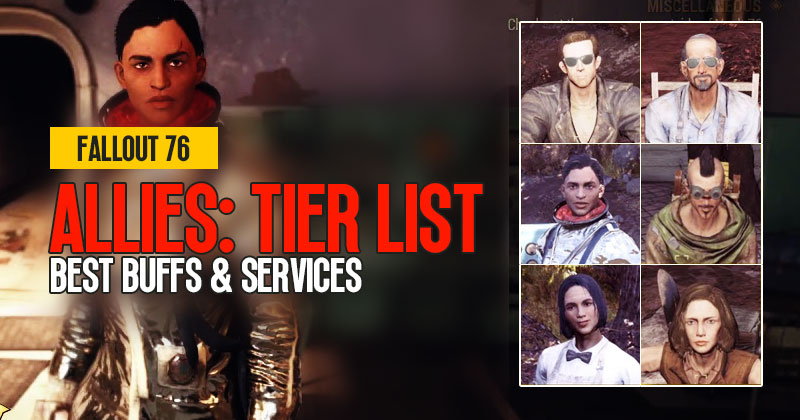 ↖ Tier List
Before we dive into the specifics of each ally, let's establish a tier list to provide you with a quick overview of their overall usefulness. We will use the following tiers:
| Tier | Description |
| --- | --- |
| A | Solid allies with useful abilities or services. |
| B | Decent allies with some benefits but not exceptional. |
| C | Average allies with limited benefits. |
| D | Subpar allies with little to no significant advantages. |
Now, let's break down each ally's strengths and weaknesses to help you decide which ones to welcome into your camp.
↖ S Tier - Allies
Joey (Turtle Pick): Joey offers a significant buff that lasts for one hour, reducing staggers, fire, melee, and explosion damage by 10 percent. He occasionally sells Live and Love magazines, which are essential for experience farming.
↖ A Tier - Allies
Sam: Sam offers a unique service of tuning up your gear, allowing you to repair weapons, armor, and power armor to 130 percent of their normal maximum condition. His inventory includes various bulk scrap items and Nuka Colas, making him a decent option for traders.
Grandma: Grandma provides the Grandmas Home-Cooked Meal buff, which stops hunger and thirst for one hour. She sells rare food items and recipes, including brain bombs and Bufftats, making her a valuable option for culinary enthusiasts.
Scarborough: Scarborough offers the Blessing of the True Muffman buff, providing a five percent bonus to your experience. His inventory may not be impressive, but the buff is worth considering for experience seekers.
↖ B-Tier Allies
Daphne: Daphne offers a short-lasting luck buff and directional audio near magazines. She occasionally sells Grognak the Barbarian magazines and new Coca-Colas, adding some utility to her presence.
Salman Hardy: Salman Hardy provides medical services, including healing, disease removal, and radiation treatment. His vendor inventory is basic, but his healing services can be handy in dire situations.
Yasmin: Yasmin can cook and provide you with a variety of food items. Her inventory occasionally includes food items that offer poison resistance, making her a useful ally.
Catherine: Catherine offers gun loadout assistance and sells various ammunition types. While her buff is short-lasting, she can be a decent choice if you need specific ammo.
↖ C-Tier Allies
Wanderer: The Wanderer provides daily quests but lacks significant buffs or services. She can be a decent option if you enjoy daily quests but is otherwise unremarkable.
Forager: Similar to the Wanderer, Forager provides daily quests with no exceptional buffs. Choose her if you're interested in the daily quest system but don't expect substantial benefits.
Beckett: Beckett offers daily quests and occasionally sells regular Nuka Colas. His unique inventory item can be useful for crafting Nuka Grenades.
Raider Punk: Raider Punk provides daily quests and little else. Opt for him if you enjoy daily quests but don't expect substantial benefits.
Commander Daguerre: Commander Daguerre offers daily quests related to the main questline. She doesn't provide significant buffs or services beyond these quests.
↖ D-Tier Allies
Sophia: Sophia offers daily quests and the possibility of romance. While the romantic aspect may appeal to some players, her daily quests are her primary offering.
Sergeant Radcliff: Sergeant Radcliff provides a unique buff but offers little else. His buffs and services do not stand out compared to other allies.
Now that we have a tier list in place, you can make an informed decision about which allies to invite to your camp based on your playstyle and preferences.
↖ Rotating Allies
If you want to benefit from multiple allies' buffs, you can rotate them efficiently. Capture the arriving ally before they reach their station, grab their buff, exit the conversation, scrap their item, and place the next ally you want to use. This method allows you to enjoy various buffs from different allies without waiting for them to wander around.
Conclusion:
Choosing the right allies in Fallout 76 can significantly impact your gameplay experience. Whether you prioritize buffs, services, or unique items, this tier list and overview will help you make the most informed decisions about which allies to welcome into your camp. Tailor your choices to your needs and playstyle to maximize your effectiveness in the wasteland.
Most Popular Posts
Popular Category Lists