What Are the Recent Changes to the Anti-Armor Legendary Effect in Fallout 76?
Welcome to our guide on the Anti-Armor Legendary Effect in Fallout 76. In this post, we'll delve into the recent changes that have made Anti-Armor weapons a force to be reckoned with in the wasteland. We'll explain the mechanics behind this effect, conduct practical tests, and offer recommendations on which weapons benefit most from it. If you're a Fallout 76 enthusiast looking to maximize your damage output and stay ahead of the game, this guide is your key to understanding the newfound power of Anti-Armor weapons.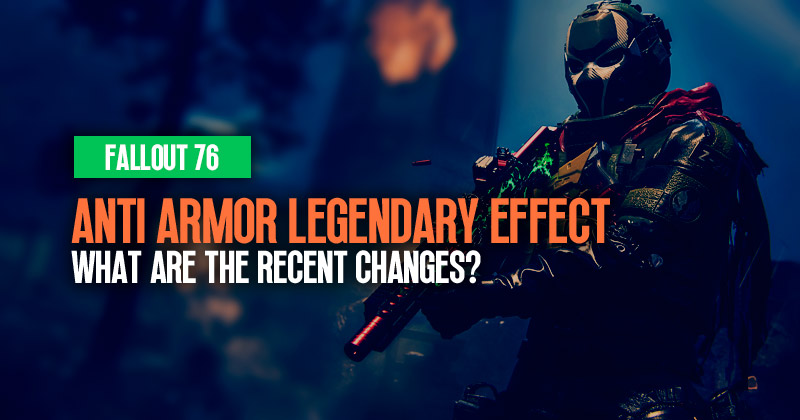 ↖ Anti-Armor Legendary Effect
The Anti-Armor Legendary Effect is a sought-after prefix for weapons in Fallout 76. This effect provides additional armor penetration, which means your attacks can bypass a portion of your target's armor, making it easier to deal damage. Armor penetration is essential when facing heavily armored foes, such as Super Mutants or Power Armor-wearing adversaries.
In the past, the Anti-Armor effect was always considered effective, but recent changes have made it even more potent. We'll explore these changes and their implications in the following sections.
↖ Recent Performance Changes
Many of you may have noticed that Anti-Armor weapons are performing exceptionally well lately. Let's break down these performance changes through a practical comparison.
The Test Scenario
To evaluate the Anti-Armor Legendary Effect's performance, we conducted tests at West Tek, a high-level Super Mutant hotspot known for consistent testing. For our demonstration, we used a Gauss shotgun with the Anti-Armor effect.
The Test Weapons
Anti-Armor Gauss Shotgun: With 50 armor penetration, this weapon serves as our baseline for the Anti-Armor effect.
Instigating Gauss Shotgun: This weapon provides a 100% damage bonus on the first shot, making it an excellent candidate for comparison.
The Test Results
Anti-Armor Gauss Shotgun: One shot to a Super Mutant resulted in significant damage, with the health bar dropping below the letter 'T' in 'Mutant'.
Instigating Gauss Shotgun: Equipping this weapon, we anticipated a noticeable increase in damage for the first shot. However, the damage was nearly identical to the Anti-Armor Gauss Shotgun.
The Plot Twist
Now, here's where things get interesting. We unequipped the Tank Killer perk, and the damage output with the Instigating Gauss Shotgun dropped significantly, showing that perks indeed affect damage.
However, when we went back to using the Anti-Armor Gauss Shotgun without the Tank Killer perk, the damage remained consistent with our initial test. This suggests that armor penetration from armor-piercing magazines and Anti-Armor legendary effects might now stack additively.
↖ Implications and Weapon Recommendations
Based on these findings and feedback from the Fallout 76 community, it appears that armor penetration bonuses from armor-piercing magazines and the Anti-Armor legendary effect now stack additively. This is a significant change, especially for weapons with low damage per shot and rapid fire rates or multi-projectile capabilities, such as shotguns.
Here are some key takeaways:
Weapons that can be equipped with Perforating magazines are currently the best candidates for the Anti-Armor prefix.
Anti-Armor weapons tend to outperform other effects like Bloodied and Instigating, making them a top choice for many players.
Heavy guns may not benefit as much from this change, as armor penetration does not stack additively with perks like Tank Killer.
↖ Perks and Magazines
It's essential to note that while the magazines' armor penetration stacks additively, perks still work multiplicatively. For example, if you equip the Tank Killer perk and have an Anti-Armor legendary effect, you'll get a total of 68% armor penetration, not 86%.
Conclusion:
In summary, Anti-Armor weapons have become incredibly potent in Fallout 76 due to recent changes that make armor penetration stack additively with armor-piercing magazines. This effect greatly benefits weapons with lower damage per shot and rapid-firing capabilities, such as shotguns. So, if you're fortunate enough to possess Anti-Armor weapons in your arsenal, now is the time to utilize them to their full potential.
Most Popular Posts
Popular Category Lists