Last Epoch Rising Flames 0.9.1: New Features You Need To Know
Welcome to Last Epoch Rising Flames 0.9.1! In this comprehensive guide, we'll explore the exciting highlights of the upcoming early access patch. Game Director Judd Kobler presents a fully reimagined first chapter, multiplayer enhancements, Weaver Uniques, cosmetic customization options, new enemies, updated models, and ongoing improvements. Join us as we delve into the details of this captivating update.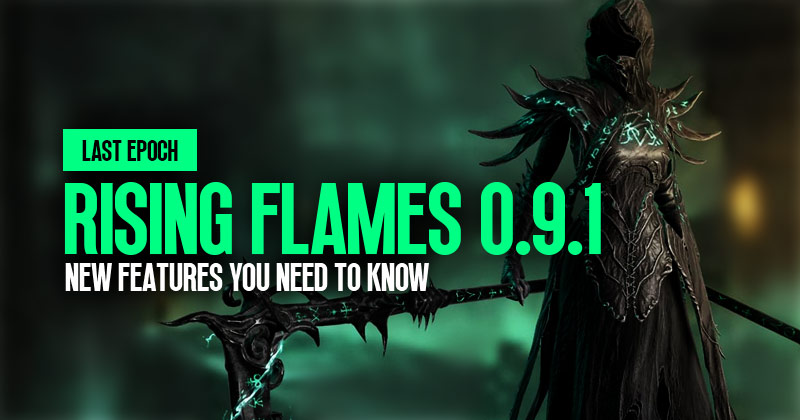 ↖ Storyline
In Rising Flames, you, the traveller, will be entrusted with the task of protecting the Keepers, an enigmatic organization believed to serve the goddess of Terra. As the guardians of the epoch, a sacred artifact capable of manipulating time and space, the Keepers face an imminent threat from Raya's army. Raya, driven by her desire to exploit the epoch's immense power, poses a grave danger to the past and future of Atara.
Prepare to face formidable new enemies across new zones as you strive to prevent Raya's army from obtaining this ancient relic and uncover the secrets of the Keepers. The events in Rising Flames will set the stage for the future of Last Epoch's campaign.
↖ Multiplayer Enhancements
Rising Flames introduces several features to enhance the multiplayer experience. When entering towns, you'll encounter other random travellers from the server, allowing you to interact and form parties with them. You can now showcase your impressive loot to other players through item linking in the in-game chat.
By simply controlling right-clicking on an item with the dialog box open, you can share your items and engage in exciting discussions with fellow adventurers. Additionally, you can now select your server region before entering the game with your character, ensuring a smoother and optimized multiplayer experience.
↖ Ladders and Leaderboards
Ladders have been re-added and redesigned specifically for multiplayer. You can now compete and earn ranks on the leaderboards in different team sizes, modes, and classes. As Last Epoch transitions into an online and server-authoritative game, the ladders will showcase the most skilled and accomplished combatants in Terra's arena. We have plans to further improve town interactions and party functionality before the 1.0 release, which will undoubtedly enhance your overall experience when forming parties and interacting with other players.
↖ Weaver Uniques
Rising Flames introduces a plethora of new and unique items, including a brand new type called Weaver Uniques. Weaver Uniques offer a different upgrade path compared to regular uniques. They drop with a varying number of Weaver's Will, ranging from 5 to 28. As you kill enemies, the enigmatic Weaver, an entity arriving in later cycles of Last Epoch, gradually rebuilds the item by adding random mods and upgrading them to higher tiers, potentially reaching Tier VII.
Each tier of an affix added consumes one Weaver's Will. Weaver Uniques can drop throughout the campaign, enabling them to grow in power alongside your progression. Notably, higher-level drops will generally possess more Weaver's Will. In this patch, we'll showcase one new normal unique item and two Weaver items to give you a taste of the exciting possibilities.
↖ Cosmetic Shop and Visual Items
With the release of Rising Flames 0.9.1, an early version of the cosmetic shop will be introduced. Here, you can purchase various visual items to customize and personalize your characters. If you have been a supportive player of Last Epoch during the early access phase, you may already have Epoch Points to spend on these cosmetic items.
While the inventory for the cosmetic shop will be limited initially, we are excited to expand the offerings and witness our supporters looking incredibly cool with armour skins, skill visuals, non-combat pets, and much more.
↖ New Enemies and Updated Models
Prepare to face an array of new adversaries as Rising Flames introduces 13 new enemies to bolster Raya's army. Additionally, you'll encounter thrilling new wildlife in various regions of Atara. The models for re-performing forged weapons, wolves, and bears have been updated, including the revered summon bear and summon wolf skills. Moreover, over 70 unique in-game weapons have received fantastic new 3D models, breathing fresh life into your arsenal.
↖ Ongoing Improvements
Patch 0.9.1 Rising Flames continues our mission of regularly updating, fixing and enhancing the overall quality of Last Epoch. These updates serve as stepping stones leading to the highly anticipated 1.0 release, planned for later this year. We are committed to delivering a polished and exceptional gaming experience for all adventurers who embark on the Last Epoch journey.
Conclusion:
We hope you enjoy the thrilling new chapter in Last Epoch's storyline, the engaging multiplayer improvements, the intriguing Weaver Uniques, and the cosmetic customization options. May your adventures in Rising Flames be filled with excitement, challenges, and epic rewards? Happy hunting and we eagerly await witnessing the powerful items the Weaver has in store for you in Patch 0.9.1!
Most Popular Posts
Popular Category Lists