Last Epoch 0.9.1C Update: Bug Fixes, Improvements, and Community Feedback
In this guide, we will discuss the recently released update, Last Epoch 0.9.1C. This update addresses several significant issues and bugs that have been plaguing the game, providing a smoother and more enjoyable gameplay experience for players. Let's dive into the details!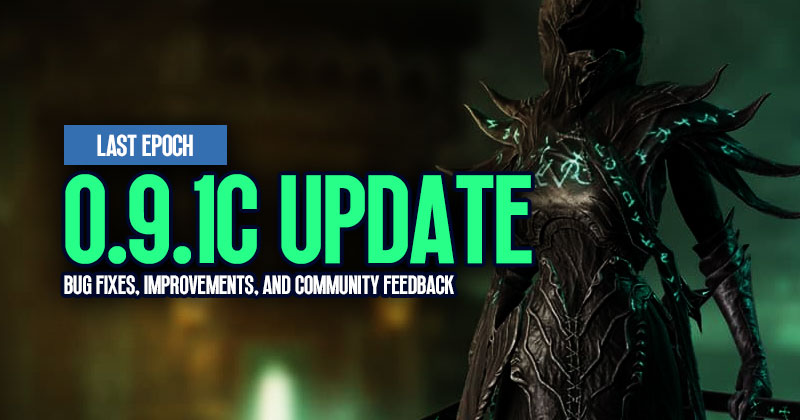 ↖ Bug Fixes
Fixed item linking: Previously, item linking in chat messages was not functioning correctly. This issue has been resolved, and now you can press Ctrl + right-click to link up to 3 items in a chat message. Hovering over a linked item in the chat window will allow you to view it.
Fixed performance stutters caused by Weaver's will item upgrading: Upgrading Weaver's will items was causing performance issues, leading to stutters. This bug has been fixed, ensuring a smoother gameplay experience.
Resolved incorrect server region selection for parties: Previously, parties would sometimes be placed in the wrong server region, causing connectivity issues for players in different regions. This bug has been addressed, and parties should now correctly use the desired server region.
These were the major bug fixes in the Last Epoch 0.9.1C update. For a detailed list of all bug fixes, you can refer to the official patch notes linked in the description.
↖ Improvements
Improved AFK detection:
The game now has better AFK detection. Interacting with the user interface, pressing buttons, and performing actions will prevent you from being flagged as AFK. The time before being kicked for inactivity has also been increased to 220 minutes, giving players more flexibility.
↖ Currently in Progress
The development team is actively working on addressing the following issues:
Chat re-enabling: Some players have been experiencing an issue where chat keeps re-enabling despite being turned off. The team is aware of this problem and is working on a fix.
Failed zone transition completion: Rarely, a failed attempt to transition to another zone can become completed after loading a different character. The team is investigating this issue and aims to resolve it.
Ambush encounter scaling changes: Further adjustments are being made to the scaling of Ambush encounters to ensure a balanced gameplay experience. The team is specifically focusing on problematic encounters when scaled to end-game difficulty.
Various minor issues: The team is also addressing minor issues such as quest markers, skill functionality, cosmetics, and armor visuals, to ensure a polished and immersive gaming experience.
The developers at 11th Hour Games are known for actively listening to community feedback and swiftly implementing meaningful changes. In less than a week since the release of the 0.9.1C update, two patches have already been deployed to fix critical issues. While some problems, like the towns, are still being worked on, the vast majority of issues have been resolved.
↖ Share Your Feedback
What bugs or issues have been bothering you in Last Epoch? Let us know in the comment section below. Your input is valuable and helps the development team in delivering an even better gaming experience.
Conclusion:
Last Epoch 0.9.1C is a significant update that addresses numerous bugs and brings much-needed improvements to the game. The developers have demonstrated their commitment to player satisfaction by promptly addressing issues and actively working on further enhancements. Stay tuned for future updates and enjoy your adventures in the ever-evolving world of Last Epoch!
Most Popular Posts
Popular Category Lists