You Need Master To Know 5+ Glitches, Exploits, and Pro Tips in Diablo 4 | June 2023
Welcome to this guide on Diablo IV, where we'll explore 5+ glitches, exploits, and valuable tips and tricks that will give you an edge. Whether you're looking to earn infinite XP, obtain legendary loot, or discover hidden secrets, we've got you covered. Please note that some of these exploits may have been patched since the creation of this guide, so make sure to check the comments section for updates. Let's dive in!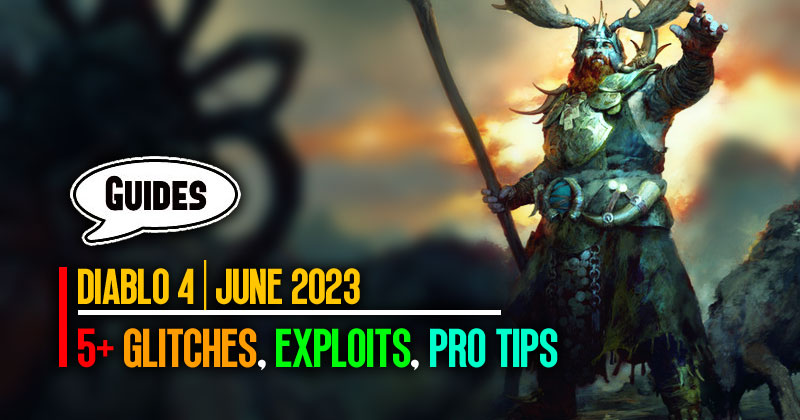 ↖ New Solo Dungeon Reset Method
If you're a solo player, there's a new dungeon reset glitch that allows you to farm dungeons without quitting out to the main menu. In a party, the host can leave the party from the social menu after farming a dungeon, which will respawn all the enemies. As a solo player, you can achieve a similar result by following these steps:
Have a Night Message (or any item with similar functionality).
Use the Night Message or similar item to complete the first objective of a Nightmare Dungeon.
After completing the objective, leave the dungeon normally.
Walk back into the dungeon entrance, and all enemies will respawn.
This method saves you time by not requiring you to quit out to the main menu to reset the dungeon. It's especially useful for extended farming sessions.
↖ Nightmare Dungeon Farming Trick
To farm XP quickly in Diablo 4, take advantage of Nightmare Dungeons. Here's how to optimize your farming:
Obtain a Sigil that will make the Nightmare Dungeon two or three levels above your character's level.
Enter the Nightmare Dungeon and leave immediately through the entrance.
Enter any other normal dungeon and complete the first objective.
Return to the Nightmare Dungeon and farm it repeatedly, ensuring you don't fully complete the dungeon or quit out to the main menu.
By farming Nightmare Dungeons, you can level up faster and earn significant XP gains. Make sure to select dungeons that are a few levels higher than your character to strike a balance between difficulty and efficiency.
↖ Helltide Infinite Event Farm Exploit (Infinite Cinders, Obols, XP & Loot)
During Helltide events, you can exploit a glitch to farm infinite Cinders, XP, loot, and more. Follow these steps:
Participate in an event during Helltide.
If there's a nearby dungeon, enter it and wait for 5 to 10 seconds before leaving.
Most of the time, a new event will spawn, allowing you to join and earn additional rewards.
This method works because it loads you into a different instance where the event hasn't been completed or is in progress.
This exploit can be used in various locations across the map during Helltide events. Take advantage of this opportunity to maximize your rewards and experience gains.
↖ Helltide Infinite Enemy Respawn Spot (Infinite Cinders, XP & Loot)
During Helltide events, there's a specific location where enemies respawn rapidly, offering excellent opportunities for farming XP and loot. Follow these steps to access this farming spot:
When Helltide reaches the Dry Steppes area, head to the Temple of Al'Akir.
Inside the temple, you'll notice that enemies respawn quickly, allowing you to farm them repeatedly.
Stay within a small area and eliminate enemies as they respawn.
If enemies stop respawning in one section, move to another section and return later to continue the farm.
This spot is great for XP farming and acquiring Cinders for opening chests. Keep in mind that some chests may only spawn after 20 minutes, so plan accordingly.
↖ Infinite Event Farm Glitch (Infinite Obols, XP & Loot)
This glitch enables you to farm event chests for infinite obols, loot, and XP. Follow these steps:
Go to the Enjoy Steps area on the map, where events commonly occur.
Participate in the event and then press down on your d-pad to travel to your local town.
Wait for about 5 to 10 seconds, and then travel back to the Enjoy Steps area.
The event will have respawned, allowing you to repeat the farm. If it doesn't respawn, try entering a nearby dungeon for a few seconds and then exiting. Alternatively, quitting the main menu and returning it might also reset the event.
↖ Legendary Aspect Upgrading Trick
This trick helps you maximize the potential of your legendary aspects before applying them elsewhere. Follow these steps:
If you have a legendary item with a desirable aspect, don't extract the aspect right away.
Instead, upgrade the item itself at the blacksmith before extracting the aspect.
Upgrading the item will increase the level of the aspect, making it more potent when you apply it to another piece.
This trick works best with number-based aspects, not percentage-based or time-based ones. Make sure to upgrade the legendary item before extracting the aspect, and then you can stash it for later use.
Conclusion:
While some of these exploits may have been patched since the creation of the guide, it still offers useful strategies to gain an edge in the game. Players can benefit from these techniques to farm XP, obtain legendary loot, and maximize Daiblo IV rewards during events. However, it is essential to stay updated on potential patches or changes by checking the comments section for any relevant information. With these insights, players can enhance their gameplay experience and tackle challenges more effectively in Diablo 4.
Most Popular Posts
Popular Category Lists