Diablo 4 Best Dungeons XP Farming Methods for Solo, Duo, and Group
In Diablo 4, maximizing your XP gains while obtaining valuable loot is crucial for efficient progression. In this guide, we will explore the most effective farming methods for solo, duo, and group play. We will focus on reliable strategies that are unlikely to be patched and can yield upwards of 19 million XP per hour in a group.
↖ Solo Method
For solo play, we have two highly efficient methods.
↖ - The Hallowed Glacier Tunnels
The first method involves unlocking the new side dungeon called Glacier Tunnels. This dungeon offers a straightforward path with dense enemy spawns. On average, you can expect to gain 600-650k XP per clear, resulting in approximately 16-18 million XP per hour. Additionally, the loot drops in this dungeon have been promising, offering excellent rewards for your efforts.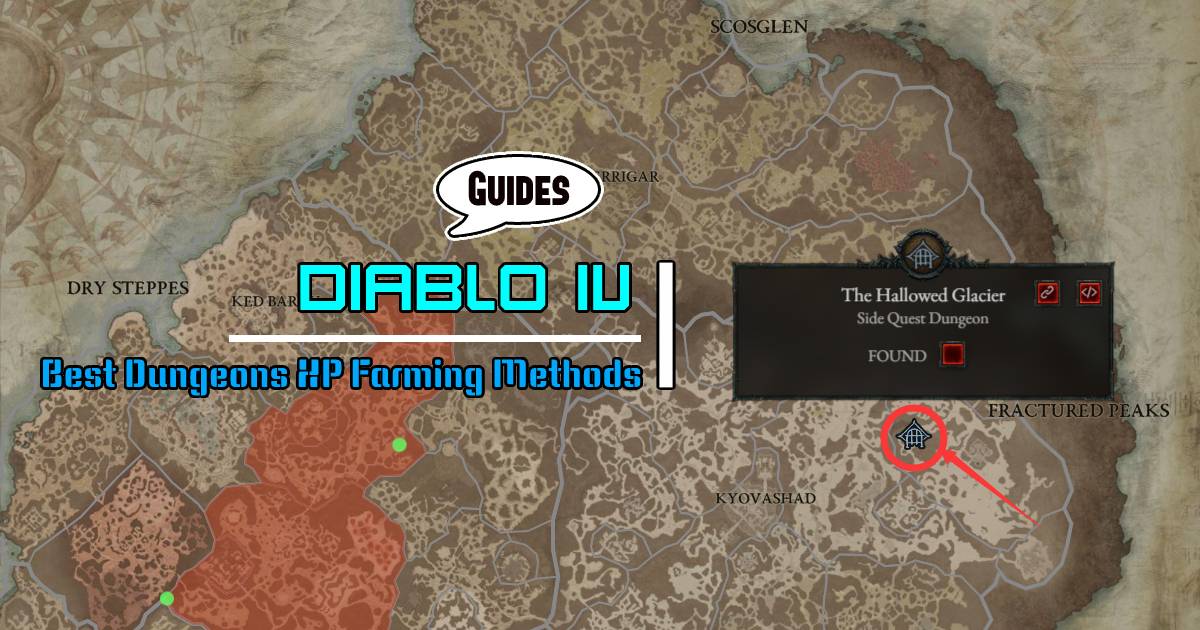 To unlock Hallowed Glacier Tunnels, follow these steps:
Travel to Bear Tribe Refuge, located to the right of Killashad.
Speak to Greganosh and complete the two side quests he offers.
Find Senna in the same area and complete her side quest.
Finish the dungeon associated with Senna's quest.
Turn in all the completed quests to unlock the Hallowed Glacier Tunnels dungeon.
Once inside Hallowed Glacier Tunnels, focus on clearing the dungeon efficiently, avoiding the boss encounter to prevent completion. Reset the dungeon by following the instructions in a separate video linked in the description. Note that this method is particularly effective for characters below level 60 or those without Torment difficulty unlocked.
↖ - Blind Burrows
The second solo method involves running the Blind Burrows dungeon on Nightmare difficulty. This dungeon provides higher XP gains, as it is three levels higher than your character. While it may not be as efficient as Hallowed Glacier Tunnels, it serves as a viable alternative, especially if the former gets nerfed. Activate the Blind Burrows dungeon, clear a small portion, and leave to reset it. Combine this with runs in a normal mode dungeon, such as Iron Hold, to efficiently reset Blind Burrows and maintain a steady XP flow.
↖ Duo Method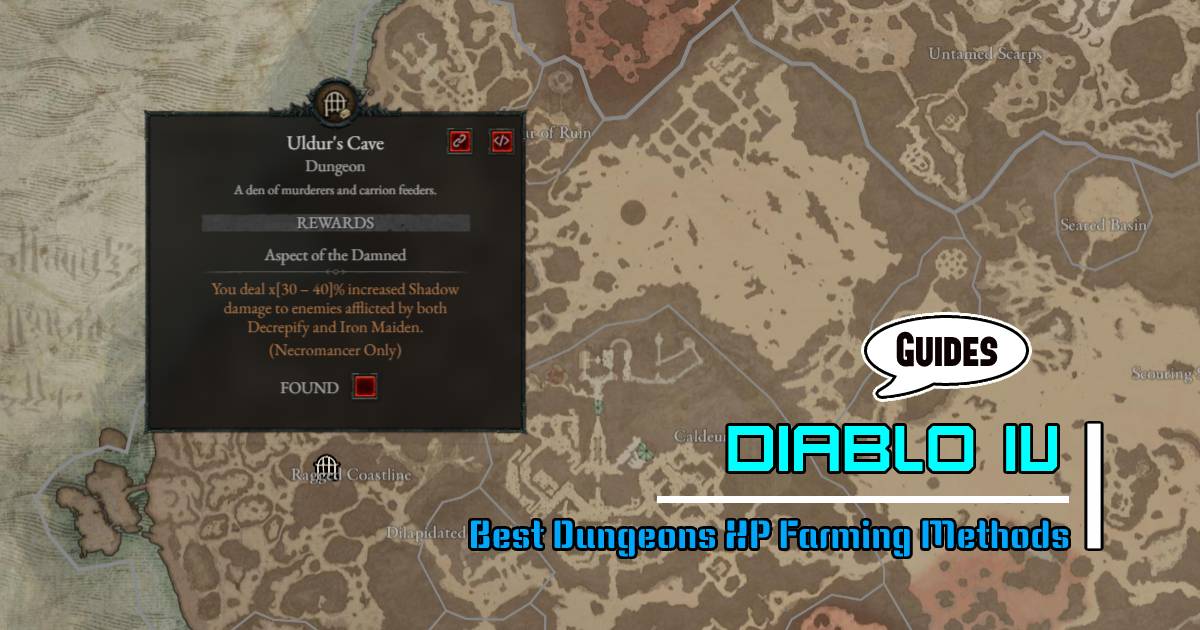 In a duo setup, the best XP farming method is Uldur's Cave. This dungeon allows both players to split up and clear different sections simultaneously, maximizing efficiency. Each run can yield around 750-800k XP, resulting in approximately 18-19 million XP per hour with proper execution. While loot sharing might be limited due to splitting lanes, the overall XP gains make Uldur's Cave a preferred choice. However, keep in mind that the efficiency may vary depending on your build and playstyle.
↖ Group Method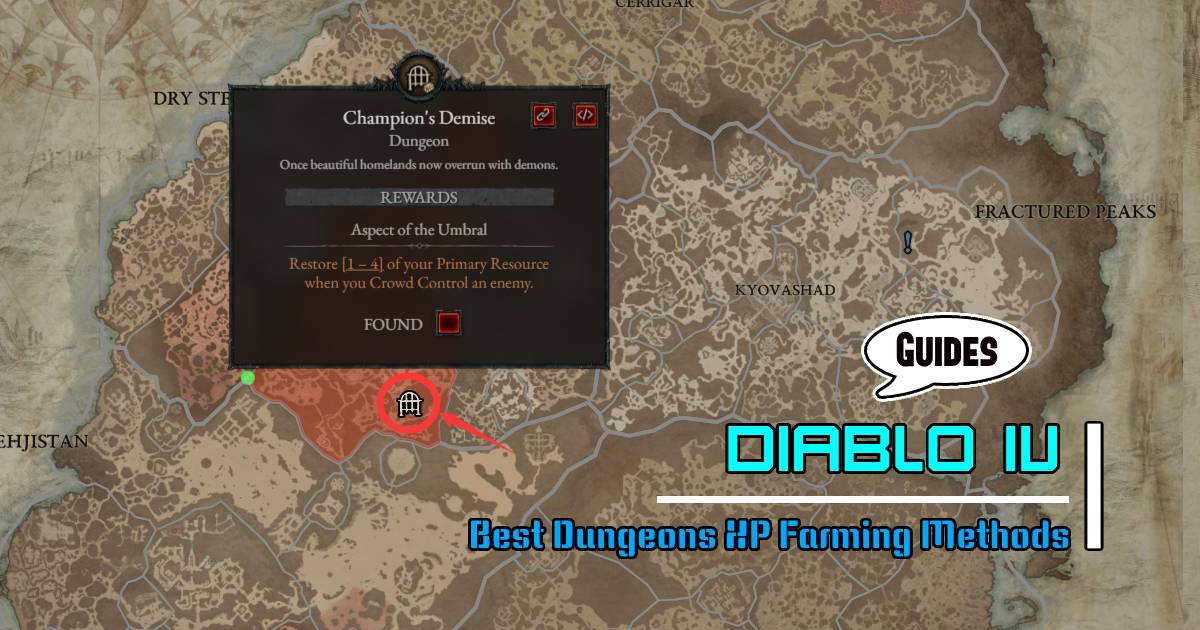 For group play, the most efficient XP farming location is Champion's Demise, found to the right of the Al-Zuda Waypoint in Dry Steps. This dungeon allows three or four players to split into different lanes, ensuring that everyone benefits from the XP gains. Although Champions' Demise has undergone nerfs, it remains the most effective group farming option. With a well-coordinated and efficient group, you can clear the dungeon in under a minute per run, resulting in up to 23-24 million XP per hour. This method also provides substantial loot and Diablo 4 Gold drops, making it highly rewarding.
Conclusion:
To maximize your XP gains and acquire valuable loot in Diablo 4, consider the following farming methods based on your playstyle. For solo players, the Glacier Tunnels and Blind Burrows dungeons offer excellent XP gains, with the former being more efficient. Duo players can benefit from Uldur's Cave split-lane approach, while groups should prioritize Champions' Demise for its exceptional XP gains when properly coordinated.
Most Popular Posts
Popular Category Lists