Diablo 4 Powerful Solo Lilith Bone Spear Necromancer Build
This Diablo 4 guide will explore the Powerful Bone Spear Necromancer build. With extensive experience, including solo Lilith kills and carrying others through Nightmare Engine Tier 100, this guide will provide the necessary information to master this build. We've covered you, from gameplay tips to gear recommendations, skill tree allocation, and Paragon choices.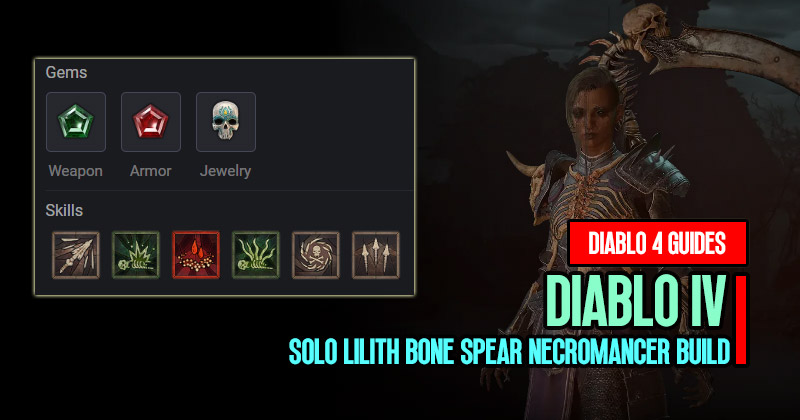 ↖ Gameplay Overview
The Bone Spear Necromancer build offers a straightforward and efficient gameplay experience. In the open world, you can rely on the Bone Spear skill to swiftly dispatch enemies with ease. This build is essentially a one-button setup, allowing you to effortlessly farm Gold and Items and eliminate foes. While additional skills like Bone Storm and Corpse Tendrils can provide extra buffs and utility, they are not necessary for most open-world content. The Bone Spear skill splinters upon hitting walls or reaching its maximum range, dealing massive damage to multiple targets. Additionally, it applies automatic vulnerability and restores essence with the help of the Lucky Hit legendary power.
↖ Gear Recommendations
Helm: Deathless Visage (or any helm with essence and cooldown reduction)
Chest: Armor of Disobedience (consider defensive stats like bone skill damage and physical damage reduction)
Gloves: Biz Gloves (aim for perfect rolls)
Pants: Edge Master (choose between defensive and offensive stats)
Boots: Barrier Effect (defensive option)
Weapon: Maxi Weight Charges (essential for the vulnerability effect)
Rings: Aim for stats like resource generation, maximum essence, crit chance, crit damage, and vulnerability.
Amulet: The Book of the Dead (prioritize crit chance, essence, and crit damage)
↖ Skill Tree Allocation
Bone Spear: Maximize the skill and use the Splinter Rune for additional crit chance.
Blood Mist: Use this skill to become temporarily invulnerable and break crowd control effects.
Corpse Explosion: Utilize this skill for essence generation and damage amplification.
Corpse Tendrils: Boost your damage and defense when consuming corpses.
↖ Paragon Choices
Maximize Bone Spear critical damage and essence reduction in the Core section.
Invest in maximum essence, cooldown reduction, and crit chance in the Offense section.
Allocate points to movement speed, resistances, and life regeneration in the Defense section.
Focus on area damage and resource cost reduction in the Utility section.
Conclusion:
The Bone Spear Necromancer build in Diablo 4 offers an incredibly powerful and efficient playstyle. By using the recommended gear, skill tree allocation, and Paragon choices, you can maximize your damage potential and effortlessly tackle challenging content. Whether you prefer a lazy farming experience or want to delve into high-level encounters, this build provides the versatility and strength you need. Happy hunting, and may your Bone Spear strike true in the dark world of Diablo 4!
Most Popular Posts
Popular Category Lists