PoE Oni-Goroshi Guide: Best Way Farming Goroshi Thought Uber Hillic
Oni-Goroshi is a powerful unique sword in Path of Exile that has become a highly profitable item due to its current selling price, ranging between 5 and 15 PoE Divines depending on the Critical Strike roll. In this guide, I will share a farming strategy that allowed me to obtain three Oni-Goroshi swords in approximately 12 hours of gameplay. The first sword dropped after about four hours, the second after two hours, and the last one after six hours. With this method, you can accumulate great wealth with relatively minimal equipment required.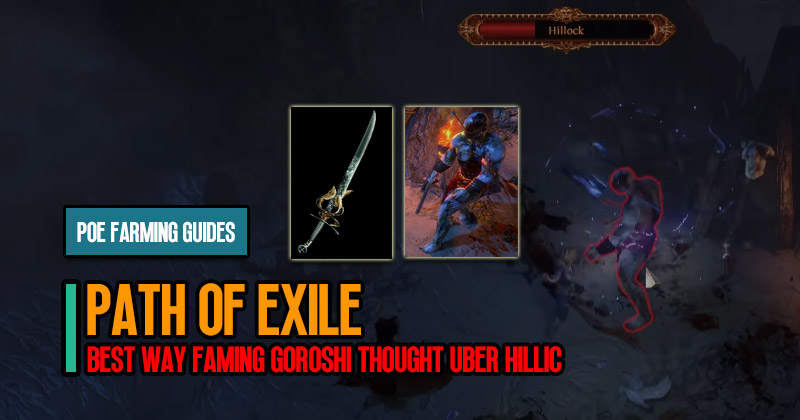 ↖ Acquiring Oni-Goroshi
Oni-Goroshi can be acquired by handing in 27 Rebirth Cards or by defeating Uber hillic. This guide will focus on the Uber hillic method, which offers a more reliable way to obtain the sword.
↖ The Uber hillic Spawn
Uber hillic has a chance to spawn in the Act 1 Twilight Strand area. This area is unique in two ways: it refreshes every 1.5 minutes, making it the quickest area to refresh in Path of Exile, and once you leave the area, it's impossible to re-enter. Additionally, there appears to be a correlation between the level of your character and the chance of Uber hillic spawning. Higher character levels increase the spawn chance.
↖ Creating a Farming Character
To maximize efficiency, create a new character and level it solely in the Twilight Strand. The Scion class is recommended due to its access to more movement speed on the skill tree than any other class at the start of the game. By reaching the first seven levels, you can acquire up to 26 increased movement speed.
↖ Optimizing Movement Speed
Once your character has achieved the desired movement speed from the skill tree and obtained some decent gear, you can focus on finding and defeating Hillock quickly. With the right gear and skills, you should be able to kill Hillock in about 31 seconds.
↖ Spawning Uber hillic
To increase your chances of encountering Uber hillic, you need to spawn as many Hillocks as possible in the shortest amount of time. Keep four characters constantly searching for Hillock and run the beach area starting from the end, then work your way back across the beach, eliminating all enemies. Pinning Hillock against a rock can help maximize your damage output. As your character levels up, you can ignore other enemies and focus solely on reaching and defeating Hillock.
↖ Gear and Equipment
The priority gear for your farming character includes Runner's Boots (increased movement speed) and a two-handed sword. Avoid equipping a chest piece as it slows you down. Look for gear with good stats that enhance your survivability or damage, such as attack speed on gloves. A recommended amulet is one that provides Mana regeneration to minimize flask usage. It's also ideal for the amulet to grant flat damage to attacks.
↖ Defeating Uber hillic
Once you encounter Uber hillic, you won't miss him as he will have a glowing sword sticking out of his chest, which is a stark contrast to the dark sword that Hillock wields. Be prepared for his new abilities, which include summoning zombies and performing leap slams. Avoid his leap slams by running away as quickly as possible. If you die during the fight, you can resume it without losing progress.
↖ Multiple Oni-Goroshi Drops
It's believed that only one Oni-Goroshi can drop per character, so if you want to farm for additional swords, you'll need to create a new character to replace the one that obtained the first Oni-Goroshi. Keep in mind that the chances of spawning Uber hillic and obtaining the sword may vary due to RNG.
Most Popular Posts
Popular Category Lists