Diablo 4 Patch 1.0.3 Powerful Werewolf Tornado Druid Build
Welcome, fellow Diablo 4 players! In this guide, we will explore the powerful Werewolf Tornado Druid build. This build offers a unique playstyle, combining war cries, auto-aiming tornadoes, and infinite resources. With its exceptional damage output and crowd control abilities, the Werewolf Tornado Druid build may just be the strongest build in the game. So, let's dive in and learn how to unleash the fury of this formidable character.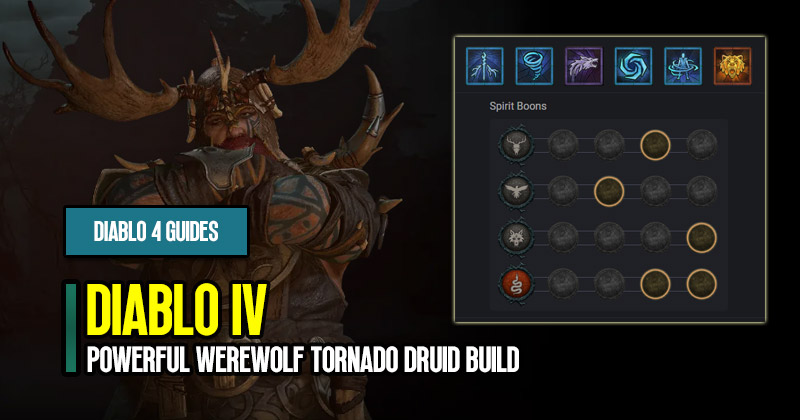 ↖ Build Overview
The Werewolf Tornado Druid build focuses on utilizing war cries and tornadoes to annihilate enemies effortlessly. The tornadoes serve as auto-aiming projectiles, obliterating monsters and granting you infinite resources with lucky hits. By simply pressing right-click and occasionally activating buffs with your one, two, and three buttons, you can dominate the battlefield. Let's take a closer look at the build's key features.
↖ Build Link
https://d4builds.gg/builds/8946828c-5074-49c8-9bde-a129151e7dfa/
↖ Skills and Abilities
Blood Howl: Utilize war cries to enhance your damage output and strengthen your character. These abilities provide buffs and contribute to the build's overall effectiveness.
Tornado: The auto-aiming tornadoes are your primary source of damage. They seek out enemies, decimating everything in their path. Lucky hits from tornadoes replenish your resources, ensuring sustained carnage.
Grizzly Rage: Cast Grizzly Rage intermittently to maintain maximum movement speed at all times. This ability grants you an enormous area of effect (AOE) and serves as a cornerstone for the build's playstyle.
↖ Gear and Items
To make the Werewolf Tornado Druid build thrive, you'll need specific gear and items that synergize with its mechanics.
Here's a breakdown of the essential items for this build:
Unique Weapon: Acquire the unique weapon that enhances your storm skills, making your tornadoes more potent.
Chest Armor: Prioritize toughness on your chest armor to bolster your survivability.
Critical Strike Gloves: Obtain gloves that provide critical strike chance, attack speed, and tornado damage. Lucky hits are crucial, as they trigger Earth and Might, replenishing your resources.
Pants and Boots: Focus on armor buffs and defensive attributes to increase your survivability.
Amulet and Rings: Look for items that amplify your core skills' damage and provide offensive and defensive bonuses.
Weapon Statistics: Choose a weapon with increased attack speed and critical hit chance to optimize tornado damage.
↖ Skill Tree and Paragon Points
Allocate your skill points wisely to optimize the build's performance.
Focus on storm skills, defensive abilities, and damage-boosting passives.
Additionally, adjust your Paragon Points according to your playstyle and goals.
Conclusion:
The Werewolf Tornado Druid build offers an exhilarating playstyle with devastating damage potential. By harnessing the power of war cries and tornadoes, you can effortlessly mow down hordes of enemies while maintaining maximum movement speed. The build's auto-aiming tornadoes, combined with lucky hits and resource regeneration, ensure a seamless and powerful gaming experience.
Most Popular Posts
Popular Category Lists