Poe Crafting Guide: Removing Wrong Fractured with Vendor Recipe from Items
In Path of Exile, the Crucible system allows players to modify and enhance their items through crafting. One aspect of Crucible crafting involves fracturing items, but what if you want to remove the Fractured? This guide will walk you through the process of removing fractures from certain items, providing valuable information that might not be widely known. Whether you have a unique base item or accidentally applied the wrong fracture, this guide will help you rectify the situation.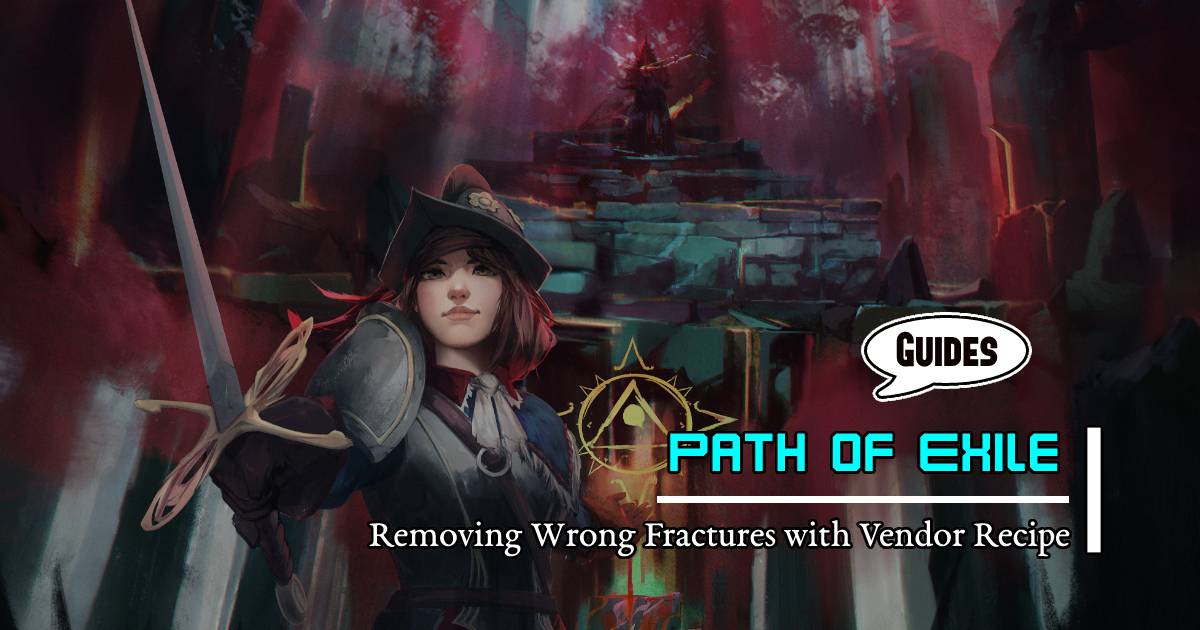 ↖ Removing Fractures from Weapons
If you have a fractured weapon and want to remove the fractures, follow these steps:
Head to a vendor and gather the following items: your fractured weapon, a Blacksmith's Whetstone, and a Magic or Rare Rustic Sash.
Ensure that the Rustic Sash is Magic or Rare, as this is a crucial component of the recipe.
Sell your fractured weapon, Blacksmith's Whetstone, and Magic or Rare Rustic Sash to the vendor.
In return, you will receive your original base weapon without fractures.
This method works for any weapon type with fractures and is especially useful if you have a unique or interesting base item that you cannot easily replace. Keep in mind that the resulting item will be of the same level and base as the original.
↖ Correcting Crafting Mistakes
Suppose you accidentally applied the wrong fracture when trying to craft a specific mod combination on your weapon.
Here's how you can fix it:
Follow the same process mentioned above to remove the fractures from your weapon.
Once you receive the unfractured base weapon, you'll notice that the Crucible tree you previously applied is still present on the item.
Now you can attempt to apply the desired fracture, ensuring you hit the correct mod this time.
Remember that this method only works if you have not used a Gilded Fossil on the item. Using a Gilded Fossil before attempting to fracture the weapon will result in the item being irreversibly lost when sold to the vendor.
↖ Removing Fractures from Boots
The vendor recipe for removing fractures from boots is slightly different.
Here's how to do it:
Craft your boots and fracture them.
If the desired mod (e.g., Max Life) was missed and a different mod (e.g., Chaos Resistance) was applied, reroll the boots until you hit Movement Speed.
Once you have boots with Movement Speed, add an Augmentation Orb to obtain a Magic item.
Sell the Movement Speed boots and the Augmentation Orb to the vendor.
In return, you will receive a new pair of boots without fractures.
Note that the recipe for boots requires the boots to have a base Movement Speed value.
You can increase the Movement Speed by using the recipe repeatedly, gradually reaching the maximum of 30 Movement Speed.
Conclusion:
Understanding how to remove Fractured from items in Path of Exile can be invaluable when crafting unique and powerful items. This guide has provided step-by-step instructions for removing fractures from weapons and boots, along with some important considerations. Remember to be cautious with Gilded Fossils, as they can render the removal process ineffective.
Most Popular Posts
Popular Category Lists