New World Season 2 Tips & Tricks: How to Earn Coins Effectively through Farming, Crafting and Trading?
The recent release of the Season 2 patch in New World has opened up several opportunities for players to earn easy coins. In this guide, we will explore various methods, such as farming, crafting, and trading, that can help you make a substantial amount of coins. Please note that the market conditions may vary depending on your server, so it's important to adapt these strategies accordingly.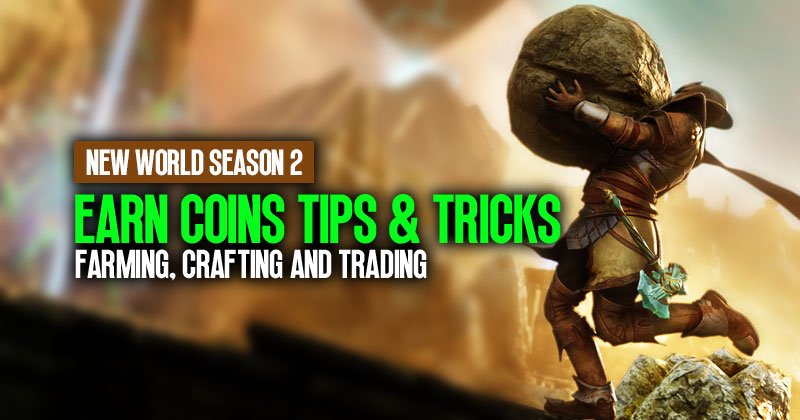 ↖ Farming for Profit
Aloe Gel: Aloe gel is a valuable resource used in crafting essential items like Ascendant Potions. It can be found abundantly in several locations, particularly in the northwest area near Scorpio and the southeastern region of Brimstone. These areas are rich in aloe plants, allowing you to gather significant quantities quickly.
Scorpion Farming for Chitin Parts: Chitin parts are in high demand for crafting Chitin Padding, which is needed by many players gearing up for the Sand Worm raid. The starting area in the southeast of Brimstone and the Scorpio region offers ample opportunities to farm scorpions and obtain chitin parts efficiently. These locations provide an optimal farming experience due to their high scorpion population.
Cactus Flesh: Although more efficient than aloe gel farming, gathering cactus flesh can still be profitable. It is used in crafting certain items, including Ascendant Potions. Check the prices on your server before committing to cactus farming, as it may not be as lucrative as other options. Cacti can be found in various areas of Brimstone and some parts of Monsoon.
↖ Crafting for Profit
Chitin Padding: Crafting and selling chitin padding can be highly profitable due to its demand in gearing up for the Sandworm raid. Players often prefer to purchase the complete padding rather than its individual parts, resulting in higher profits. Gather the necessary resources, including aloe gel, cactus flesh, runic leather, and phoenix weave, to craft chitin padding.
Chitin Plate: Chitin plate is another valuable item used in crafting. While it requires fewer resources than chitin padding, it is still in demand by players for various purposes. Leatherworking skill is required to craft chitin plates, and you'll need leather and titan parts. Scorpions are the primary source of titan parts, making it relatively easy to acquire them.
↖ Trading for Profit
Weapons: Crafting and selling weapons, particularly those with high attributes, can be a lucrative endeavor. Weaponsmithing and engineering are the relevant skills needed to craft powerful weapons. Keep an eye on the market for in-demand weapons used in the Sand Worm raid, as they can fetch high prices.
Crafting Materials: Various crafting materials, such as rough leather and beaded straps, are in high demand due to the popularity of dexterity-based gear in the raid. These materials can be obtained through gathering or purchased from other players. Please take advantage of their scarcity by selling them at competitive prices.
Consumables: Certain consumables, like infused beast coatings, are essential for optimizing raid attempts. These coatings are consumed with each instance reset, increasing their demand over time. Monitor their prices and consider selling them when the demand is high. Similarly, other consumables like Beast Ward potions may have temporary inflated prices, but be cautious as their value may decline if they prove ineffective in the Sand Worm raid.
Conclusion:
New World Season 2 provides multiple avenues to earn easy coins through farming, crafting, and trading. By strategically farming resources like aloe gel, chitin parts, and cactus flesh, you can supply the market with in-demand items. Crafting valuable gear and weapons and trading them on the market can also yield significant profits. Stay informed about the market trends and adapt your strategies accordingly to maximize your earnings in this dynamic economy.
Most Popular Posts
Popular Category Lists