ESO 2023 Necrom Gold Vendors: How to choose the best sets currently?
Are you looking to enhance your gameplay in Elder Scrolls Online with the best-selling sets available in the store? Look no further! In this guide, we will explore the top-selling sets that are currently available in the ESO store, specifically focusing on the Elder Scrolls Online 2023 Necrom Golden Vendors event. Whether you're a seasoned player or just starting your ESO journey, this guide will provide you with valuable insights into these sought-after sets.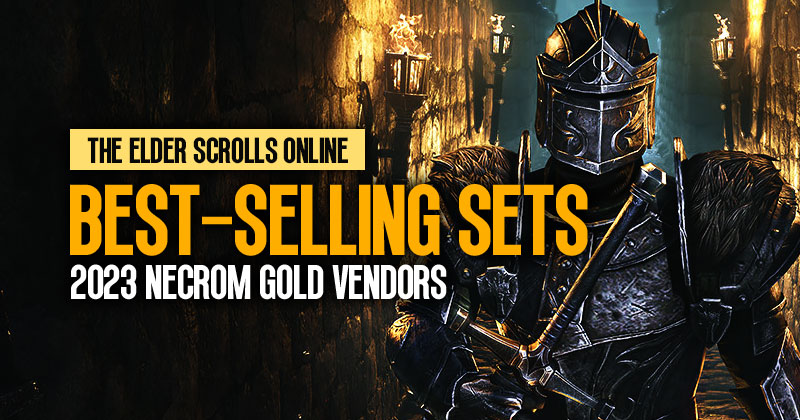 ↖ Gourmand Set
Gourmand set, obtained from Galen, is a highly popular and valuable set. It offers a significant boost to critical damage and healing when using buff food. This set is not only useful for personal use but also holds great resale value. Console players can benefit from buying this set with ESO Alliance Points (AP) and reselling it for profit.
↖ Nicolas Set
Nicolas set, acquired from the Blessed Crucible dungeon, provides an interesting mechanic when blocking attacks. With this set, you accumulate stacks of Nicolas's resolved when blocking, which can be consumed to deflect the next direct attack completely. While this set has niche uses, it must be retained, limiting its market appeal.
↖ Combat Physician Set
Combat Physician set, obtained from Wayrest Sewers, grants a damage shield to the target whenever you critically heal yourself or an ally. While this set is useful for PvP healers, there are more potent sets available in the game that can provide similar benefits. Additionally, as it is a dungeon set, it cannot be resold.
↖ Seducer's Amulet Set
Seducer's Amulet set offers a unique ability that places a DoT effect on enemies when you bash them. This set can be useful for PvP tanks or unconventional builds. However, its resale value may be limited due to its availability in the High Hrothgar Overland set boxes, which were given to all players at some point.
↖ Symphony of Blades Set
Considered one of the best support monster set, the Symphony of Blades set provides excellent support capabilities. The head can be obtained from the dungeon Depths of Malatar, while the shoulder can be acquired using Undaunted Keys. This set is highly sought after for its support attributes and can be a valuable addition to any group.
↖ Thurvokun Set
Thurvokun set, acquired from the dungeon Fang Lair, offers an interesting debuff mechanic. When you summon a pool, enemies within it, experience reduced damage and a health recovery debuff. While this set may not be ideal for PvE encounters, it can still hold sentimental value for those who have completed the challenging Fang Lair dungeon.
Conclusion:
As you explore the ESO store during the Elder Scrolls Online 2023 Necrom Golden Vendors event, these sets are among the best-selling and sought-after options available. Consider your playstyle, personal preferences, and potential resale value when choosing which sets to invest in. Whether you're a dedicated player looking to enhance your gameplay or a savvy trader seeking profitable investments, these sets offer a range of benefits and opportunities. Happy shopping!
Most Popular Posts
Popular Category Lists