PoE 3.22 Sacrifice Support Gem Guide: Potential uses in various builds
In this Path of Exile guide, we'll dive into one of the upcoming support gems in Patch 3.22 - the Sacrifice Support Gem. Now, let's focus on the Sacrifice Support Gem and its potential uses in various builds.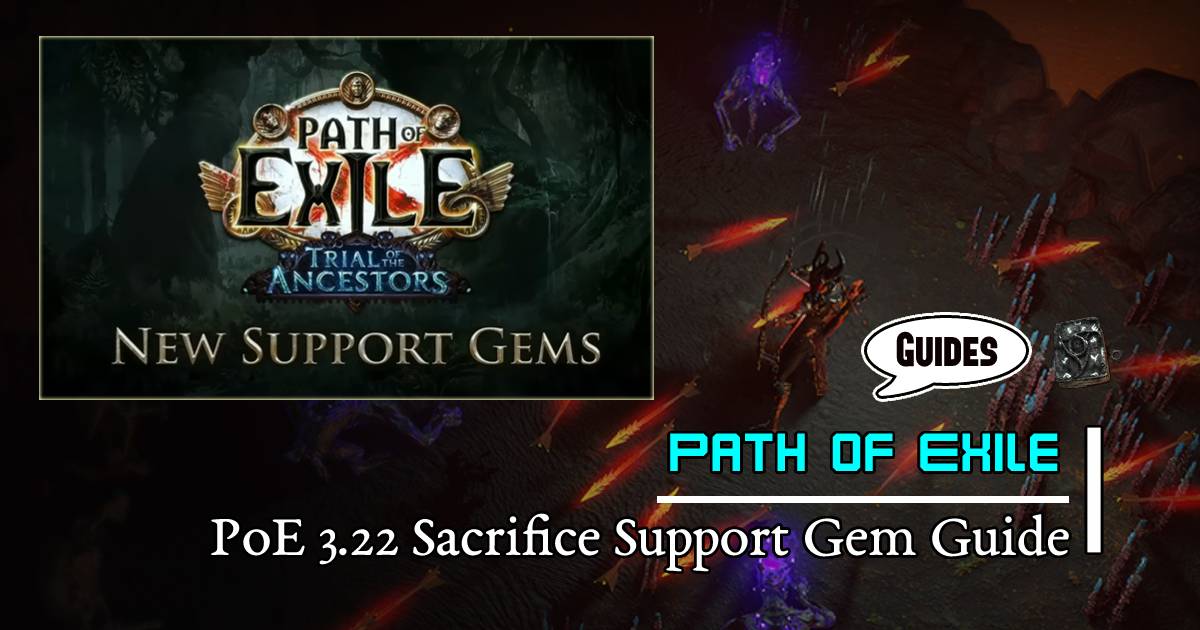 ↖ Understanding the Sacrifice Support Gem
During the reveal of the Trial of the Ancestors league, Chris Wilson mentioned the Sacrifice Support Gem, which works on spells you cast or through totems. This support gem allows you to sacrifice a percentage of your current life (or the totem's life) to gain additional chaos damage based on the amount of life sacrificed.
↖ 5000 Maximum Life
12% Sacrificed Life = 600 Added Chaos Damage
17% Sacrificed Life = 850 Added Chaos Damage
Equivalent to level 35-40 Added Chaos Damage Support
↖ Speculations on Gem Mechanics
While we lack precise gem stats, from the preview, we can observe life being sacrificed. Rough comparisons suggest that the sacrifice is based on current life, not maximum life. This means that a portion of your current life is sacrificed, not the entire amount. The exact added damage from the sacrifice mechanic remains uncertain, but it's likely not a one-to-one ratio of damage to sacrifice.
↖ Possible Synergies and Builds
The Sacrifice Support Gem may find its place in two main build types. First, life stacking builds that combine various mechanics to scale life into damage, like the Dark Pact skill or the Rathpith Globe unique shield. Synergies with the Dissolution of the Flesh unique jewel and Eternal Youth can help mitigate the life loss through powerful energy shield recharge mechanics.
Secondly, the Elementalist with the Shaper of Flames notable, which allows you to ignite with all damage, could benefit from the Sacrifice Support Gem. Using skills with high effectiveness of added damage, like Val Firestorm, could provide significant base hits for ignite on single targets.
Duration-based abilities, like poison builds using Blade Vortex with Unleash, could also be suitable for the Sacrifice Support Gem, as they can more effectively manage the life loss.
↖ Conclusion
The Sacrifice Support Gem offers exciting possibilities for build diversity in Path of Exile. While the exact numbers remain undisclosed until the patch notes, it's clear that this gem can add a unique twist to various playstyles. As the league approaches, players can experiment with different combinations and unleash the full potential of the Sacrifice Support Gem.
Most Popular Posts
Popular Category Lists