FFXIV Stormblood Update: What new content and features will be launched?
Final Fantasy XIV Stormblood, an exciting expansion that is now available to trial players! With the recent release of patch 6.5, the free trial has been extended to include the entirety of Stormblood. Whether you are considering switching to a paid subscription or are new to the world of Eorzea, this is the perfect opportunity to embark on a grand adventure. In this guide, we'll break down the content and features that Stormblood brings to the table and help you make the most of your journey.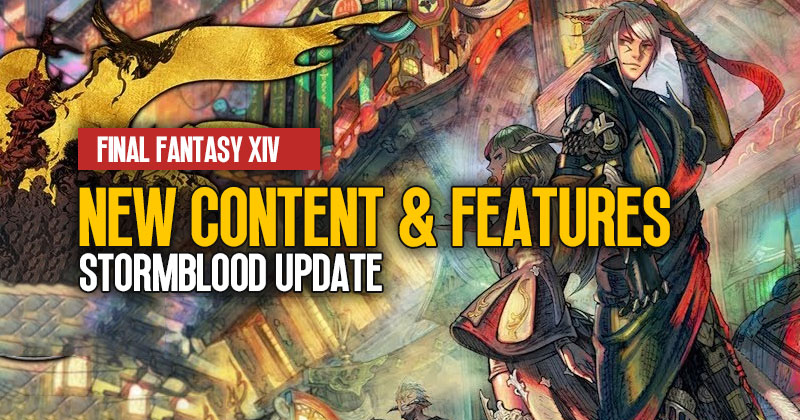 ↖ Level Cap Increase and New Jobs
Stormblood raises the level cap to 70, granting players access to powerful new abilities, skills, and additional glamour options. Two standout jobs introduced in this expansion are Fisher, which includes spearfishing with a recent update to make it more enjoyable, and the Blue Mage, which offers unique gameplay experiences with various spell combinations.
↖ Exploration and Zones
Stormblood introduces six new zones and two hub cities, providing players with a vast world to explore. More zones mean more quests, FATEs, and hunts to participate in, just like in A Realm Reborn and Heavensward. Also, with access to Kugane, one of the hub cities, trial players can now visit all player housing districts without needing the friend list teleport workaround.
↖ Dungeons and Alliance Raids
Stormblood offers 15 dungeons, with improved quality compared to previous expansions. All dungeons drop orchestration rolls, most drop minions, and one even drops a mount. Additionally, with Duty support added, DPS players can expect shorter queue times for dungeons.
The Alliance raids have seen significant improvements since the Crystal Tower series, and Stormblood continues this trend. Trial players can now experience three exciting Alliance Raids and two Treasure Dungeons with mechanics that go beyond simple door choices.
↖ Deep Dungeons - Heaven on High
One of the major time sinks in Stormblood is Heaven on High, a 100-floor-deep dungeon. As a trial player, you now have access to this challenging content, making it easier to complete titles like Necromancer and Lone Hero. Furthermore, you gain access to Super Potions, enhancing your character's capabilities.
↖ New Jobs and Custom Delivery NPCs
Stormblood introduces two new jobs, Red Mage and Samurai. Trial players can unlock these jobs by reaching level 50 on any combat job and visiting Ul'dah. Additionally, there are three custom delivery NPCs that allow trial players to use all their custom delivery weekly allowances.
↖ Trials and Raids
Stormblood brings a plethora of trials and raids, offering exciting and challenging endgame content. With Savage and Ultimate raids, players can prove their skills and earn prestigious rewards. Completing these difficult encounters synced will truly showcase your prowess as a legend in Eorzea.
↖ Eureka - The Infamous Endgame Grind
Stormblood introduces Eureka, an endgame zone where players can obtain their Stormblood Relic weapons. This zone offers a wealth of rewards, including 56-person raids, and provides a unique experience for those seeking challenging content.
Conclusion:
As a trial player, Stormblood presents an abundance of exciting content for you to explore and conquer. From new jobs and zones to dungeons, raids, and the challenging Eureka zone, you'll find a wealth of adventures awaiting you. Make the most of this opportunity, and you might even decide to stick around for future expansions as the free trial continues to evolve. Embrace the journey and revel in the world of Final Fantasy XIV - Stormblood!
Most Popular Posts
Popular Category Lists