ESO Nova Shield Magicka Templar Solo Build Latest Update: Powerful and Survivable
Welcome to the updated guide for the Nova Shield Magicka Templar solo build in The Elder Scrolls Online. This build is designed to be both powerful and survivable, making it great for beginners and experienced players alike. With the ability to maintain multiple damage shields and strong self-healing, this Templar build is practically unkillable when played correctly. In this guide, we'll delve into the setup, gear, skills, rotation, and Champion Points needed to master this amazing build.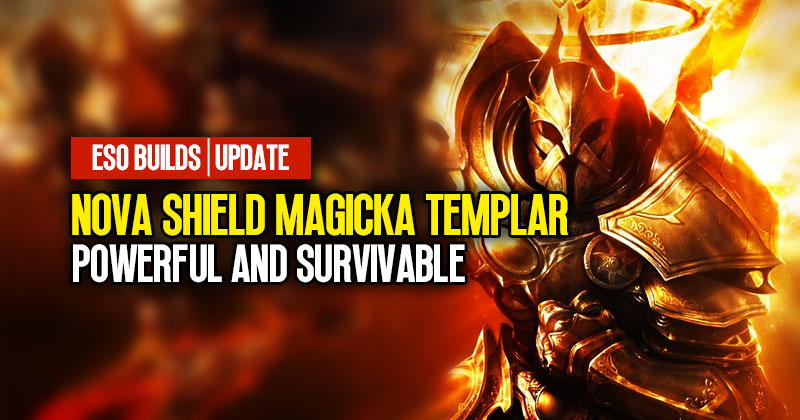 ↖ Build Overview
The Nova Shield Magicka Templar build is centered around using multiple damage shields to enhance survivability. The sets used in this build are either from the base game or tradable, making it accessible to a wide range of players. This build is particularly suitable for solo gameplay, taking on challenging content like dungeons, veteran dungeons, and arenas.
↖ Stats
Max Magicka: ~33,000
Max Health: ~22,000
Max Stamina: ~13,000
Magicka Recovery: ~1600
Spell Damage: ~5400
Critical Chance: ~53-54%
Attributes: All points invested in Magicka
Mundus Stone: The Thief for increased critical chance
↖ Food and Potions
Gold quality Clockwork Citrus Fillet (or Witchmother's Potent Brew)
Spell power potions for optimal damage (or cheaper magic potions for sustain)
↖ Race
High Elf (Altmer) for the most damage; Breton for sustain and beginner-friendly play
↖ Item Sets
Prayer Shawl: A base game dungeon set providing damage shields that trigger every 2 seconds. Use the lightning staff on the front bar.
Hexo's Ward: An Overland set from DLC Deadlands that offers a potent damage shield on a longer cooldown. Use the jewelry and body pieces.
Iceheart: A base game monster set that provides extra crit chance and a chance to gain a damage shield on taking damage.
↖ Skills
Front Bar
Radiant Glory
Single-target execute ability that also provides healing when used on low Health targets.
Barbed Trap
Deals damage over time and grants the Minor Force buff, boosting critical damage.
Elemental Drain
Deals damage over time while providing sustain and reducing the target's spell resistance.
Puncturing Sweep
Main damage and healing ability, dealing damage and healing with every hit.
Inner Light
Provides bonus Max Magicka and crit chance.
Back Bar
Solar Barrage
Deals damage over time and empowers heavy attacks while providing area damage.
Ritual of Retribution
Deals damage over time and provides an AoE healing effect.
Blockade of Fire
Deals continuous damage over time in a target area.
Structured Entropy
Provides healing and boosts your damage shield effectiveness.
Channeled Focus
Grants armor, magical recovery, and a healing rune while standing in its area.
↖ Ultimates
Front Bar: Flawless Dawnbreaker or Solar Disturbance (for challenging content).
Back Bar: Elemental Rage (for damage) or Solar Disturbance (for utility).
↖ Champion Points
Invest in Blue Tree (Mage) for damage, Green Tree (Thief) for critical chance and sustain, and Red Tree (Warrior) for damage mitigation.
↖ Armor Styles
The armor style used in the guide is Blessed Inheritor, a light armor style that suits the build's aesthetic.
Conclusion:
The Nova Shield Magicka Templar build is a highly survivable and potent choice for solo players looking to conquer various challenging content in The Elder Scrolls Online. By utilizing multiple damage shields, self-healing, and well-timed abilities, this build allows you to tackle encounters with confidence. Remember to adjust the build according to your preferences, playstyle, and available resources. Good luck, and have fun in your adventures as an unkillable Magicka Templar!
Most Popular Posts
Popular Category Lists