Path of Exile Atlas Guides: Atlas Skill Tree Strategy for Beginners
Are you a new player diving into the intricate world of Path of Exile? If so, the Atlas of Worlds might feel like a daunting territory to explore. However, fear not! The Atlas offers an engaging and well-designed experience that can greatly enhance your gameplay. In this guide, we'll delve into the fundamentals of the Atlas skill tree, discuss various strategies, and help you navigate your way through the diverse mechanics it offers.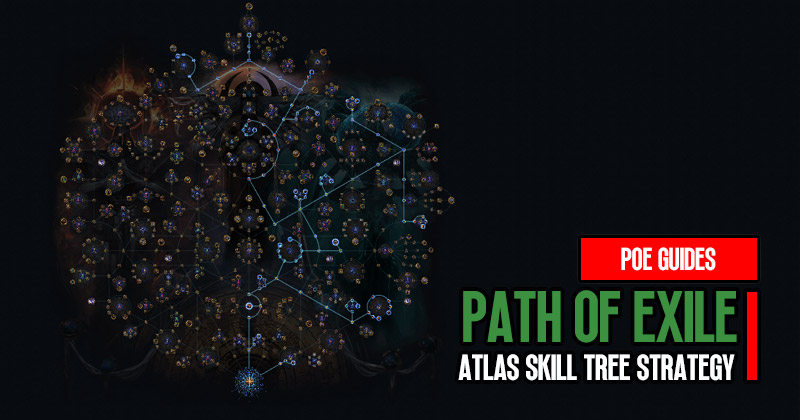 ↖ Understanding the Atlas Skill Tree
At the heart of the Atlas lies its skill tree, a unique feature that sets it apart from other game systems. This skill tree rewards you with points for every completed map bonus, encompassing various in-game achievements such as regular maps, end-game content, Maven encounters, and pinnacle Eldritch bosses. With a total of 132 points available, the Atlas skill tree becomes a significant aspect of your progression.
In the early stages of the game, acquiring these points might seem challenging, but as you progress, Orb of Regrets and other resources become more accessible, making it easier to reallocate points and refine your strategy.
↖ Demo Atlas Tree
↖ Crafting a Strategy: SSF vs. Trade League
As a new player, your approach to the Atlas can vary depending on whether you're in a Solo Self-Found (SSF) environment or a trade league. In SSF, the focus often shifts towards self-sufficiency and crafting your own gear. Utilizing essences for crafting, strategically unlocking the Atlas nodes for bonus objectives, and prioritizing the right Notables can greatly enhance your SSF experience.
In trade leagues, the landscape changes. While the core strategies remain relevant, you'll have access to trading and a wider range of gear options. This might alter the way you distribute points and prioritize certain nodes, allowing you to experiment with different mechanics and optimize your gameplay further.
↖ Navigating the Atlas: Node Choices
Your Atlas journey begins with deliberate node choices. Here's a breakdown of a typical approach:
Essence Nodes: Prioritize nodes related to essences, as they enhance your crafting capabilities, particularly useful for SSF players. Consider grabbing "Jonah Unveiled" for early access to Unveils.
Exploration and Reconnaissance: Early-game nodes such as "Expedition", "Surveyor's Study", and "Expedition Surveyor" provide valuable map exploration bonuses, helping you uncover more of the Atlas and unlock hidden potential.
Shaping the World: This node opens the path to advanced mapping strategies, enabling you to manipulate the Atlas to your advantage.
Notable Choices: Consider nodes that align with your preferred content. If you enjoy Delirium, Blight, or other mechanics, invest in their respective nodes to maximize their occurrence.
Unique Notables: Some nodes offer unique benefits, such as "Vivid Memories" for increased Divination Card drops or "Destructive Presence" for summoning more map bosses. Tailor your choices to your playstyle.
↖ Advanced Strategies
Beyond the basics, advanced strategies can further elevate your Atlas experience:
Combining Mechanics: Combine your Atlas strategy with other mechanics like Harvest crafting for optimal results. Experiment with different combinations to find what suits your style.
Blight and Rogue Exiles: Utilize Blight and Rogue Exiles nodes for mapping efficiency. These nodes can make your gameplay smoother and more enjoyable.
Destructive Play: Explore the benefits of the "Destructive Presence" node, which can summon more map bosses and potentially yield valuable rewards.
Wandering Path: This node introduces a unique mapping strategy, potentially providing a balanced approach to sustain and progress on the Atlas.
↖ Crafting Your Atlas Adventure
Ultimately, the beauty of the Atlas lies in its flexibility and balance. The choices you make directly influence your gameplay experience, allowing you to focus on what you enjoy most. Whether you're a dedicated SSF player or a trade league enthusiast, the Atlas offers a wealth of possibilities to explore.
Remember, the Atlas is a journey of discovery and growth. Experiment with different strategies, adapt to your preferences, and let your adventure unfold organically. The mastery of the Atlas awaits – embrace the challenge and make your mark on the world of Path of Exile!
Most Popular Posts
Popular Category Lists