How to Earn Gold From Selling Style Materials in Elder Scrolls Online, 2023?
In The Elder Scrolls Online, amassing gold doesn't have to be a tedious grind. You can accumulate a substantial amount of ESO gold efficiently by taking advantage of various in-game opportunities. One often overlooked method is selling style materials, which are essential for crafting items in specific styles. In this guide, we'll explore what style materials are, how to obtain them, and which ones are valuable for gold-making.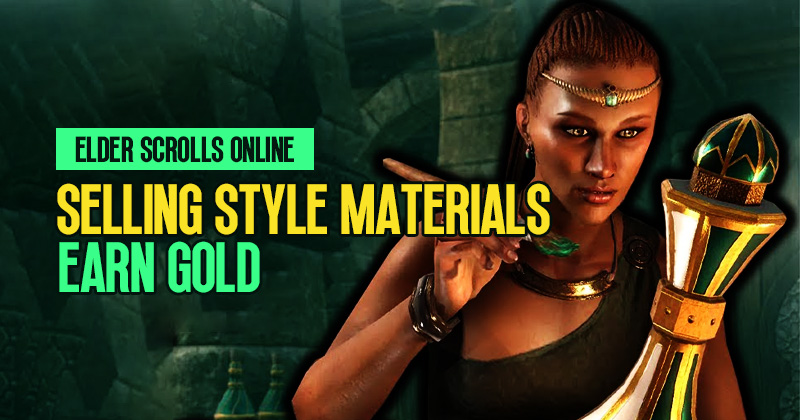 ↖ What Are Style Materials?
Style materials, as the name suggests, are materials required to craft items in a particular style. For example, if you want to create a chest piece in the Welkynar style, you'll need Welkynar-style materials like Griffin Plume in addition to other relevant crafting materials. Similarly, if you wish to craft a Leon Bookcase Furnishing for your home, you'll require materials like Ivory Brigade Clasps from the Ivory Brigade style, along with housing materials.
Style materials are integral for significant crafting endeavours in ESO, especially for crafting items in specific styles. This necessity contributes to their value in the ESO market, making them a potential source of gold.
↖ How to Obtain Style Materials?
There are two consistent ways to obtain style materials in ESO:
↖ Daily Quests
Completing daily quests in various chapters and DLC zones can reward you with style materials corresponding to the specific zone. For instance, completing a daily quest in The Reach can reward you with a daily reward coffer that may contain Arcs and Sprockets, a style material used for Markarth-themed Furnishings and gear in the Arcsand Armory style. Many players focus on these dailies to obtain motifs or Furnishing plans and may overlook the valuable style materials that can be acquired.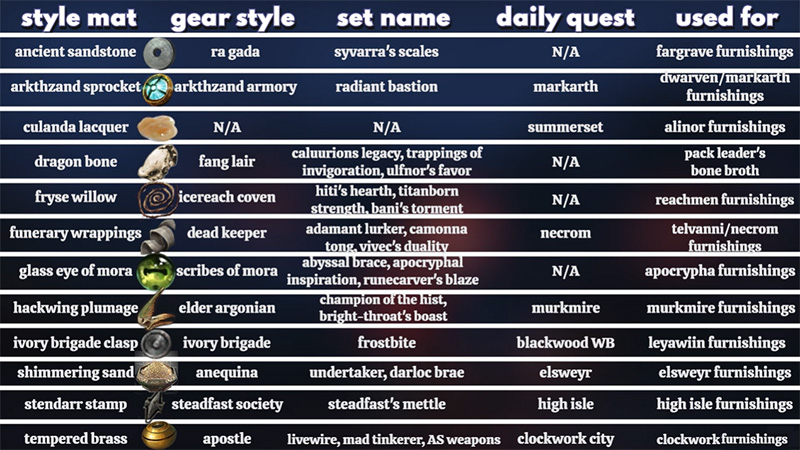 Here's a table of significant style materials and the daily quests that reward them:
| Style Mat | Gear Style | Set Name | Daily Quest | Used For |
| --- | --- | --- | --- | --- |
| Ancient Sandstone | Ragada | Syvarra's Scales | N/A | Fargrave Furnishings |
| Arkthzand Sproket | Arkthzand Armory | Radiant Bastion | Markarth | Dwarven/Markarth Furnishings |
| Culanda Lacquer | N/A | N/A | Summerset | Alinor Furnishings |
| Dragon Bone | Fang Lair | Caluurion's Legacy, Trappings of Invigoration, Ulfnor's Favor | N/A | Pack Leader's Bone Broth |
| Fryse Willow | Icereach Coven | Hiti's Hearth, Titanborn Strength, Bani's Torment | N/A | Reach Furnishings |
| Funerary Wrappings | Dead Keeper | Adamant Lurker, Camonna Tong, Vivec's Duality | Necrom | Telvanni/Necrom Furnishings |
| Glass Eye of Mora | Scribes of Mora | Abyssal Brace, Apocryphal Inspiration, Runecarver's Blaze | N/A | Apocrypha Furnishings |
| Hackwing Plumage | Elder Argonian | Champion of the Hist, Bright-Throat's Boast | Murkmire | Murkmire Furnishings |
| Ivory Brigade Clasp | Ivory Brigade | Frostbite | Blackwood WB | Leyawiin Furnishings |
| Shimmering Sand | Anequina | Understaker, Darloc Brae | Elsweyr | Elsweyr Furnishings |
| Stendarr Stamp | Steadfast Society | Steadfast's Mettle | High Isle | High Isle Furnishings |
| Tempered Brass | Apostle | Livewire, Mad Tinkerer, AS Weapons | Clockwork City | Clockwork Furnishings |
↖ Deconstructing Gear
Deconstructing gear is another way to obtain style materials. However, it's important to note that this method provides a chance, not a guarantee, of receiving the desired material. For instance, if you deconstruct gear in the Arcsand Armory style, like Radiant Bastion gear from Overland activities in The Reach, you may have a chance to obtain Arcs and Sprockets.
↖ Valuable Style Materials
Not all style materials hold the same value in the ESO market. The ones most sought-after and valuable are those required to craft DLC and chapter-themed Furnishing plans. These materials tend to command higher prices due to their limited availability.
While there are more advanced trading strategies related to style materials, we'll save those for a more in-depth guide. For now, focus on accumulating valuable style materials from daily quests and gear deconstruction to make some extra gold in ESO.
Conclusion:
In ESO, making gold doesn't have to be a grind. By being aware of the value of style materials and how to obtain them, you can efficiently accumulate gold while playing the game your way. Take advantage of daily quests and gear deconstruction to acquire valuable style materials, especially those required for DLC and chapter-themed Furnishing plans, and watch your gold reserves grow.
Most Popular Posts
Popular Category Lists