GW 2 Black Lion Stolen Goods Recovery Event: How To Unlock Free Gem Store Skins?
Hello, Guild Wars 2 enthusiasts! ArenaNet has just dropped a bombshell of an update, and we are here to spill all the juicy details. In this ultimate guide, we'll dive deep into the Black Lion Stolen Goods Recovery event, a remarkable opportunity to obtain Gem Store skins, mount skins, weapon skins, and more without spending a dime. This time-gated event spans three weeks and offers incredible rewards.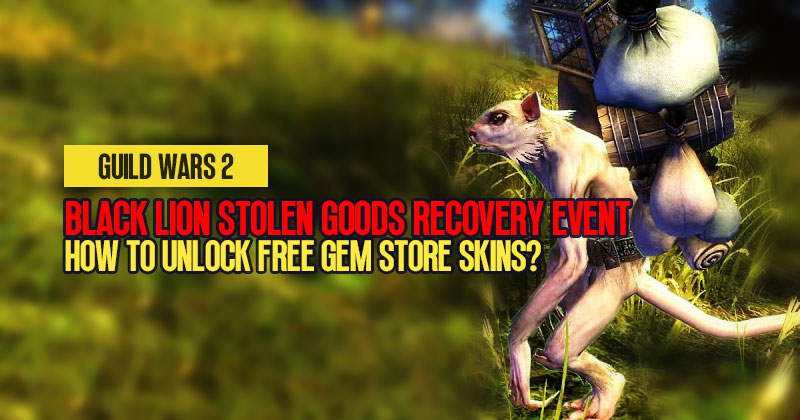 ↖ Event Overview
The Black Lion Stolen Goods Recovery event is a weekly, time-gated event designed to let players farm their own skins directly from the Black Lion Trading Post. These skins encompass a wide range of new items, from weapon skins to wardrobe unlocks and even exclusive dye colors and Mount skins. It's a fantastic addition to the game that opens up new avenues for players to acquire premium content.
Week-by-Week Progress
This event progresses in three weeks, and each week comes with its own set of objectives. You only need to complete a minimum of eight of these objectives to make progress. Here's a breakdown:
| | |
| --- | --- |
| Week 1 | You start with three statuettes. |
| Week 2 | You'll receive seven statuettes, and on the basic track, you get five transmutation charges. |
| Week 3 | We'll dive into the details of Week 3 later in this guide. |
↖ Reward Breakdown
Now, let's talk about the rewards you can earn through this event:
Week
Rewards
1

Basic: 3 Statuettes.
Full: 2 Black Lion Boosters.

2

Basic: 5 Transmutation Charges.
Full: 7 Statuettes, 1 Black Lion Chest.

3
A special item called Knife Tail Gang Hunting Bond.
↖ How the Knife Tail Gang Hunting Bond Works?
The highlight of this event is the Knife Tail Gang Hunting Bond, a unique item that you can double-click to consume. This bond is reminiscent of the Rift motives in the Secrets of the Obscure expansion. When you consume it, you receive a special buff icon, and here's where the magic happens.
While bonded with the Knife Tail Gang Hunting Bond, any XP-earning kill has a chance to reveal one of the Knife Tail Gang hideouts. Your goal is to find these hideouts, as each one allows you to loot a piece of recovered Black Lion Goods. The best part? These goods unlock various items in your Black Lion Trading Company wardrobe, including weapons, exclusive dye colors, and, yes, even coveted Mount skins!
↖ Strategies and Tips
Farm Efficiently: Focus on grinding XP-earning kills to increase your chances of revealing Knife Tail Gang hideouts.
Collaborate: Consider teaming up with fellow players to cover more ground and maximize your loot.
Stay Informed: Keep an eye out for additional updates and patch notes, as ArenaNet may tweak event mechanics over time.
Conclusion:
In summary, the Black Lion Stolen Goods Recovery event is a game-changer in Guild Wars 2. It offers players a chance to obtain coveted Gem Store skins, Mount skins, weapon skins, and more through dedicated gameplay. This event is a testament to ArenaNet's dedication to providing exciting content for its player base. Take advantage of this opportunity! Dive into the event, grind for those skins, and enjoy the remarkable additions to the game. Your adventure awaits!
Most Popular Posts
Popular Category Lists