PoE Powerful Weapon Pneumatic Dagger Crafting Guides
Welcome, Exiles, to the ultimate guide for crafting and optimizing a Pneumatic Dagger build in Path of Exile. In this comprehensive guide, we'll walk you through the step-by-step process of crafting this powerful weapon. Whether you're new to the game or a seasoned player, this guide will help you create a formidable character capable of taking on even the toughest challenges.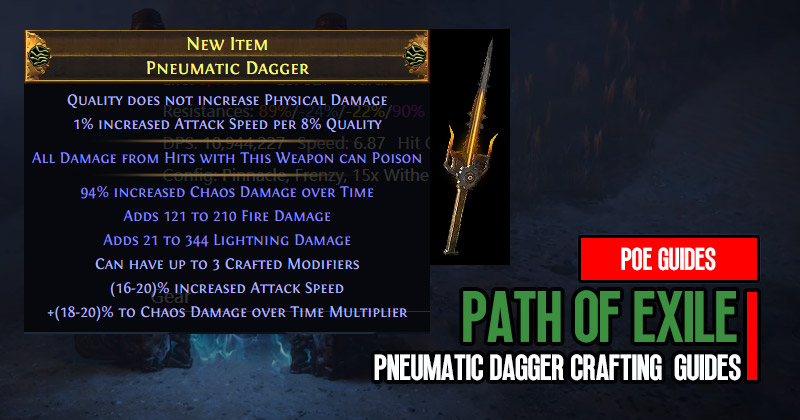 ↖ Pneumatic Dagger Build PobLink
↖ Crafting Your Pneumatic Dagger
↖ Step 1: Choosing Your Essence
You'll need to start with the right Essence to craft your Pneumatic Dagger. Look for either Hatred, Wrath, or Anger Essence. These will grant you valuable flat Elemental damage, which is crucial for this build. The goal is to roll a flat Elemental damage roll from the essence and a secondary T1 or T2 Elemental damage prefix (fire, lightning, or cold) that matches your essence choice.
↖ Step 2: Eliminating Unwanted Mods
In some cases, you might end up with an unwanted prefix on your dagger. If this happens, you can use the "Prefixes cannot be changed" craft, followed by an Exalted Orb, to get a beneficial Chaos Damage over Time modifier potentially. This step ensures you have two desired prefixes.
↖ Step 3: Filling Up Suffixes
Next, aim to fill up the suffixes on your dagger. You'll want two prefixes and two suffixes. If you already have two prefixes and two suffixes, you can skip the Scouring step.
↖ Step 4: Chaos Damage over Time
Craft "Cannot roll Attack Modifiers" on your dagger and use a Hunter's Exalted Orb. This has a 100% chance to add Chaos Damage over Time to your weapon. The tier of this modifier may vary, but aim for the highest possible.
↖ Step 5: Completing the Modifiers
If you have undesirable suffixes, use "Prefixes cannot be changed" again and Scour your dagger to retain only the three desired prefixes: flat Elemental damage, attack speed, and damage over time multiplier for Chaos Damage over Time.
↖ Step 6: Quality and Enchantment
Improve your dagger's quality to 30% using Blacksmith's Whetstones. Apply the Harvest enchantment that increases attack speed rather than physical damage to optimize your weapon's performance.
Most Popular Posts
Popular Category Lists