Path of Exile 3.22 The Low-Budget Poison Spark Pathfinder Build
Greetings, Exiles! Peuget here. I've crafted a budget-friendly build that doesn't skimp on the firepower or durability. Experience swift clear speeds and impressive boss damage without emptying your Poe Currency stash.
PoB Link: https://pobb.in/i93s1o0OfAcd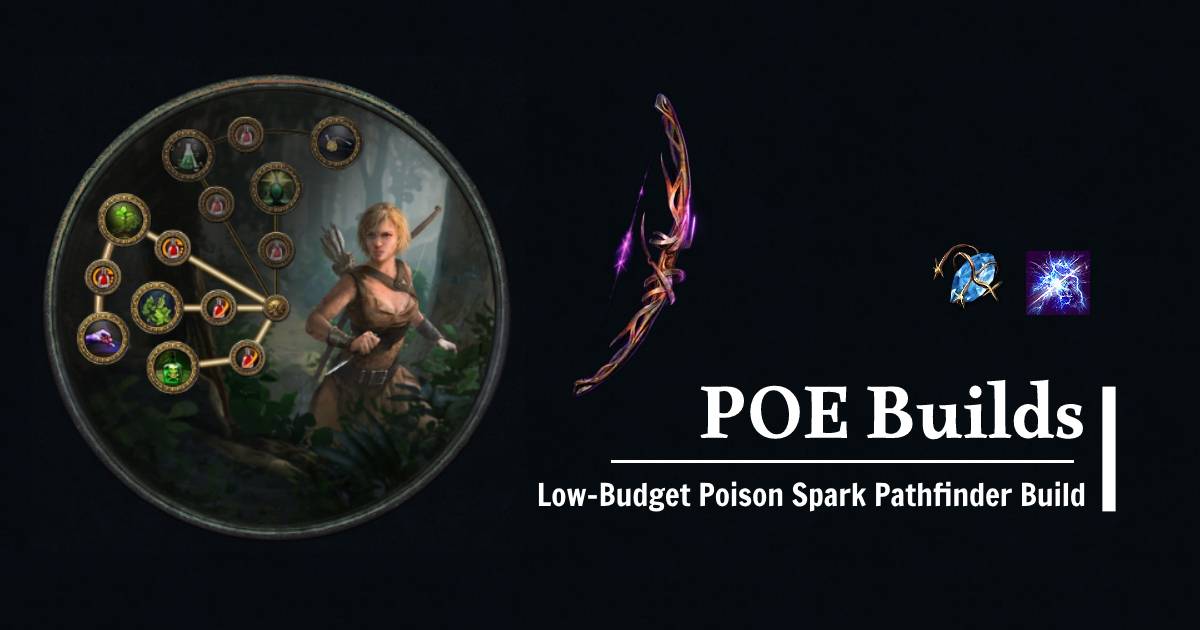 ↖ Skill Choice: Spark
Spark, a quick-moving projectile, can interact with terrains. The efficacy of our clear hinges on projectile speed and duration. When optimized, you can eliminate off-screen enemies and shotgun bosses near walls.
The actual DPS is challenging to gauge. In the Path of Building (PoB), our DPS is multiplied by three, as a single projectile can hit an enemy thrice before dissipating.
↖ Damage Source: Poison
To leverage poison, we need to convert our damage to chaos. Many builds use the alternate quality Spark and the unique "Ashes of the Stars" amulet for this. However, our budget version employs the "Voltaxic Rift" unique bow to convert all lightning damage to chaos. This makes poison our primary damage source.
↖ Achieving 100% Poison Chance
Herald of Agony (20%)
Poison nodes on the skill tree (50%)
Elder-influenced quiver (20%)
Gloves implicit (10%)
↖ Secondary Damage Multiplier
Wither, which increases chaos damage taken by 90%. Our ascendancy node further boosts its effect and our chance to inflict it.
↖ Curses
Using the unique "Anathema" ring, we can cast up to 4 curses. These are Temporal Chains, Despair, Punishment, and Sniper's Mark.
↖ Physical to Elemental Conversion
We convert 95% of incoming physical damage to elemental.
Key components aiding in this conversion are:
Lightning Coil (50%)
Taste of Hate flask (21%, enhanced by flask effect nodes)
Helmet (14%)
Watcher's Eye jewel (10% with Purity of Lightning)
↖ Elemental Damage Reduction
Utilize Ruby, Topaz, and the unique Sapphire flask, Taste of Hate.
↖ Life Recovery
Petrified Blood aura staggers damage over 4 seconds. Coupled with the Master Surgeon node from the Pathfinder ascendancy, our life flask remains active, synergizing perfectly with Petrified Blood.
↖ Core Unique Items
Voltaxic Rift: Our weapon of choice for converting lightning to chaos damage.
Lightning Coil: Offers substantial physical damage reduction.
Anathema: Allows the application of four curses.
↖ Crafting Tips
Quiver: Aim for high life and poison chance on an Elder-influenced feathered arrow quiver.
Gloves: Use a fractured chaos resistance base and essence craft for life.
Boots: Prioritize movement speed and elemental ailment avoidance.
Helmet: Opt for Spark fires 2 additional projectiles.
Belt: Ensure flask charge gain.
↖ Flasks
We use Ruby, Topaz, unique Sapphire (Taste of Hate), Silver, and Divine Life flasks. Focus on reduced duration and increased effect mods for resistance flasks.
↖ Additional Build Notes
Pantheon Choices: For boss fights, use Soul of Solaris and minor Soul of Ryslatha. Swap to Soul of Lunaris for mapping.
Bandits: Opt for two passive points.
Key Passive Tree Highlights: Use Brutal Restraint time-less jewel for poison damage nodes, and ensure you have a jewel mod preventing corrupted blood infliction.
Ascendancy (Pathfinder): Begin with Nature's Reprisal, followed by Nature's Adrenaline, Master Toxicist, and finally, Master Surgeon.
↖ Conclusion
This Poison Spark Pathfinder build offers an excellent blend of offense and defense on a budget. With further investment, you can easily elevate its performance. I'm thrilled with its efficiency and affordability. Give it a shot, and do remember to like and share, helping more players benefit!
Most Popular Posts
Popular Category Lists