PoE 3.22 Ultimate Energy Blade Cast on Blazing Salvo Crit Inquisitor Build
Are you ready for the ultimate Path of Exile experience? In this guide, we'll explore a unique and powerful build – the Strength and Intelligence Stacking Low Life Energy Blade Spell Blade Cast on Crit Inquisitor. This end-of-league project from Path of Exile 3.22 is designed to deliver exceptional damage and versatility. Let's dive into the details, but remember, precision is key when assembling this complex build.
PoB Link: https://pobb.in/Ka7zj1rfc_Kn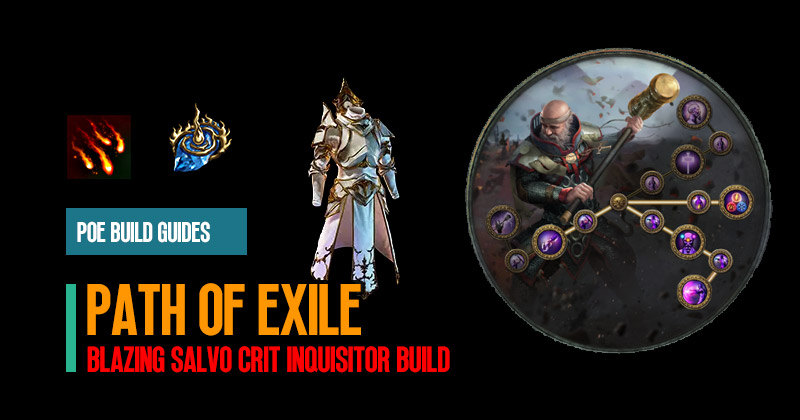 ↖ Part 1: Key Mechanics: Energy Blade and Spell Blade
Energy Blade is at the core of this build, granting flat lightning damage based on your maximum energy shield.
We'll explain how this mechanic works and why it's crucial for damage scaling.
Learn how Spell Blade multiplies this flat damage and why Battle Mage is a key component for maximizing your spell damage.
↖ Part 2: Gear and Unique Item Choices
Explore the gear choices, including the Wrathpith Globe, Stampeed Boots, and more. Understand how they synergize with the build's mechanics.
We'll discuss mandatory unique items such as Ivory Tower and Shaper's Touch, which form the backbone of this build. Discover their unique effects and why they are essential for your success.
Learn about the all-important Coruscating Elixir and how to maintain 100% uptime to survive against chaos damage.
Explore options for crafting weapons and accessories to optimize your build, including your energy blade, helmet, amulet, and more.
↖ Part 3: Skill Tree and Ascendancy Choices
Delve into the intricate skill tree, including the unique spiral pattern.
We'll explain why this pathing maximizes the effectiveness of certain nodes and keystones.
Discuss the importance of Ascendancy choices, highlighting Inevitable Judgment as a crucial option for consistent damage output.
Get insights into the Ascendancy path and the trade-offs between different ascendancy choices, such as Sanctuary of Thought and Sanctify.
↖ Part 4: Cluster Jewels and Rare Jewels
Explore the importance of the large cluster jewel and the challenging task of crafting or finding one with the right stats.
Discuss rare jewels and their role in scaling your damage, including the optimal mods to look for.
↖ Part 5: Gameplay Tips
Learn about the gameplay nuances of this build, which primarily involves Cyclone. Understand how to tackle map and alteration modifiers that can affect your flask charges and duration.
Discover the versatility of this build, as it can excel in both mapping and boss encounters. Get an idea of what to expect when taking on Uber bosses.
↖ Conclusion
This Strength and Intelligence Stacking Low Life Energy Blade Spell Blade Cast on Crit Inquisitor build is a complex yet rewarding choice for Path of Exile players. It offers an intriguing mix of mechanics and gear synergies, allowing you to unleash devastating spells and tackle challenging content. Whether you're a seasoned player or a daring newbie, this guide equips you with the knowledge to master this build.
Most Popular Posts
Popular Category Lists