How to Farm Path of Exile Mageblood and Generate Currency with Heists?
Are you looking to secure your Mageblood in Path of Exile with a reliable and efficient strategy? Look no further! In this guide, we'll walk you through a step-by-step process to acquire Mageblood consistently and efficiently, allowing you to optimize your PoE currency gains and crafting potential.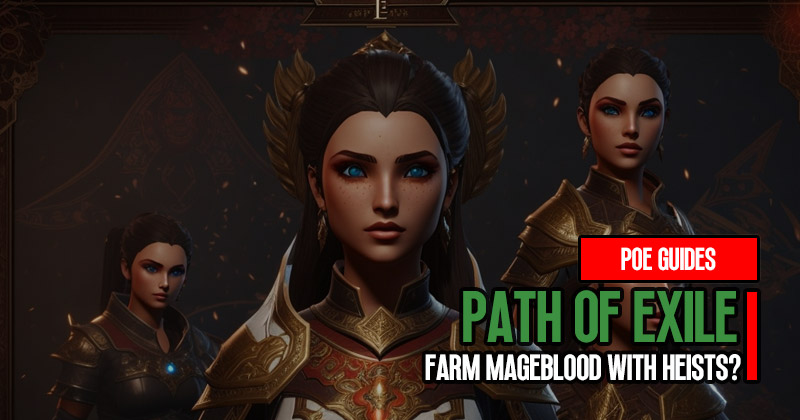 ↖ Part 1: Setting the Stage - WealthyExile.com
We kick off our journey with WealthyExile.com, a valuable tool that tracks your currency and Divination cards without any installation hassles. By using this tool, you'll have a clear overview of your wealth, including Exalted Orbs, Divines, and more.
↖ Part 2: Atlas Strategy - Simplifying the Atlas
To maximize your profits, we'll focus on a streamlined Atlas strategy. You don't need to complete every point on the Atlas. Instead, we'll concentrate on specific points to boost Heist-related activities.
Essential Atlas Points: We'll guide you through selecting key points that guarantee more Smuggler's Caches and Blueprints, including the coveted fully revealed ones.
Blocking Other League Mechanics: Learn how to block other league mechanics to prioritize Smuggler's Caches.
The Seven-Skies Notable: Discover the powerful Seven-Skies notable that brings Heist missions to your map device, allowing you to profit consistently.
↖ Part 3: Running Contracts - Maximizing Deception Contracts
We delve into running Deception Contracts to accumulate Rogue markers and reap rich rewards.
Quick and Dirty: We'll outline an efficient method to run Deception Contracts for Rals and loot, focusing on the highest target.
Valuable Gems: Explore the world of unusual gems found in Blueprints, and learn how to level and sell them for substantial profits.
↖ Part 4: Running Blueprints - Blueprint Bonanza
The climax of our strategy involves running Blueprints for lucrative returns.
Setting Up Rogues: Understand the importance of equipping your Rogues for optimal Blueprint runs.
Blueprint Runs: Get an inside look at how to run Blueprints, revealing valuable rooms while optimizing your profit potential.
Gem Profits: Discover the gems that can bring you significant returns, especially when leveled up.
↖ Part 5: Results and Rewards - The Fruit of Your Labor
We wrap up with a look at the rewards you can expect after implementing this strategy.
Currency and Crafting Materials: See how your hard work translates into substantial currency gains and crafting materials.
Valuable Divination Cards: Learn which Divination cards to prioritize, enhancing your profits.
Gem Profits: Dive into the impressive returns you can get by leveling and selling certain gems.
↖ Conclusion
With this comprehensive Mageblood acquisition strategy, you'll consistently secure your prize in every league while accumulating substantial wealth along the way. Say goodbye to relying on luck and hello to a reliable and efficient path to Mageblood. Happy hunting, Exiles!
Most Popular Posts
Popular Category Lists