Diablo 4 Most Efficient Farming Gold and Legendary Items in Season 2
Diablo 4 Season 2 is well underway, and if you're wondering how the farming landscape has changed, you're in the right place. Whether it's experience, legendaries, uniques, or seasonal materials, grinding is at the core of your Diablo 4 experience. After exploring Season 2 for a week, we've identified the winning strategies for efficient grinding.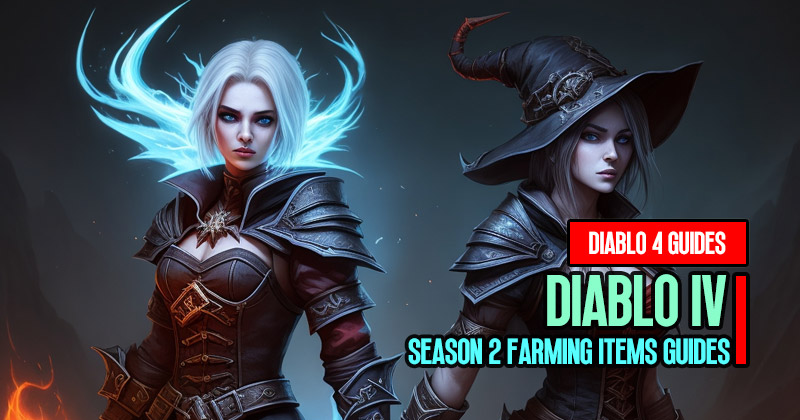 ↖ Experience Farming
For experience, Legion Events are your go-to method. They offer experience comparable to Nightmare Dungeons but take less time to complete. The catch is that Legion Events occur roughly every 25 minutes. When they're not active, Nightmare Dungeons become your best option, especially if you tackle the highest difficulty you can handle.
A third option, while not as effective for experience alone, is Blood Harvest. This new activity in Season 2 is always active, although it frequently changes location. It offers an excellent experience-to-time ratio, and it synergizes well with Whispers of the Dead for additional experience and significant Diablo 4 gold gains. You might find yourself swimming in legendaries, making money management feel like a non-issue this season.
↖ Legendary Farming
When it comes to farming legendaries, Nightmare Dungeons are still decent, but the real winner in Season 2 is Blood Harvest. It's even more efficient if you participate in the big special event within Blood Harvest that activates when players in the area collectively spend 150 lures at the middle pedestals. You can join forces with other players to keep this chain of events going, resulting in an astonishing rate of legendary generation. Even without chaining events, participating in Blood Harvest every 5 or 10 minutes is highly rewarding.
↖ Unique Farming
If you're on a quest for specific uniques items, your best bet is taking on the five new endgame bosses introduced in Season 2. Each boss has its own unique drop rate pool, offering around a 75% to 80% drop rate on uniques. While you might not always get the exact item you desire due to RNG, uniques are dropping consistently this season, which is a significant improvement from previous iterations.
Moreover, there have been reports of players obtaining Uber uniques from Duriel, the new level 100 boss. This means that dedicated players will likely be rewarded with Uber uniques, making the game more enjoyable for those who invest time in grinding for specific boss drops.
↖ World Bosses
Season 2 brings an increased spawn rate for World Bosses, making them a more frequent and rewarding activity. They now drop an average of about three legendaries per kill, making them a valuable source of legendary items. To make the most of this, keep an eye on the timers and slot in World Boss kills when they become available.
↖ HellTides and Crafting Materials
HellTides, while not as rewarding as before, are still necessary for obtaining Fiend's Roses and Forgotten Souls, essential for enchanting and equipment upgrading. Focus on opening the 300-cost chest for boss spawning materials and crafting materials, which are the primary reason to engage in HellTides now.
In summary, if you're looking for the most efficient activity in Season 2, Blood Harvest stands out. It offers a good experience-to-time ratio, significant gold generation, and the opportunity to participate in rewarding events. Nightmare Dungeons are your best choice for experience, while targeting specific uniques is best achieved by defeating the new endgame bosses. World Bosses offer a consistent source of legendary items.
Most Popular Posts
Popular Category Lists