Path of Exile Essence and Harvest Farming Currency Strategy Guides
With just about a month left in the league, players are searching for efficient ways to farm PoE Currency and make the most out of their remaining time. In this guide, I'll share a mapping strategy that integrates Harvest mechanics, making it a lucrative venture. Whether you're a newbie or a seasoned player, this strategy will help you accumulate wealth, run maps effectively, and enhance your overall PoE experience.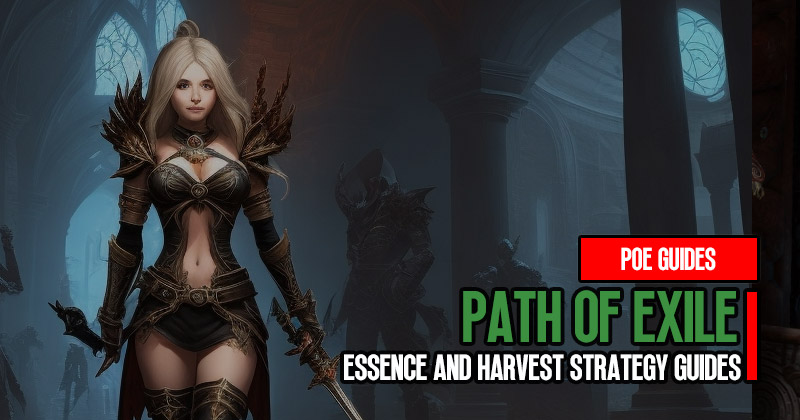 ↖ Mapping Strategy
The core of this strategy involves running maps with the added benefits of Harvest and Essence. We aim to maximize our Life Force, making this a multi-faceted approach to profitability. To begin, we'll detail the steps involved:
Atlas Tree: https://poeplanner.com/a/Y4j
↖ Preparing the Map
Open the map you wish to run, ensuring it has 25% pack size or better.
You can Vaal it for more pack size but be cautious not to brick it.
Roll the map to the desired pack size.
Corrupt the map.
↖ Map Device
Select Essence as the map device option, as we will be focusing on Essences.
Consider your preference for Sulphite if you're also delving.
Add four Scarabs, ideally polished or better. The choice of Scarabs can be tailored to your goals.
↖ Running the Map
Our map choice can vary, but Strand and Beach maps are popular options. Malformation (Maulum) is a fantastic choice if you prefer that layout.
The objective is to clear the map as quickly as possible while hunting Essences and searching for altars.
Make sure to avoid the "Map Boss Gains" modifier, so you don't waste Life Force.
↖ Harvest and Essence
The heart of this strategy lies in maximizing the potential of both Harvest and Essences.
Collect a significant portion of your income from Harvest and Essences.
Focus on obtaining the Quant modifier from Harvest for increased gains.
Essences, especially the good ones, can yield substantial profits. Be attentive to the market fluctuations of Essence prices.
↖ Notable Nodes on the Atlas
The Atlas tree plays a crucial role in this strategy. The allocation of points will depend on your priorities:
Prioritize Essence nodes if you intend to farm Essences.
Opt for Harvest nodes if you aim to maximize your Life Force.
The choice between blue and red altars can be tailored to your preference.
↖ Optional Enhancements
Consider experimenting with some optional enhancements, such as using the Wandering Path or Expedition strategies for added profitability.
↖ Market Insights
Remember that market dynamics can impact the profitability of this strategy. The price of Life Force and Essences can fluctuate throughout the day. Make sure to stay informed about market trends and adapt your strategy accordingly.
↖ Conclusion
With a balance of mapping, Harvest, and Essence strategies, this guide provides an effective roadmap to generating wealth in Path of Exile. Whether you're a casual player or a PoE enthusiast, the potential for profit is undeniable. If you're looking for more farming strategies or have specific questions, feel free to share them in the comments.
Most Popular Posts
Popular Category Lists