Diablo 4 S2 Poison and Rapid Fire Rogue Boss-Killing Builds
Are you looking to unleash devastating damage on Diablo 4 bosses and bring them down with ease? In this guide, we'll explore two potent boss-killing builds for the Rogue class. Whether you prefer a poison-based approach or want to take advantage of unique game mechanics, we've got you covered.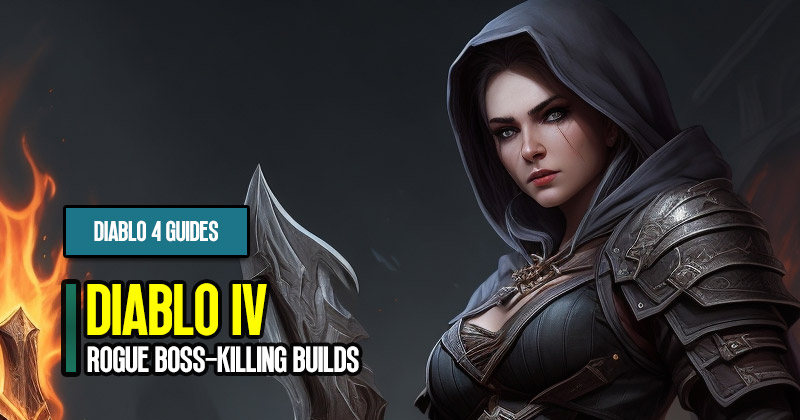 ↖ Poison-Focused Rogue Build
This Rogue build is all about maximizing poison damage and taking full advantage of the twisting blades legendary interaction. By stacking the right stats, using specific legendaries, and optimizing your skill tree, you can deal massive poison damage and melt bosses.
Build Planner: https://tinyurl.com/2p8up8w7
Skills
Use Twisting Blades as your primary attack, benefiting from the stacking damage interaction with the Twisting Blades legendary.
Apply vulnerability to single targets with Puncture for increased damage.
Consider adding ranks to Dash or Shadow Step for extra mobility and a slight boost to boss damage.
Legendaries
Grandfather: Maximize your damage potential and critical strike damage.
Ring of Mone: Enhance poison damage and critical strike chance.
Harlequin Crest: Improve overall survivability and skill effectiveness.
Stat Priorities
Stack ranks into Poison Imbuement for increased poison damage.
Focus on critical hit chance and lucky hit chance.
Gear up for damage to close range and damage to crowd control for multiplicative damage bonuses.
Paragon Board
Prioritize Tracker for extended poison damage duration.
Invest in Control for damage versus poisoned enemies.
Exploit Weakness and Canny provide substantial damage multipliers.
Adapt your Paragon board for more survivability if needed.
↖ Rapid Fire Build (Taking Advantage of Unique Mechanics)
The Rapid Fire build is another exciting option for Rogue players. This build capitalizes on the Bal will legendary's unique interaction with maximum resource and the Condemnation skill. While it requires specific gear and setup, it can deliver colossal burst damage.
Build Planner: https://tinyurl.com/2d9shfbx
Setup
Obtain a Bal will to increase your maximum combo points.
Pair Bal will with Condemnation to generate a full combo point with each activation.
Gear up with damage-boosting legendaries like God Slayer Crown and others.
Execution
Stack up combo points using Puncture.
Activate Blade Shift for Close Quarters Combat and Marksmanship bonuses.
Throw down a Smoke Grenade for the Trap bonus.
Use Concealment for guaranteed critical hits.
Finally, unleash Rapid Fire to annihilate your target.
Paragon Board
Customize your Paragon board for maximum damage potential.
Adapt it for more survivability if required for general play.
↖ Additional Tips
If you want to transition between boss-killing and general play, you can adjust your build by swapping out certain skills and gear.
Bal will and Condemnation are crucial for the Rapid Fire build, but remember that these mechanics might get patched in future updates.
Experiment with different legendaries, gear, and skill variations to find what suits your playstyle and gear progression best.
By mastering these Rogue boss-killing builds, you'll be ready to face the toughest foes in Diablo 4. Whether you prefer poison-based devastation or the unique mechanics of Rapid Fire, these builds offer thrilling gameplay and massive damage potential. Good luck in your quest to conquer the darkness!
Most Popular Posts
Popular Category Lists