How to Farming Poe Currency with Gem Quality Conversion?
Greetings, Exiles! Today, we're diving deep into the world of Path of Exile to explore an often-overlooked avenue for generating profits and saving Poe currency: changing the quality of gems. This guide will provide you with a step-by-step walkthrough, ensuring that you grasp the intricacies of this process and make the most out of your in-game endeavors.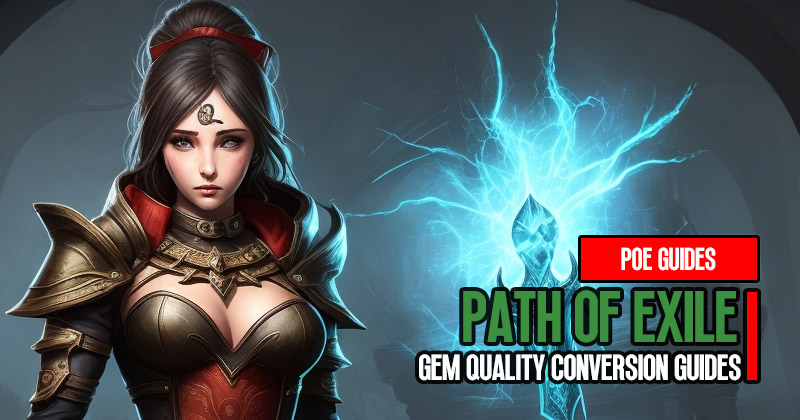 ↖ Understanding Gem Quality and Regrading Lenses
Before we delve into the profitability aspect, it's crucial to understand the mechanics of gem quality alteration. In Path of Exile, gems come in various quality types: Anomalous, Divergent, and Phantasmal, each providing unique benefits. To change a gem's quality type, you need Regrading Lenses, which are obtained through completing blueprints with unusual gems.
There are two types of Regrading Lenses:
Prime Regrading Lens: Used for altering skill gems.
Secondary Regrading Lens: Used for support gems.
↖ Identifying Profitable Gems with Poe Ninja
To determine which gems are worth converting, we turn to a vital tool: Poe Ninja.
Here's how you can utilize it effectively:
Navigate to the Gems section.
Select the specific gem you wish to investigate. For this guide, let's take "Skitterbots" as an example.
Analyze the available quality types and their respective market prices.
Calculating Profitability and Making Smart Investments
↖ Using our example of Skitterbots
Purchase Anomalous Skitterbots, typically priced around 20-30 chaos.
Acquire Prime Regrading Lenses, each costing between 170-180 chaos.
Use the lens on the Anomalous Skitterbot, aiming to obtain a Divergent Skitterbot, valued at 7-8 divines.
↖ The math behind
Each attempt costs around 200 chaos.
With the weightings of the quality types, you have a 1 in 6 chance to obtain a Divergent Skitterbot.
To ensure profitability, you might need to make multiple attempts, acknowledging that luck plays a significant role in this process.
↖ A Word of Caution
While this method can be profitable, it's crucial to approach it with a strategic mindset. Market saturation can occur if too many players employ the same strategy, leading to reduced profit margins. It's vital to diversify your investments and continuously monitor the market for the most lucrative opportunities.
↖ Conclusion
Path of Exile's gem market offers a plethora of opportunities for those willing to delve into its mechanics. By understanding how to manipulate gem quality and making informed decisions based on market data, you can significantly enhance your in-game wealth. Remember, the world of Wraeclast is ever-changing, and staying adaptable is key to your success.
Most Popular Posts
Popular Category Lists