Diablo 4 S2 Most Powerful Lunging Strike Barbarian Build
Diablo 4 offers a multitude of build options, but if you're seeking sheer power and versatility, look no further than the Barbarian. Before diving into the nitty-gritty, let me showcase the effectiveness of this build. Picture this: a Level 100 War Boss, a formidable foe. It took just three powerful slams to bring it down. This Barbarian build is nothing short of spectacular. With it, you can obliterate even the toughest of bosses with ease.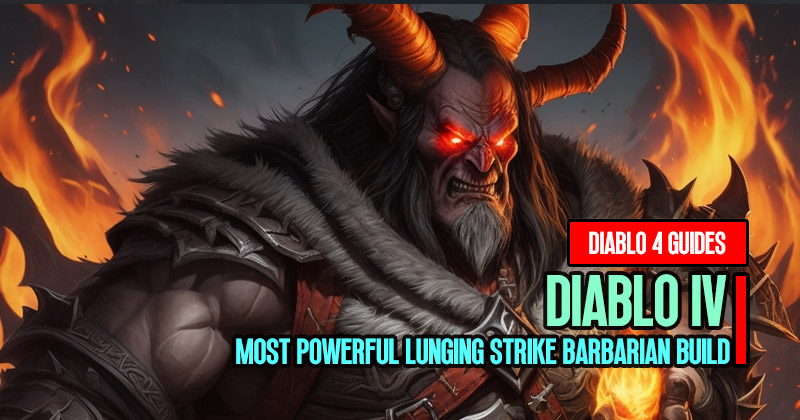 ↖ Build Highlights
This Barbarian build shines in multiple aspects of the game, making it a go-to choice for many players. Here's what sets it apart:
Continuous Berserk: Your Berserk mode will almost always be active, thanks to various techniques and unique items. This ensures constant damage output.
Reduced Cooldowns: As you dash into enemies, your ultimate ability's cooldown diminishes rapidly, allowing you to unleash devastating attacks more frequently.
Massive Damage: With this build, you can deal damage in the range of 20 to 50 million with every hit, making enemies crumble before you.
Build Planner: https://tinyurl.com/ycx33eh9
↖ Gear Choices
Let's delve into the Diablo 4 gear that makes this build tick:
Mighty Helmet: This item grants significant damage, cooldown reduction, and Fury gain, perfect for our Berserk-focused build.
Pence Boots: These boots offer damage bonuses while making you unstoppable when dashing into foes, providing an excellent synergy with your playstyle.
Overpower Amulet: This amulet significantly boosts your Overpower ability, enhancing your damage output.
Flicker Step: These boots lower your ultimate ability's cooldown, increase its damage, and provide damage reduction—a must-have for this build.
While the above-mentioned are the ideal choices, you can adapt based on the gear you have. Two maces or axes work well if you don't have unique items. However, for optimal performance, the Uber uniques like Doom Bringer, Grandfather, Shule, and Starless Ring are exceptional additions.
↖ Skills and Traits
Here's an overview of the skills and traits that complement this Barbarian build:
Lunging Strike: This skill provides critical hits and boosts Berserk when you critically strike, amplifying your damage potential.
War Cry: Combine War Cry with Berserk to increase your damage output and Fury gain.
Glyphs: These help you perform critical strikes and overpower hits more frequently.
Paragon Points: Distribute your points wisely to enhance your damage, survivability, and Berserk capabilities.
↖ Skill Rotation
Executing the right skill rotation is key to maximizing your Barbarian's potential:
Before engaging a boss, ensure your Fury is at maximum (300 Fury) to guarantee critical strikes with your initial hit.
Activate War Cry and Berserk to boost your damage and Fury generation.
Initiate combat with your Fury-filled critical strike.
Maintain your Fury by dashing into enemies and using your abilities.
Ensure your Fury is full before delivering your final, devastating blow.
↖ Conclusion
This Barbarian build is a force to be reckoned with, making boss fights and Tier 100 dungeons a breeze. Whether you're using the suggested gear or adapting with what you have, this build offers a thrilling and powerful Barbarian experience in Diablo 4.
Most Popular Posts
Popular Category Lists