How to Crafting Path of Exile Power Frenzy Charge Helmet?
Path of Exile (PoE) offers an intricate and robust crafting system that allows players to tailor their gear to perfection. In this guide, we will delve into the specifics of crafting, focusing on crafting a power-charge helmet to elevate your gameplay. We were fortunate enough to acquire two pairs of +2 frenzy charge gloves, setting the stage for our next endeavour: the +2 power charge helmet.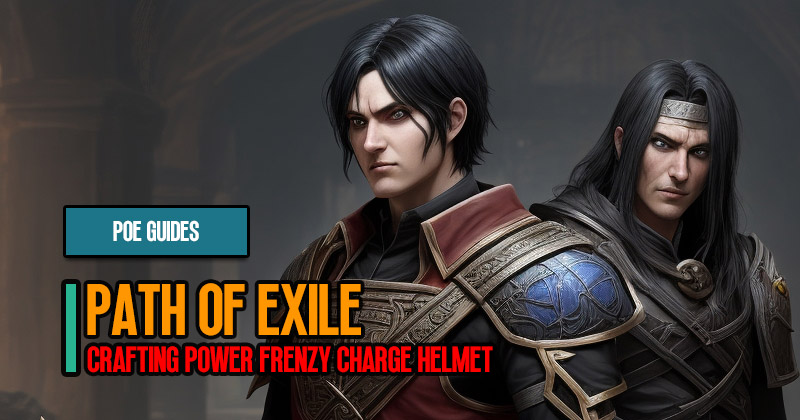 ↖ Crafting the Power Charge Helmet
To commence the process, we aimed for a helmet with elevated power charge, T1 life, T1 elemental damage, T1 crit multi, T4 intelligence, and aspect of the cat with perfect implicit. The addition of a guilded fossil and a 30% chance to not consume charges with discharge brought the piece closer to perfection.
The crafting process involves several steps:
↖ Obtain a helmet with the desired mods
Use the locus of corruption in the Temple of Atzoatl to attempt for beneficial corruptions like +2 to AOE or Aura skills or 90% reduced mana reservation.
Utilize various orbs such as Vaal orbs, Maven orbs, and annulment orbs strategically to optimize the helmet mods.
During our crafting session, we encountered several ups and downs, with the RNG not always in our favor. However, perseverance is key in PoE.
↖ Analyzing the Outcome
Despite not hitting our ideal mods in every attempt, the process allowed us to understand the significant impact of each mod on our build. For instance, the elevated elemental damage was not pertinent to our current build, using Original Sin, as the penetration was not meaningful. However, it could be valuable for other versions of the build.
Ultimately, we decided to pass on a seemingly perfect helmet because we were aiming for absolute perfection. Our goal was to create a guide and showcase the crafting process, encouraging players to experiment and optimize their gear.
↖ Crafting Tutorial
For those interested in the crafting process, here's a quick tutorial:
Start with a base helmet and obtain the power charge mod using Warlord's Exalted Orb.
Isolate the power charge as the only prefix.
Use prefixes cannot be changed and scour to make it magic.
Craft prefixes cannot be changed again, imprint, regal, and then reforge life.
Elevate the power charge, scour, and repeat the process for other desired mods.
This method allows for precise control over the crafting process, ensuring you get the mods you are aiming for.
↖ Conclusion
Crafting in Path of Exile is a complex but rewarding process. With patience, knowledge, and a bit of luck, you can create gear that significantly enhances your gaming experience. Whether you are a novice or a veteran, we hope this guide provides valuable insights and encourages you to dive into the world of crafting in PoE.
Most Popular Posts
Popular Category Lists