Diablo 4 S2 Rogue Legendary Weapon Windforce Unique Bow Guides
Welcome to our focused discussion on the newly revised Windforce bow for Diablo 4's Rogue class. With the introduction of Patch 1.20, significant updates have been implemented, warranting another look at this formidable weapon. Long-standing fans will recognize Windforce as a staple from past games, returning with increased might and new mechanics to explore.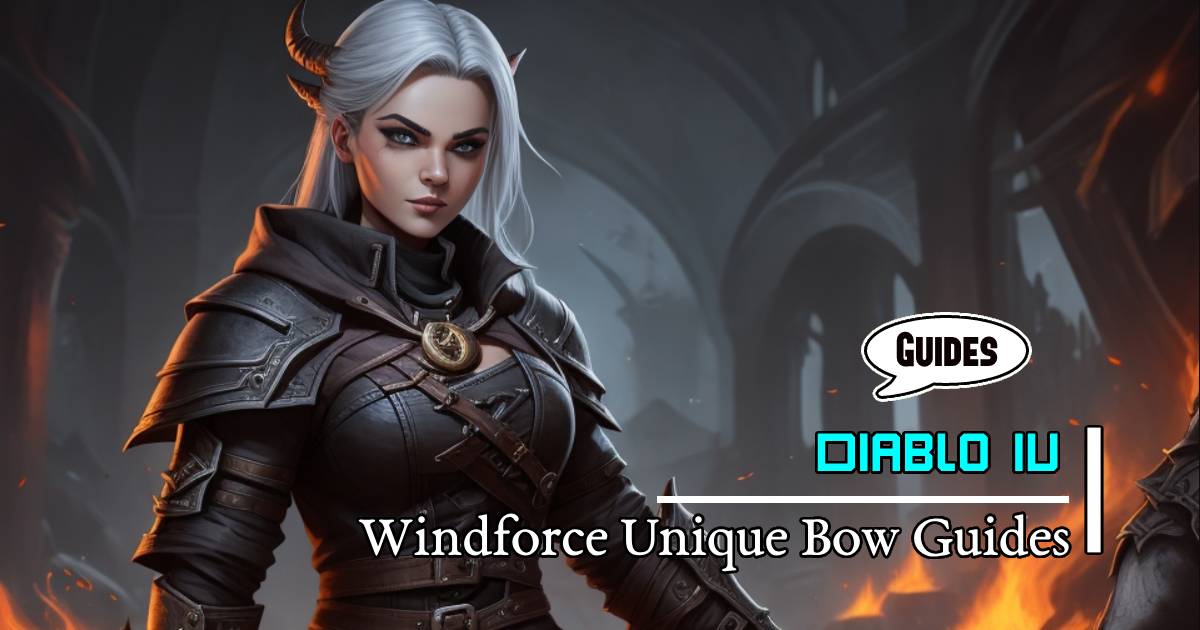 ↖ Power Increase and Damage Output
The item power of Windforce has seen a significant boost, previously capped at 820, it now reaches a maximum of 925. This substantial increase translates directly to higher damage potential for Rogues. All weapons have received a similar treatment in this patch, raising the bar for damage across the board.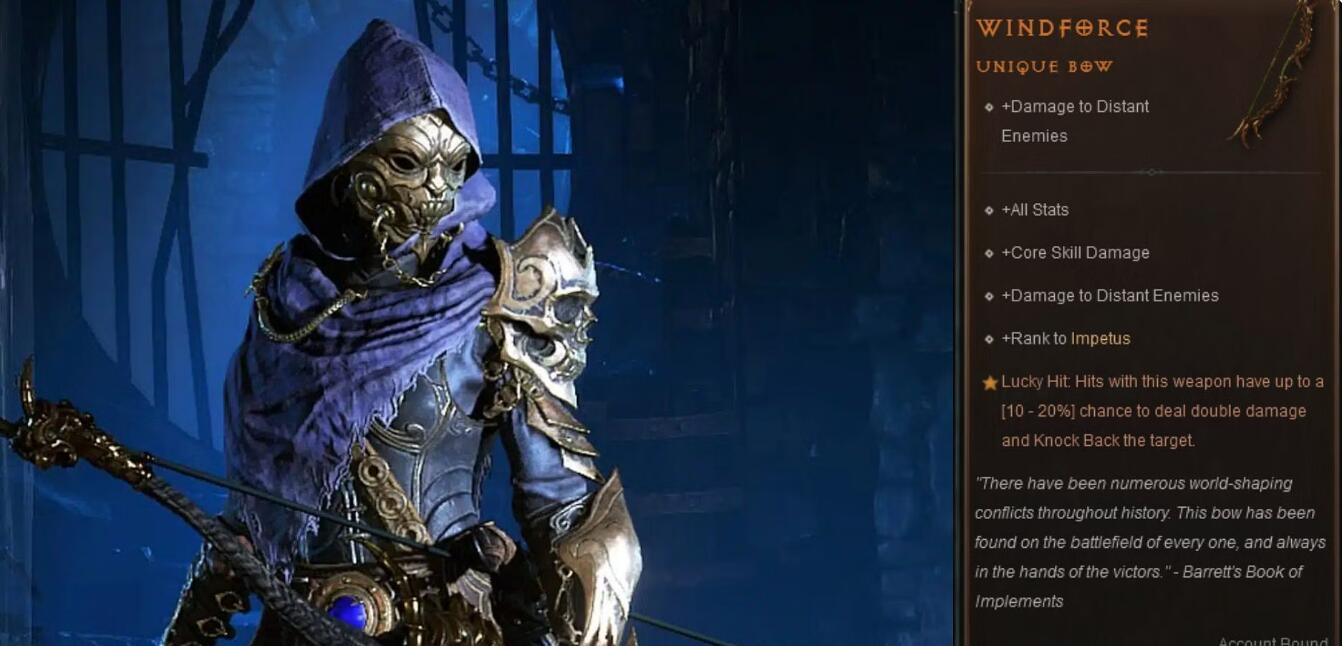 ↖ Specialized Attributes
Windforce comes equipped with specialized features tailored for long-range combat. A remarkable 60% damage increase to distant enemies solidifies its role in picking off targets from afar. Vulnerability infliction has been tweaked from 37.5 to 58.5% to a consistent 55.5%, ensuring a more reliable weakening effect on foes.
↖ Core Skill Damage and Passives
An impressive 42% to 84% core skill damage enhancement elevates your primary attacks significantly. This is complemented by three ranks of the Impetus passive, which can be increased to four with upgrades. The Impetus passive rewards mobility by providing a damage multiplier after moving a certain distance — essential for the dynamic playstyle Diablo 4 encourages.
Moreover, the bow now includes three ranks of a new Concussive passive. This grants a 4% increased critical strike chance for a brief period upon knocking back or down an enemy, synergizing perfectly with Windforce's innate knockback ability.
↖ Lucky Hit Mechanic
A notable enhancement to the Windforce is the improved Lucky Hit chance, now sitting at up to 30%. This effect dovetails with the Concussive passive, as successful Lucky Hits not only deal double damage but also trigger the critical strike chance bonus by knocking back targets.
↖ Tactical Considerations and Build Compatibility
As with all two-handed weapons in Diablo 4, one must consider if the unique aspects of Windforce outweigh potential benefits from other items that could occupy the same slot. This bow must compete with aspects that offer amplified effects on two-handed weapons, requiring strategic gear choices based on your build.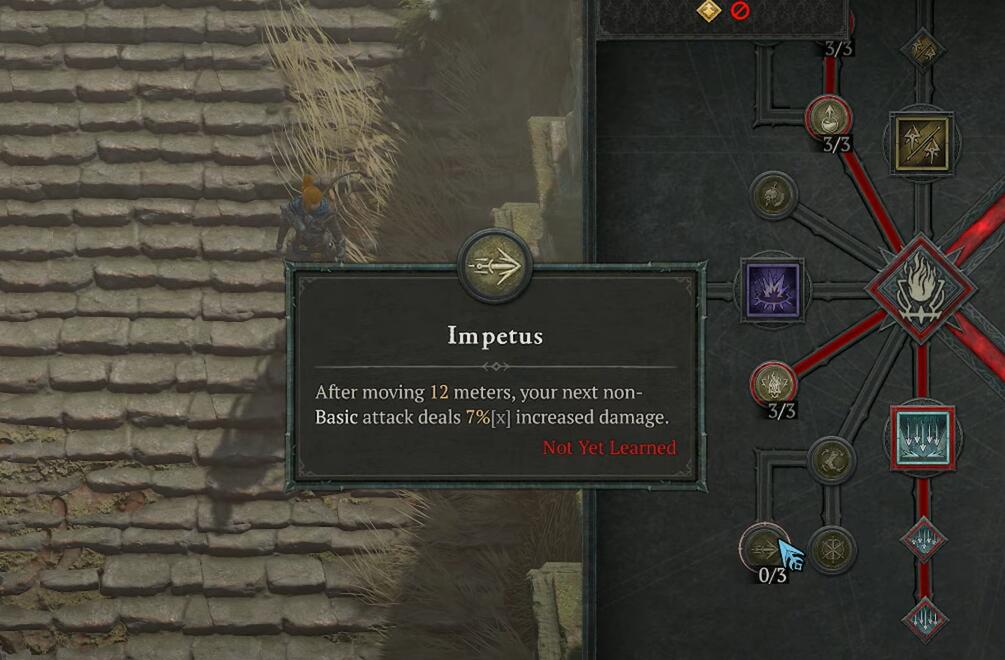 From a personal standpoint, while I've been utilizing the Eaglehorn alongside my Penetrating Shot build, the allure of Windforce's raw damage and passives is undeniable. However, its utility is contingent upon compatibility with one's playstyle and build requirements. The various ways to induce vulnerability within the skill tree offer alternative strategies that might better suit particular builds.
↖ Lore and Legacy
Windforce carries a storied legacy within the Diablo series, as its flavor text suggests: There have been numerous world-shaping conflicts throughout history. This bow has been found on the battlefield of every one, always in the hands of the victor. Its return as a powerhouse item is fitting, offering both a touch of nostalgia and a force to be reckoned with in the right hands.
↖ Conclusion
With this update, the Windforce has undoubtedly gained a competitive edge, offering a myriad of benefits from damage amplification to unique passive abilities. Its viability as the weapon of choice for Rogues will depend on individual playstyles and build optimization. While I remain undecided on whether it will replace my current Eaglehorn setup, the potential for Windforce to significantly impact gameplay is clear.
Most Popular Posts
Popular Category Lists