ESO Crown Gems Best Guide: Obtaining, Using, Farming | 2023
Crown Gems are a special currency in ESO that has become a very hot topic in the community recently. So how to obtain these special currency gems, how to use them wisely, and how to farm them effectively? Today we will reveal the answer, Learn how to earn, use, and farm these valuable eso currency in 2023, and explore hidden methods to convert them into gold.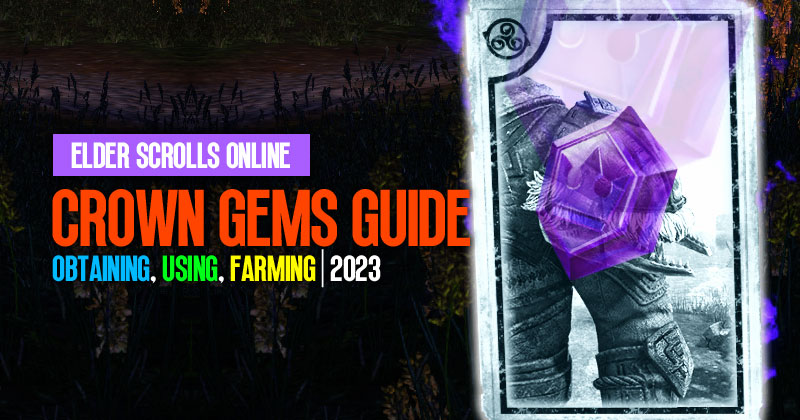 ↖ What Are Crown Gems?
Crown Gems are a unique in-game currency in Elder Scrolls Online that can be used to obtain various items from the Crown Store. Unlike Crowns, which are purchased with real money, Crown Gems are earned through in-game activities.
↖ Obtaining Crown Gems
Duplicates: Receive Crown Gems by obtaining duplicate items from Crown Crates, excluding items like costumes.
Deconstruction: Deconstruct certain duplicate items, such as furnishings, to convert them into Crown Gems.
↖ Best Uses for Crown Gems
Once you have a stash of Crown Gems, the next question is, what should you spend them on? Here are some suggested items:
Method
Description
Motif Styles

Evaluate the market value of motif books available in the Crown Store.
Consider purchasing high-value motif styles to save gold on expensive style pages.

Monster Arms Packs

Explore the Monster Arms Packs for unique and intriguing styles.
Decide if any of these packs align with your character's aesthetic.

Skins & Furnishing Items

Skins and furnishings provide visual customization options.
Choose items that enhance your character's appearance or your in-game home.

Instant All Researches

Ideal for players focusing on crafting.
Speed up trait research in multiple crafting skills simultaneously.
↖ Efficient Crown Gem Farming
If you're keen on farming Crown Gems without spending real money, consider the following methods:
Farming

Description

Crown Crates

Open crates you already have the most items from to increase duplicate chances.
Sell duplicates to vendors for additional Crown Gems.

Twitch Drops

Watch Bethesda or ESO content creators on Twitch during specific events.
Keep an eye on social media for announcements about Twitch drop events.

Crown Mimic Stones

Craft style items using Crown Mimic Stones.
Deconstruct items for a chance to obtain valuable style materials.
Sell style materials for gold on the market.
↖ Turning Crown Gems into Gold
For those looking to convert Crown Gems into gold, consider the following strategy:
Craft items with Crown Mimic Stones.
Deconstruct items for style materials.
Sell valuable style materials on Guild Traders for profit.
Conclusion:
Congratulations! You're now well-versed in the world of ESO Crown Gems. Whether you're farming, spending, or converting, use this guide to navigate Tamriel's treasures. Adventure awaits, and with your newfound knowledge, may your Crown Gem collection grow and prosper in the ever-expansive Elder Scrolls Online universe. Safe travels, brave soul!
Most Popular Posts
Popular Category Lists